23
Jun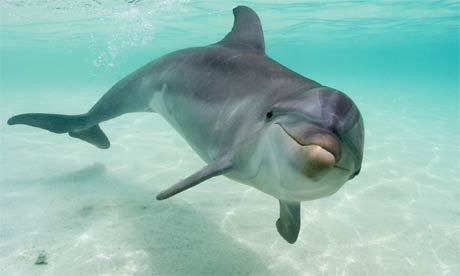 (Beyond Pesticides, June 23, 2009) According to a study published in the August-September 2009 issue of the journal Environmental Pollution, the presence of triclosan, a widely-used antibacterial pesticide found in products from countertops to toothpaste, was detected in the in the blood of bottlenose dolphins. The study, "Occurrence of triclosan in plasma of wild Atlantic bottlenose dolphins and in their environment," was the first to find triclosan in the blood of a marine mammal, suggesting that contamination from sewage systems is widespread.
According to a synopsis by Environmental Health News, the study examined dolphins from rivers, an estuary, a harbor and a lagoon in South Carolina and Florida. In this study, wild bottlenose dolphins were live captured from several sites within an estuary in Charleston, SC and in the Indian River Lagoon, FL in 2005. Blood samples taken from 13 animals in each area revealed triclosan in 31 and 23 percent of the animals from the two sites, respectively, at levels ranging from 0.025 to 0.27 parts per billion. These levels are similar to what has been measured in the blood of humans.
When introduced to the market in 1972, triclosan was confined to hospital and health care settings. Since then triclosan has exploded onto the market place in hundreds of consumer products ranging from antibacterial soaps, deodorants, toothpastes, cosmetics, fabrics, toys, and other household and personal care products. Studies have increasingly linked triclosan to a range of health and environmental effects, from skin irritation, allergy susceptibility, bacterial and compounded antibiotic resistant, and dioxin contamination to destruction of fragile aquatic ecosystems.
Triclosan's impact on the consumer market has been aided by the public perception that antibacterial products are best to protect and safeguard against potential harmful bacteria. However, an article in the journal Clinical Infectious Diseases, entitled "Consumer Antibacterial Soaps: Effective or Just Risky?" (2007), concludes that antibacterial soaps show no health benefits over plain soaps. This follows an 11-1 vote of the FDA Nonprescription Drugs Advisory Committee on October 20, 2005 on a statement that antibacterial soaps and washes are no more effective than regular soap and water in fighting infections.
A recent study found that triclosan alters thyroid function in male rats. Other studies have found that due to its extensive use in consumer goods, triclosan and its metabolites are present in waterways, fish, human milk, serum, urine, and foods. A U.S Geological Survey (USGS) study found that triclosan is one of the most detected chemicals in U.S. waterways and at some of the highest concentrations. Triclosan has been found to be highly toxic to different types of algae, keystone organisms for complex aquatic ecosystems. A recent U.S. Environmental Protection Agency (EPA) survey of sewage sludge found that triclosan and its cousin triclocarban were detected in sewage sludge at the highest concentrations out of 72 tested pharmaceuticals.
For more information on triclosan and its impacts on human and environmental health, visit our Antibacterial program page. Get your municipality, institution or company to adopt an anti-trioclosan resolution to not buy porducts with triclosan and supporting broader elimination of non-medical uses.