23
May
(Beyond Pesticides, May 23, 2013) Beyond Pesticides is pleased to announce the release of videos from Sustainable Families, Farms and Food, 31st National Pesticide Forum, held April 5-6, 2013 at the University of New Mexico (UNM) in Albuquerque, NM. The Forum, convened by Beyond Pesticides, La Montanita Co-op, and  UNM's Sustainability Studies Program and co-sponsored by 13 local and state organizations in NM, included leaders in the fields of pesticide reform, public health, and organic agriculture, as well as many community leaders, local activists, and students. The videos span the range of topics that were discussed at the Forum and include keynote speeches, panel discussions, and workshops. You can access the playlist, which includes all of the available videos of the 2013 forum, on Beyond Pesticides' YouTube page.
Beyond Pesticides  believes that  the opportunity to get together and share information and strategy is vital to public health and environmental protection, and we are thankful for everyone who was a part of this important gathering. For those unable to attend, we hope that these videos will be useful public educational tools. As an organization, we strive to ensure that community and policy discussion addresses the science and effects of pesticides and chemical-intensive land and building management practices, while ensuring that people and communities have the tools to adopt organic and sustainable methods for producing food and managing homes, buildings, parks and open spaces.
 The videos include such notable presentations as: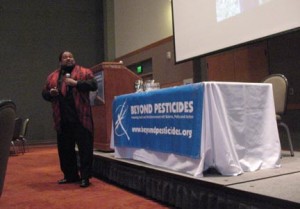 "Protecting Life: From Research to Regulation" by Tyrone Hayes, Ph.D. discusses his research on the impact of pesticides on frog deformities and its implications for human and environmental health. Dr. Hayes has an undergraduate degree in organismic and evolutionary biology from Harvard University and a Ph.D. in integrative biology from the University of California, Berkeley, where he currently serves as a professor. He has published more than 40 papers, over 150 abstracts and has given more than 300 talks on the role of environmental factors on growth and development in amphibians. Through his research, he states, "I have come to realize that the most important environmental factors affecting amphibian development are synthetic chemicals (such as pesticides) that interact with hormones in a variety of ways to alter developmental responses."
"Organic Foods from the Pediatrician's Perspective including the Unique Vulnerabilities of Children and Highlighting Pesticides" by Joel Forman, MD. Dr. Forman is an Associate Professor of Pediatrics and Community and Preventive Medicine at Mt. Sinai Hospital, New York City. Additionally, Dr. Forman is currently a member of the American Academy of Pediatrics (AAP) Committee on Environmental Health and a member of the CDC Lead in Pregnancy Workgroup. He is one of the lead authors of the recent AAP report, Organic Foods: Health and Environmental Advantages and Disadvantages, which marks the first time that the AAP has made a statement on organic foods, recommending that pediatricians talk to their patients about the potential health and environmental benefits of choosing organic.
"A View from Congress" by the Honorable Michelle Lujan Grisham, U.S. Representative for New Mexico's 1st congressional district. Congreswoman Grisham has done remarkable work incorporating the precautionary principle into state government, by creating an advisory panel which promotes action on human health and the environment. Among the key goals for this effort are integrated pest management and better indoor air quality.
"An Organic Future: How We Apply What We Know" by Jeff Moyer, farm director at Rodale Institute, brings an in-depth look at the greater theme of the conference and provides the tools needed to create resilient communities. Mr. Moyer has worked at Rodale Institute for nearly three decades to perfect an organic no-till system that reduces and eliminates both tillage and herbicides while maintaining yields that are comparable or better than chemically-intensive, conventional agriculture. He is an expert in organic crop production systems including weed management, cover crops, crop rotations, equipment modification and use, and facilities design. As a past chair of the National Organic Standards Board and a founding board member of Pennsylvania Certified Organic, he has helped countless farmers make the transition from conventional, chemical-based farming to organic or sustainable methods.
Also included are several workshops such as Pollinators and Pesticides, (featuring Les Crowder, President of the NM Beekeeping Association, Loretta McGrath, director of the Pollinator Partners Project at Farm to Table NM, and Andrew Kimbrell, executive director of Center for Food Safety), Genetically Engineered Food, (also featuring Mr. Kimbrell, Eleanor Bravo, Food and Water Watch NM and Isaura Andaluz, Cuatro Puertas). Be sure to visit the full playlist to see the rest of the videos.
Beyond Pesticides encourages activists, community leaders, scientists, and policy makers to attend its annual National Pesticide Forum to get together, share information, and elevate the pesticide reform movement. However, for those who do not have the opportunity to attend the Forum in person, the online videos of many of the Forum's sessions are important educational tools for those seeking change at the local, state, and national level. Beyond Pesticides believes that sharing this information beyond the Forum is extremely valuable, and encourages you to share the presentations with friends, community organizations, networks, and state,  local, and national  decision makers.
The playlist, which includes all of the available videos of the 2013 forum, as well as previous conferences are available on Beyond Pesticides' YouTube page.