22
May
(Beyond Pesticides, May 22, 2013) Norwegian seafood production company, Marine Harvest, has committed to certify its salmon farms by 2020  to the Aquaculture Stewardship Council (ASC) Salmon Standard, with the condition that they  begin tightening restrictions of pesticide use and move from caged systems in coastal waters to closed containment systems. As the world's largest producer of farmed salmon, responsible for 25% to 30% of the global salmon and trout production the move marks an important shift toward sustainable production of their fish products.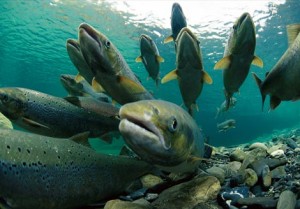 The ASC Salmon Standard, an accreditation scheme developed and promoted by the World Wildlife Fund (WWF), requires members to  diminish the use of toxic chemicals, address sourcing of feed ingredients, diminish the transmission of disease to wild salmon populations, control the escape of farmed salmon, reduce the use of antibiotics and genetically engineered products, and finaly address the labor issues on salmon farms. As of now Marine Harvest has only committed to accredit its fish farms within the United Kingdom, although they also produce fish in Norway, Canada, the Faroe Islands, Ireland and Chile.
The company's move follows on the heels of recent media attention that revealed the Scottish Environmental Protection Agency (Sepa) had  found up to 450 times the recommended levels of teflubenzuron, used to kill sea lice parasites, surrounding their salmon cages. Additionally, anti-sea lice residues, emamectin and deltamethrin, were found at or near recommended levels. These pesticides attack the nervous systems of sea lice and inhibit the development of their outer shells. However, they are also considered neurotoxic, toxic birds, and toxic aquatic organisms, particularly lobsters and shrimp which also have shells.
In 2010, Health Canada approved the use of the restricted pesticide deltamethrin as a means of controlling an outbreak of sea lice on farmed Atlantic salmon. Deltamethrin is a synthetic pyrethroid, a synthesized deriviative of naturally occurring pyrethrins produced by the chrysanthemum flower. However, they are designed to be more toxic and take longer to break down than natural pyrethrins. These types of pesticides are extremely toxic to aquatic organisms, including fish, which is in part why it is a restricted pesticide.
Marine Harvest has committed to the voluntary changes required under the ASC scheme, but if it fails to meet the standards, the company's farm would lose its accreditation. Environmental advocacy groups are skeptical of its success. Guy Linley Adams of the Salmon & Trout Association said ""This isn't the end of the story. Marine Harvest still have fish-farms in the wrong places, as do all fish-farmers. They are too near to wild salmonid rivers threatening wild fish conservation and those farms need to be relocated."
For more information on pesticides and water quality, please visit Beyond Pesticides' Threatened Waters page.
Source: The Guardian
All unattributed positions and opinions in this piece are those of Beyond Pesticides.