30
Aug
(Beyond Pesticides, August 30, 2013) Months after Central American health ministries issued a  joint declaration citing kidney disease as a top public health priority, the World Bank just approved a new loan to expand sugar cane plantations in Nicaragua. The Bank's loan represents renewed support for an industry whose workers have been devastated by the disease, which has increasingly been linked to pesticide exposure and exacerbated by heat stress. Kidney disease afflicts agricultural workers in sugar cane fields, killing thousands each year in Central America as well as in Sri Lanka and India.
Scientists have yet to definitively uncover the cause of chronic kidney disease (CKD), although emerging research points to toxic heavy metals contained in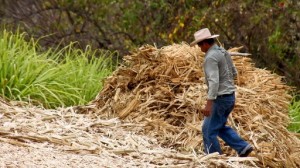 pesticides as one of the primary culprits. CKD is a condition characterized by a gradual loss of kidney function and is often lethal for poor agricultural workers. As the kidneys begin to fail, wastes can build in the blood causing complications such as high blood pressure, anemia, weak bones, poor nutritional health and nerve damage. Several published studies demonstrate that exposure to certain  organochlorine pesticide products and their heavy metal contaminants used on sugar cane plantations are causally linked to CKD.
The recent joint declaration formally recognized the disease and its unique characteristics, with several of the region's health ministries pledging meaningful new steps, including more detailed statistical tracking of CKD, the development of national and regional plans to investigate and treat the disease, and promotion of stronger regulation of pesticides. However, the approval of the new $15 million loan from the World Bank signals a disregard of the growing issue of CKD that plagues rural Central America and the efforts of these governments to tackle this public health problem.
Despite mounting  scientific evidence linking pesticide exposure to CKD, the World Bank approved the loan, stating in its environmental and social review that there is no proof that CKD is linked to sugarcane work. "Disease epidemiology and an alleged connection between sugar industries in general have previously been investigated through studies requested by the IFC Compliance Advisor Ombudsman," stated the IFC's review documents. "No direct relationship between the sugar sector and the disease has been established."
The loan was provided by the private sector lending arm of the World Bank""the International Finance Corporation (IFC)""and will go toward expanding the Montelimar sugar cane plantation in western Nicaragua. The last year IFC provided Nicaragua with loans for sugar cane plantations was in 2006. At that time, farmworkers afflicted with CKD filed a formal complaint with the IFC ombudsman, charging that the loan did not consider the threats of the epidemic to farmworkers, in direct violation of the Bank's requirements for a thorough environmental and social review.
The World Bank's assessment relies on a Boston University  study,  which found, after studying workers over one six-month harvest season in Nicaragua, that the causes of CKD were still unclear. However, lead scientist of the study Daniel Brooks, PhD. said that, while the Bank's assessment is technically accurate, it completely mischaracterizes the significance of the findings. "What I wouldn't say there is that there's no direct link and what I wouldn't say is that the evidence is most consistent with no link," Dr. Brooks said. "It's pretty much the consensus of researchers in the region that heat stress and these occupational exposures are most likely to be playing a role."
These concerns are backed by the Council of Health Ministers of Central America, which agreed in its declaration that,  "This disease fundamentally affects socially vulnerable groups of agricultural communities along the Pacific Coast of Central America, predominates has been associated with conditions including toxic environmental and occupational risk factors, dehydration, and habits that are damaging to renal health."
Several pesticides have been implicated in the disease. An official study conducted by the World Health Organization and the Sri Lankan Health Ministry found high levels of cadmium and arsenic, heavy metals toxic to the kidneys, within environmental samples from the region as well as in the urine, hair and nails of patients. Other chemicals implicated include the herbicides 2,4-D and  glyphosate, the active ingredient in Monsanto's Roundup herbicide. One study conducted in El Salvador, in a town highly effected by CKD, not only found that the patients exhibited elevated levels of heavy metals, but that 100% of its patients had been involved in the application of 2,4-D and 75% had applied glyphosate in the sugarcane plantations.
While Dow and Monsanto, manufacturers of the chemicals associated with higher risks of developing CKD, deny the linkage outright, the U.S. Environmental Protection Agency (EPA) warns that excessive quantities of both 2,4-D and glyphosate can cause kidney damage. More research is needed on the other exposure pathways.
Unfortunately, IFC's Review for the loan merely describes proper hydration as part of the occupational health and safety standards to protect its workers from CKD. It largely ignores the research demonstrating toxic chemical exposure causes serious health risks to at risk  agricultural workers.
In the absence of widespread adoption of organic practices that eliminate hazardous pesticides, worker protections for farmworkers must be strengthened. Consumers can do their part and help encourage the protection of the people who help put food on our table every day by purchasing organic. By buying organic, you support an agricultural system that does not heavily rely on the widespread application of dangerous pesticides. For more information on how organic is the right choice for both consumers and the farmworkers that grow our food, see Beyond Pesticides webpage, Health Benefits of Organic Agriculture.
Source: The Center for Public Integrity
Photo Source: Pulsamerica
All unattributed positions and opinions in this piece are those of Beyond Pesticides.