31
Jan
(Beyond Pesticides, January 31, 2014) Michael Skinner, Ph.D.,  author of the landmark study that links exposure to the insecticide DDT with multi-generational effects, ultimately contributing to obesity three generations down the line, is joining an impressive array of speakers at Beyond Pesticides' 32nd National Pesticide Forum, April 11-12 in Portland, Oregon. Dr. Skinner's groundbreaking research on transgenerational effects of pesticides has created quite a stir within the scientific community and backlash from the industry.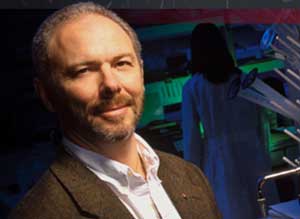 A professor in the School of Biological Sciences at Washington State University, Dr. Skinner has published over 240 peer-reviewed publications and has given over 237 invited symposia, plenary lectures and university seminars. His  research focuses on the investigation of gonadal growth and differentiation, with emphasis in the area of reproductive biology. His current research has demonstrated the ability of environmental toxicants to promote the epigenetic transgenerational inheritance of disease phenotypes due to abnormal germ line epigenetic programming in gonadal development.
Science Magazine has dubbed Dr. Skinner "The Epigenetics Heretic." The article, published January 24, explores the controversy surrounding his recent findings, industry challenges to his research,  as well as the significance: "To those who don't flatly dismiss Skinner's findings, he has raised a tantalizing glimpse of a new phenomenon, one that should be explored further." Skeptics are to be expected, Dr. Skinner tells Science, "This is probably going to be the biggest paradigm shift in science in recent history." In fact, his scientific motto is, "If you are not doing something controversial, you are not doing something important."
Hear Dr. Skinner discuss his important work, along with other top scientists, local and national activists and grassroots organizers at Advancing Sustainable Communities: People, pollinators and practices, the 32nd National Pesticide Forum, April 11-12, 2014 in Portland, Oregon. Register online now!
The 32nd National Forum provides an opportunity for grassroots advocates, scientists, and policy makers to interact and strategize on solutions that are protective of health and the environment. Keynote presentations, workshops, and plenary panels will focus on solutions to the decline of pollinators and other beneficials; strengthening organic agriculture; improving farmworker protection and agricultural justice; and creating healthy buildings, schools and homes. By working with a range environmental, health, consumer, and farm organizations, we expect to bring together a diverse crowd in order to share our efforts to build local, state and national strategies for strength, growth and health""in line with our conference theme, Advancing Sustainable Communities.
General admission is $40 for members and grassroots activists, $20 for students with current ID, and $75 for non-members (includes 1-year membership and totebag). Avoid the $5 late fee by registering before March 15th! In addition to access to all plenary sessions, discussions-based workshops, tour (by RSVP), and printed materials, registration also includes organic food and drink (breakfast, lunch, dinner and two receptions with hors d'oeuvres, beer and wine).  The forum will be held at the University Place Conference Center at Portland State University.Directions and hotel information are available on the Forum website.  Register online  or call 202-543-5450 to register by phone.
The conference is convened by Beyond Pesticides, Northwest Center for Alternatives to Pesticides (NCAP), and Portland State University's Institute for Sustainable Solutions, and co-sponsored by local, state and regional public health and environmental organizations, including: Beyond Toxics, Center for Food Safety, PCUN (Pineros y Campesinos Unidos del Noroeste), and The Xerces Society. If your group is interested in co-sponsoring the forum please feel free to email us.
For more information on the program, including a full list of speakers and registration information, please see www.beyondpesticides.org/forum.
All unattributed positions and opinions in this piece are those of Beyond Pesticides