03
Feb
(Beyond Pesticides, February 3, 2014) Prompted by the prolific threat of contamination of organic agriculture by genetically engineered crops, the Organic Seed Growers and Trade Association (OSGATA) recently published a comprehensive guide to help  organic seed growers maintain the integrity of organic seed. The publication comes just weeks after the U.S. Supreme Court ruling to limit the ability of farmers to legally defend themselves against genetic drift in a landmark federal lawsuit OSGATA et al. vs. Monsanto.
The publication, entitled Protecting Organic Seed Integrity, provides organic farmers, seed handlers, and seed companies an array of resources they can employ to maintain organic integrity through crop specific, scale-appropriate strategies. In addition, the handbook provides guidance on testing protocols for crops that are particularly risky, that is, crops with GE counterparts that are approved by the U.S. Department of Agriculture, including corn, soy, cotton, alfalfa, canola, sugar beets, and squash.
"The risk to organic farmers by GE contamination is real," said Maine organic seed farmer, Jim Gerritsen, OSGATA President. "Organic farmers continue to be failed by the government. This new handbook is an important tool for farmers to protect themselves and the organic seed supply."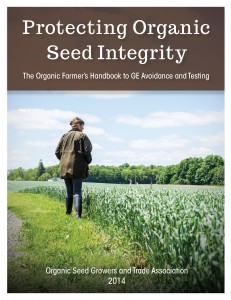 With widespread planting of genetically engineered crops, organic farmers are increasingly vulnerable to the problem of GE contamination as pollen can easily drift to neighboring fields. Genetic drift is particularly prevalent with wind-pollinated corn and insect-pollinated canola, whose pollen can travel for two or more miles before fertilizing another plant. Such contamination has proven extremely costly to farmers raising organic and non-genetically engineered crops whose loads are rejected by buyers when trace levels of contamination are detected. Farmers in these circumstances lose any potential price premium for the extra effort and expense taken to preserve their crop's integrity and they typically have no recourse but to dump the load on generic markets. At times, these events send international markets reeling, as is what happened when illegal GE wheat was discovered in an Oregon farmer's field. Currently, biotech companies that manufacture GE seeds bear no legal or financial responsibility for such contamination.
Not only are organic farmers at risk of losing their entire crop due to GE contamination, they are also vulnerable to litigation due to patent enforcement. The Federal District Court case OSGATA et al. vs. Monsanto set to provide a safeguard for farmers who are victims of patented GE contamination. With the court ruling, however, biotech companies maintain the right to sue farmers whose crops are contaminated for infringing upon the company's intellectual property.
The handbook operates on the premise that, "Organic farmers have a right to farm in the way they choose on their farm without threat of intimidation and transgenic trespass." Unfortunately, in lieu of court mandated protections, farmers must bear the burden of seed and crop contamination by GE drift, and take matters into their own hands to protect themselves by using tools like the OSGATA handbook. The book's recommendations for avoidance and testing are based on a thorough examination of international peer-reviewed literature, as well as  stakeholder input from organic farmers, seed company professionals and seed breeders familiar with purity concerns. OSGATA has printed 5,000 copies of its new publication which it is now providing to organic farmers free of charge. The resource is also available to download for free online.
Currently, National Organic Program (NOP) defines GE violations of organic agricultural standards solely on the basis of process violations, so findings of organic crops or seed tainted from genetic drift does not establish a violation. Neither the National Organic Standard Board (NOSB) nor the  NOP have set a GE contamination level, which could be in the range of zero or non-detect to some "accepatable" level of  contamination. Similarly, a compensation scheme is being debated in organic circles  where a polluter-pay approach holds patent holders responsible for contamination costs.
For more information on the environmental hazards associated with GE technology, visit Beyond Pesticides' Genetic Engineering webpage. The best way to avoid supportin the production of crops grow with genetically engineered seed in the marketplace is to purchase foods that have the U.S. Department of Agriculture (USDA) Certified Organic Seal. Under organic certification standards, genetically modified organisms and their byproducts are prohibited from being purposefully introduced in agricultural production. For many other reasons, organic products are the right choice for consumers. Plan on joining Beyond Pesticides, the Northwest Center for Alternatives to Pesticides, and Institute for Sustainable Solutions, Portland State University, as well as numerous co-sponsors, to learn the latest and strategize on  GE contamination  with George Kimbrell, senior attorney with the Center for Food Safety and lead attorney on numerous GE cases at the 32nd National Pesticide Forum, Advancing Sustainable Communities: People, Pollinators and Practices, April 11-12, 2014, Portland, Oregon.
Source: Organic Seed Growers and Trade Association press release
All unattributed positions and opinions in this piece are those of Beyond Pesticides.