13
Jun
(Beyond Pesticides, June 13, 2014) Monday marks the beginning of a week of celebration for the irreplaceable species that pollinate one in three bites of food we eat, yet are threatened by the rampant use of pesticides in landscapes across the country. Beyond Pesticides is doing all we can to BEE Protective of honey bees and other wild pollinators, and we want to help elevate your voice, and provide you with the tools to make real change in your community that will help save the bees!
Here's the buzz on the festivities hosted by Beyond Pesticides and allies during Pollinator Week June 16th- 22nd, 2014.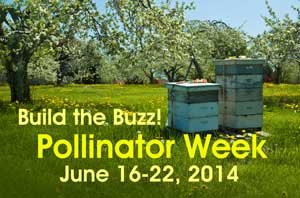 Kick off Pollinator Week with an Online Town Hall!
Monday, June 16th at 9 p.m EST/6 p.m PST —RSVP Here!
What's the Buzz About? A conversation about bee declines, impacts on our food system and what you can do about it.
Join the Berkeley Food Institute, Pesticide Action Network, Beyond Pesticides, Center for Food Safety, and TakePart for a lively discussion with academics, beekeepers and journalists about what's driving the declines, what it means to our food and farming system, and what we can do about it. Join in online via Youtube! (video will not be available until 9p.m. EST/6p.m.PST) Please RSVP!
Participate in the Daily Twitter Chat! – Search the hashtag #pollinatorchat
Monday, June 16th through Friday, June 20th at 1 p.m. EST/10 a.m PST
Discussion Topics:
Ӣ Monday – The importance of bees and other pollinators, with a focus on the food system
Ӣ Tuesday – What can we do to help bees – in our backyard, community, at the state and federal level or in the marketplace?
Ӣ Wednesday – "Beewashing" by industry and Bayer's Bee Care Tour
Ӣ Thursday – Stories from the hive. Question and answer session with beekeeper Jim Doan, who lost all of his bees to pesticides.
Ӣ Friday – Broaden the scope of the discussion to all pollinators that deserve respect: bees, bats, birds, butterflies, moths, beetles, and other insects!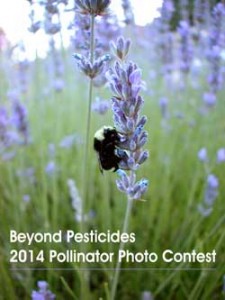 Pollinator Photo Contest!
Send your best pollinator photo to [email protected]! We will choose three winning photographs to be featured in the Fall 2014 issue of our quarterly newsletter, Pesticides and You! Select photos will be highlighted on Beyond Pesticides' Facebook and Twitter pages throughout Pollinator Week. Photos are due to Beyond Pesticides by midnight Wednesday, June 18th. Read more about the contest here!
Have You Asked Your U.S. Representative to Support the Saving America's Pollinator's Act?
The Saving America's Pollinators Act would suspend the use of neonicotinoid pesticides until a full review of scientific evidence and a field study demonstrates no harmful impacts to pollinators. Contact your Rep. now!
Take the Pollinator Pledge and Request Bee-Friendly Material and Pollinator Safe Seeds!
Throughout Pollinator Week Beyond Pesticides will provide activists with BEE Protective campaign materials and pollinator safe seeds free of charge! Send an email to [email protected] – simply let us know how you'll be using the material to raise awareness in your community! See our BEE Protective website for the list of campaign materials we can provide.
In addition, help Beyond Pesticides build a network of safe spaces for pollinators across the country by recording your property as the pollinator haven that it surely is!
USDA Pollinator Week Festival!
If you're in the Washington D.C. area, stop by the USDA Pollinator Week Festival (located on 12th Street between Jefferson Drive and Independence Ave, SW) on Friday afternoon, June 20th! Beyond Pesticides and the Center for Food Safety will be tabling and handling out informational material on pollinator protection.
All unattributed positions and opinions in this piece are those of Beyond Pesticides.