25
Jul
(Beyond Pesticides, July 25, 2014) A new U.S. Geological Survey (USGS) study published yesterday found neonicotinoid pesticides persistent and prevalent in streams throughout the Midwestern United States. The study is the first to investigate the presence of neonicotinoids on a wide-scale level in the Midwest.
While neonicotinoid use has increased throughout the country, the Midwest in particular has seen a dramatic increase over the last decade. The use of clothianidin, one of the chemicals studied, on corn in Iowa alone has approximately doubled in just two years, from 2011 and 2013.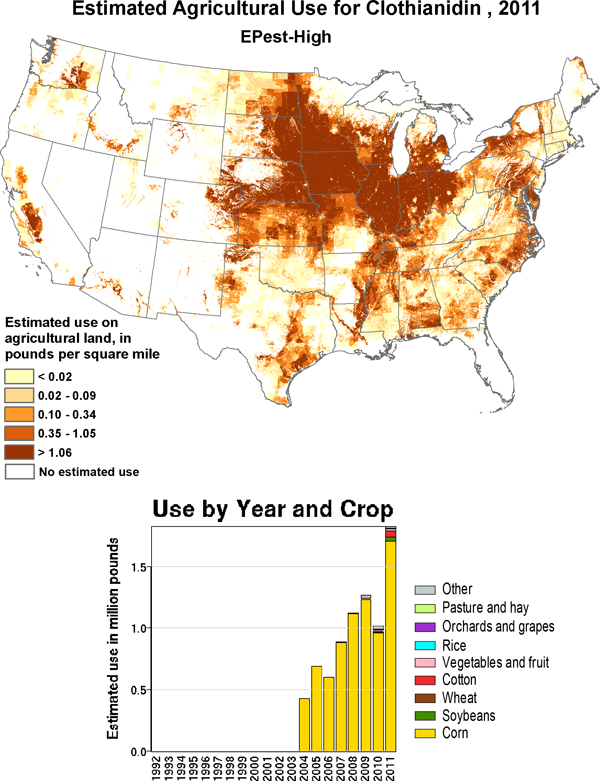 Neonicotinoids are chemically similar to nicotine and are pesticides that are toxic to a broad range of insect pests. They are also known as systemic pesticides, which are pesticides that spread throughout the entire plant structure, making everything from roots to pollen toxic to organisms that come in contact with it. As a result, neonicotinoids have been linked to the global disappearance of honey bees and other nontarget organisms, such as earthworms, birds, and aquatic invertebrates.
USGS scientist Kathryn Kuivila, Ph.D., stated, "Neonicotinoid insecticides are receiving increased attention by scientists as we explore the possible links between pesticides, nutrition, infectious disease, and other stress factors in the environment possibly associated with honeybee die-offs." Dr. Kuivila is the research team leader for the study, which is titled "Widespread occurrence of neonicotinoid insecticides in streams in a high corn and soybean producing region, USA" and is published in the journal Environmental Pollution.
Neonicotinoids are water soluble and do not break down very quickly in the environment. As a result, they are more likely to end up in runoff from agricultural fields where they were applied and contaminate surface water and groundwater.
The study looks at nine rivers and streams, including the Mississippi and Missouri Rivers. The rivers drain most of Iowa, as well as parts of Minnesota, Montana, Nebraska, North Dakota, South Dakota, and Wisconsin. These states have the highest use of neonicotinoids in the country. Not surprisingly, neonicotinoids were found in all nine rivers and streams.
Clothianidin is the most commonly detected chemical, showing up in 75 percent of the sites and at the highest concentration. The next most commonly found chemical is thiamethoxam at 47 percent and imidacloprid at 23 percent. Acetamiprid and dinotefuran are only found once and the sixth chemical tested for, thiacloprid, was  not detected.
"We noticed higher levels of these insecticides after rain storms during crop planting, which is similar to the spring flushing of herbicides that has been documented in Midwestern U.S. rivers and streams," said USGS scientist Michelle Hladick, Ph.D., the report's lead author. "In fact, the insecticides were also detected prior to their first use during the growing season, which indicates that they can persist from applications in prior years."
The third most commonly found pesticide, imidacloprid, is known to be toxic to aquatic organisms at 10 to 100 nanograms per liter if the organisms are exposed to it for long periods of time. Clothianidin and thiamethoxam are expected to have similar effects since they behave similarly to imidacloprid. The study found maximum concentrations of clothianidin, thiamethoxam, and imidacloprid at 257, 185, and 42.7 nanograms per liter, respectively.
In March 2013, Beyond Pesticides joined beekeepers and environmental and consumer groups in filing a lawsuit, Ellis et al v. Bradbury,  in the Federal District Court against the U.S. Environmental Protection Agency (EPA) for its failure to protect pollinators from dangerous pesticides. The coalition is seeking suspension of the registrations of insecticides – clothianidin and thiamethoxam – which have repeatedly been identified as highly toxic to honey bees. The suit challenged EPA's oversight of these bee-killing pesticides, as well as the agency's practice of "conditional registration" and labeling deficiencies. On July 8, 2014, Beyond Pesticides joined with Pesticide Action Network North America and Center for Food Safety, represented by Earthjustice, in filing  a legal challenge in the California Superior Court for the County of Alameda, urging the California Department of Pesticide Regulation (DPR) to stop approving neonicotinoid pesticides pending its completion of a comprehensive scientific review of impacts to honeybees. DPR began its scientific review in early 2009 after it received evidence that neonicotinoids are killing bees, but five years later, DPR has yet to take meaningful action to protect bees.
Meanwhile, the U.S. Fish and Wildlife Service (FWS) issued an internal memorandum earlier this month stating that the Pacific Region will begin phasing out the use of neonicotinoid insecticides to grow agricultural crops for wildlife on National Wildlife Refuge System lands, effective immediately. Region 1 will stop the use of neonicotinoids completely in all agricultural activity by January 2016. In February of 2014, Beyond Pesticides and other environmental groups filed a legal petition to ban the use of neonicotinoids on wildlife refuges. During the close of National Pollinator Week, on June 20, 2014, the White House issued a Presidential Memorandum on pollinator health to the heads of federal agencies requiring action to "reverse pollinator losses and help restore populations to healthy levels."
To see what you can do to protect pollinators, go to Beyond Pesticides' BEE Protective page.
All unattributed positions and opinions in this piece are those of Beyond Pesticides
Source: U.S. Geological Survey
Image Source: USGS Pesticide National Synthesis Project (double click for larger image)