23
Jul
(Beyond Pesticides, July 23, 2014) New Zealand's Environmental Protection Authority is stepping up its requirements for a higher level of scientific evidence regarding the safety and effects of neonicotinoids -pesticides linked to bee decline- before considering them for approval. Just last month, the Authority declined an application of thiamethoxam, a neonicotinoid, for use as a seed treatment, citing risks to bees.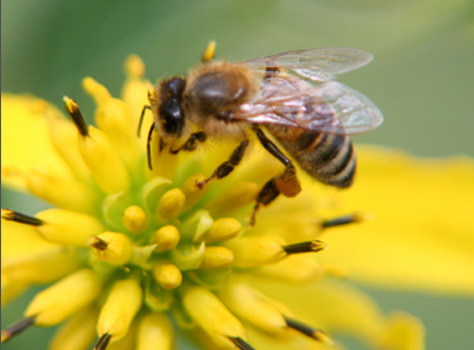 The decision follows a recent worldwide integrated assessment of research into systemic pesticides that concludes that neonicotinoid insecticides pose a serious risk to birds, honey bees and other pollinators, and a wide range of invertebrates, including earthworms. The international analysis of 800 peer-reviewed scientific reports confirms concerns of beekeepers and environmental groups throughout the world that long-term exposure to systemic pesticides at low, sublethal levels could be harmful to bees and a factor in declining bee populations.
While it is unclear what these new stringent requirements are, the Authority, which works with New Zealand's Beekeepers Association on the issue, already confirmed specific restrictions to products containing neonicotinoids to minimize the risk to insect pollinators. These restrictions include the prohibition of the use of neonicotinoids in areas where bees are foraging, or on plants and trees while they are in bloom. Conversely, in 2013, the European Union placed a moratorium on the use of three neonicotinoid compounds -clothianidin, imidacloprid and thiamethoxam- for two years, citing hazards to bees.
Recently, the Authority declined an application for a seed treatment product, as the applicant was unable to demonstrate that it could be used safely in relation to bees. The insecticide product, Ortus, had been proposed as a seed treatment and contains thiamethoxam as the active ingredient. But, the Authority had concerns that it would not adhere properly to seeds and that contaminated dust would be produced during sowing, posing a high risk to bees.
Neonicotinoids have been linked by several scientific reports to significant losses of bee populations. Neonicotinoids, like imidacloprid, clothianidin, thiamethoxam, acetamiprid, and dinotefuran, are widely used as a seed coating on agricultural crops, and in home and garden products applied to flowering plants and vegetables, where they translocate throughout the plant, manifesting in nectar, pollen, and guttation droplets. Studies document that even low doses of these pesticides impair bee learning and navigational behavior, foraging, and suppresses their immune system making bees more susceptible to pathogens. A Harvard School of Public Health study, published in the Bulletin of Insectology, shows two widely used neonicotinoids appear to significantly harm honey bee colonies over the winter, especially during colder winters. Also read the report: No longer a Big Mystery.
In the U.S., the White House released a Presidential Memorandum  on pollinator health to the heads of federal agencies requiring action to "reverse pollinator losses and help restore populations to healthy levels." The President is directing agencies to establish a Pollinator Health Task Force, and to develop a National Pollinator Health Strategy, including a Pollinator Research Action Plan.  The memorandum recognizes the severe losses in the populations of the nation's pollinators, including honey bees, wild bees, monarch butterflies, and others. It recognizes pollinator  losses and acknowledges their importance  to the agricultural economy.
Beyond Pesticides and allies, including beekeepers, have filed legal petitions and lawsuits with EPA, calling on the agency to suspend the use of neonicotinoids. Yet, over two years later, the agency has refused and indicated it will not finish its review for clothianidin and thiamethoxam, as well as other neonicotinoids, until 2018. But according to advocates,  recent bee deaths  from the use of a neonicotinoid,  and mounting scientific evidence require an urgent response that necessitates removing these chemicals from the market.
Joins us in our BEE Protective campaign to help encourage municipalities, campuses, and individual homeowners adopt policies and practices that protect bees and other pollinators from harmful pesticide applications and create pesticide-free refuges for these beneficial organisms. In addition to scientific and regulatory information, BEE Protective also includes a model community pollinator resolution and a pollinator protection pledge. BEE Protective has also launched the Pollinator-Friendly Seed Directory, a comprehensive list of companies that sell organic seeds to the general public.  Toxic pesticides harmful to bees, including neonics,  are not permitted in  seeds certified organic, which display the USDA Organic label on their packaging. Included in this directory are seeds for vegetables, flowers, and herbs. Pollinators are a vital part of our environment and a barometer for healthy ecosystems. Let's all do our part to BEE Protective of these critical species. www.BEEProtective.org
Source: NZ Farmer
All unattributed positions and opinions in this piece are those of Beyond Pesticides.