24
Dec
The staff and Board of Beyond Pesticides extend our sincere gratitude and wish for a happy and healthy holiday season and New Year to all those who have joined with us in taking  or supporting action  to promote health and environmentally responsible practices in 2014. Our Daily News is taking a holiday break and will return on Monday, January 5, 2015 with renewed energy and vision to continue fighting for broader adoption of organic  practices for a sustainable future.
Whatever your current level of involvement with Beyond Pesticides: whether you work with us directly to make changes in your community, have received help through an information request, participate in our online actions, like or follow us on social media, or simply read and share our website and Daily News with friends and family, your contributions are a critical part of the pesticide-free grassroots movement that continues to strengthen and grow. We hope you will continue to lend your support in 2015.
In order to help us realize the critical protections we're all fighting for, please consider becoming a member, providing a year-end tax-deductible donation, or purchasing a pesticide-free zone sign from our online store. With your help, we advance scientific understanding  that informs the need for improved chemical restrictions  —challenging unprotective regulatory decisions and effecting changes in policies and practices that protect health and the environment,   from local communities  to the federal government.
As we count the victories this year, we must also consider the challenges that still lie ahead. Beyond Pesticides believes that by working with you, in partnership  with people and organizations nationwide, we will realize critical achievements in the  coming year:
BEE Protective Victories: From Vermont Law School to Seattle, Washington; the dedicated activists at Bee Safe Boulder, all the way up to U.S. National Wildlife Refuges, 2014 has seen institutions of all sizes take BEE Protective action and restrict the use of toxic neonicotinoids and protect pollinator populations. These actions are part of a larger shift in pest management towards organic alternatives that focus on physical, cultural, mechanical, and biological controls before considering synthetic pesticides.
What lies ahead: Victories in communities and select institutions are critical to moving forward on broader restrictions at the federal level. At the close of Pollinator Week 2014, President Obama created a Pollinator Task Force to promote the health of bees and other wild pollinators. Groups and concerned residents across the country called on the President to #BeeKindObama and make sure that the Task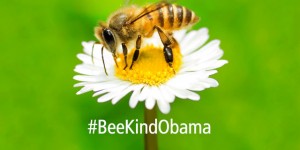 Force takes meaningful action and suspends these toxic chemicals. We need your help to continue to put pressure on the POTUS: become active in your community and advocate for BEE Protective policies; share your story on the importance of pollinators in your life; and continue to educate others on this critical issue. One in three bites of food depends on pollinators, so resolve to save them in 2015!
Saving Our Organic: This year the National Organic Standards Board voted to remove the last antibiotic allowed in organic production. A landmark study found clear health benefits from eating organic food over conventional, and another showed dramatically lower pesticide exposure after switching to an organic diet. It's no surprise that poll after poll this year found consumers actively seeking out organic options for health and environmental reasons. This is why Beyond Pesticides finds it so critical to maintain and uphold the standards and values put forward by the Organic Foods Production Act, bringing an important and forceful voice to efforts that must ensure organic integrity.
What lies ahead: As organic experiences "growing pains" associated with certification, pictures of factory farms in violation of the law dishearten consumers, and shake the public's trust in the organic label. To add insult to injury, the National Organic Program's recent changes to the authority of the National Organic Standards Board and procedures for sunset review must continue to be vigorously challenged in order to defend organic, and keep it from sliding into conventional practices. Please continue to stay up to date with Beyond Pesticides' Keep Organic Strong page, and take action on the Save Our Organic website.
Rejecting the Genetically Engineered (GE) Pesticide Treadmill: This year the Environmental Protection Agency denied Texas cotton growers an emergency exemption to use the hazardous herbicide triazine to control resistant weeds, citing concerns for drinking water. Communities in Hawaii remain stalwart in their fight for protections from incessant pesticide applications near where they live, work, and play. And, the grassroots movement on the islands continues to make history. Maui County was able to achieve an amazing upset over agrichemical giants, temporarily banning the planting of GE crops in a popular vote, despite being outspent by 87 to 1. Maui joined Jackson and Josephine Counties in Oregon, which banned the planting of all GE crops outright. Vermont became the first state in the country to require labeling on GE foods, and has moved forward despite a lawsuit from Monsanto and the Grocery Manufacturers Association.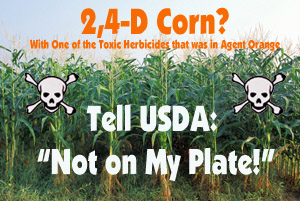 What lies ahead: Contrary to firm and increasing evidence showing the failure of the GE model, regulators are doubling down on their mistakes, allowing a new, more toxic herbicide to be sprayed on novel pesticide-tolerant crops. Notwithstanding the victory in Vermont, proponents of labeling GE foods encountered a roadblock in Colorado and in Oregon, where a ballot measure was defeated by one of the slimmest margins in state history despite huge spending by chemical companies. Numerous instances of GE contamination also reared its head in 2014, as China rejected shipments of Syngenta corn, and Montana discovered another incident of unauthorized release of GE wheat. GE agriculture undermines the organic model, which, as a recent UC Berekley study found, can and must be the system to feed the world. According to a 2014 survey, one third of U.S. organic farmers have experienced GE contamination. Individuals wishing to reject the GE model can purchase organic foods, and advocate for labeling and restrictions on GE plantings within their community.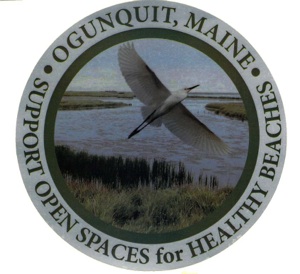 Expanding the Takoma Park Model: The passage of Ogunquit, Maine's pesticide-free ordinance (twice!) this year shows the desire within local communities not subject to state preemption to restrict pesticides in a way that protects the health of residents and the environment. By prohibiting pesticide use on public and private property for lawn and landscape purposes, Ogunquit is paving the way for other localities in the state. The small town of Skagway, Alaska also took advantage of the lack of preemption in the state by banning bee-harming neonicotinoids and persistent herbicides, and placing strong restrictions on the use of lawn care pesticides. Now, Montgomery County, MD has picked up on the momentum that activists in Takoma Park, MD brought through the successful passage of the Safe Grow Act. In October, the Montgomery County Council introduced Bill 52-14 based upon growing concerns in the community of the health risks associated with exposure to pesticides.
What lies ahead: Activists must remain vigilant by defending and successfully implementing current laws while continuing to push for increased protections. The town of Chilmark, MA's attempts to stop the spraying of a sensitive lake with glyphosate shows the need to continue fighting regressive preemption laws. Buoyed by efforts in other states, individuals can take action by participating in their local democratic institutions. Start your own local movement, and fight for protections from unnecessary pesticide spraying in your community. Even if your state is preempted, you can still work to enact a policy that stops pesticide spraying on public land, which builds momentum for larger efforts. And, ask your elected representatives in the state legislature  to repeal state law  that currently preempts local authority to restrict pesticides in the state's towns and cities.
On April 17-18, 2015, the 33rd National Pesticide Forum will take place in Orlando, Florida at Florida A&M University College of Law. Florida is a hotbed of activity regarding pesticide use on turf and for mosquito control, organic agriculture, wildlife conservation and farmworker rights. We hope to see you there to help organize and continue building the pesticide-free movement. Check out Beyond Pesticides' YouTube channel on our 2014 Forum in Portland, Oregon.
Thank you all again for working with us in 2014. We're so excited to see what your support will help us achieve in the New Year. All best wishes for the new year.
All unattributed positions and opinions in this piece are those of Beyond Pesticides.