31
Mar
(Beyond Pesticides, March 31, 2015) A world renowned entomologist, who reevaluated data from a controversial study on neonicotinoid insecticides, has concluded that UK government scientists misinterpreted the findings when they  concluded that restrictive policy wasn't necessary on the bee-killing pesticide. David Goulson, Ph.D., a bee researcher and professor at the University of Sussex in Falmer, said the UK was wrong in its position, based on the new analysis.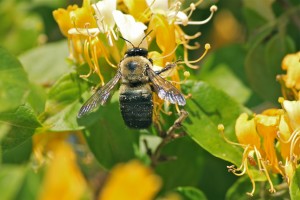 Neonicotinoids have been found by a growing body of scientific literature to be linked to honey bee and pollinator decline. The European Commission voted to suspend the use of neonicotinoid pesticides in 2013 for two years. The ban came several months after the European Food Safety Authority (EFSA) released a report  identifying "high acute risk" to honey bees from uses of certain neonicotinoid chemicals.  However, this action was opposed by the UK government. Despite this opposition, Britain was required  to comply with the ban under European Union (EU) rules.
One of the main pieces of evidence informing this opposition is a study published in 2013 by Britain's Food and Environment Research Agency (FERA), which found  "no clear consistent relationship" between exposure to neonicotinoids and the growth of bee colonies and the number of queens they produce. Dr.  Goulson conducted a new analysis of the FERA data and concluded that they clearly  show substantial negative effects of neonicotinoids on the performance of colonies.
"I would argue they didn't correctly interpret their own results," says Dr. Goulson, who supports the EU moratorium on neonicotinoid use.
In a statement, the Department of Environment, Food & Rural Affairs (DEFRA), which commissioned the FERA study, said that it was aware of the new analysis and recognized that pesticides are "one of the potential pressures" on bees. "We continue to work closely with the EU and our independent Advisory Committee on Pesticides to review any new research into the effects of neonicotinoids on bee populations, ensuring it is based on the best scientific evidence available," said the statement.
In the U.S., the struggle to address the pollinator crisis continues to face obstacles, even in face of a growing number of Americans who believe bee declines are critical and linked to pesticide use.  Earlier this month,  advocates delivered over four million signatures  to the White House calling for decisive action on the rampant use of  neonicotinoids  and similar systemic insecticides, which scientists say are a driving factor in declining bee populations. Saving America's Pollinators Act, reintroduced this month by Representatives Earl Blumenauer (D-OR) and John Conyers's (D-MI), if passed, will suspend the use of four of the most toxic neonicotinoids until the EPA conducts a full review of their safety.
Learn more about pollinator issues and what you can do at the 33rd National Pesticide Forum,  Agricultural Justice, Age of Organics, and Alligators, Protecting health, biodiversity, and ecosystems,  in Orlando, Florida April 17-18, 2015.  Get more information and register today!
Source: Nature
All unattributed positions and opinions in this piece are those of Beyond Pesticides.