27
May
(Beyond Pesticides, May 27, 2015) As summer approaches, local stores continue to set the pace for protecting pollinator populations from the harms of neonicotinoid pesticide use. In southern Maine, Kittery Ace Hardware joins Eldredge Lumber and Hardware in its efforts to actively seek alternatives to  pesticides that contain  neonicotinoids and other toxic pesticides by consciously stocking their shelves with organic compatible products as opposed to lawn and garden products that contain toxic chemicals. This shift by local stores like Eldredge and Kittery highlights the role retailers can play in responding to community concerns over dangerous pesticide use, and indicates their desire to be part of the solution when it comes to protecting pollinators. Local stores' increasing  attention to local concerns over a common problem is  juxtaposed with  big box hardware stores' response to neonicotinoid concerns that respond to public pressure with vague language, drawn out or nonexistent timelines, and failure to take a stance on overwhelming scientific evidence that neonicotinoids cause harm to pollinator populations. As more national retailers respond to public pressure to ban neonicotinoid-containing products, it becomes clear that local, small-scale efforts to stock shelves with alternative products offer a better and more concrete approach to stopping neonicotinoid use.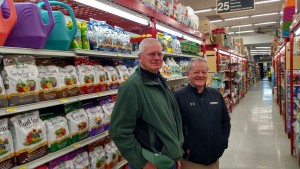 Neonicotinoid  use is concerning because it affects the central nervous system of insects, resulting in paralysis and eventual death. These pesticides have  consistently been implicated  as a key issue in pollinator declines, not only through immediate bee deaths, but also through sublethal exposure that causes  changes in bee reproduction, navigation, and foraging. The science has become increasingly clear that pesticides, either working individually or synergistically,  play a critical role  in the ongoing decline of honey bees.   Pesticide exposure can impair both detoxification mechanisms and immune responses, rendering bees more susceptible to viruses, parasites, and other diseases, and leading to devastating bee losses.
In response to public pressure raised about  these concerns, Ace Hardware Corporation recently joined Lowe's in its commitment to phase out neonicotinoids. However, Ace's plan fails to set a concrete timeline, stating that it  will replace neonicotinoid-containing products "as new and appropriate replacement products are made available by suppliers." In contrast, Lowe's set a 48-month timeline for phasing out neonicotinoid products, and Eldredge was able to bring in alternative products immediately, indicating that they are readily available on the marketplace. However, Ace does claim to have been monitoring issues related to bee health for some time now, citing the varied viewpoints related to stressors on honey bees as the driving force in its decision to move away from carrying products that contain neonicotinoids. Contrast this against yet another hardware retailer, Home Depot, which has yet to make a decision as to whether to continue to carry neonicotinoid-containing products due to varying opinions about their role in harming pollinator populations.
In 2014, Friends of the Earth, Beyond Pesticides and other allies released a report that found over half of garden plant samples purchased at major retailers like Lowe's and Home Depot contained neonicotinoid pesticides, which when applied makes the entire plant poisonous to bees and other wild pollinators. After a year and a half long campaign asking for direct action to be taken, Lowe's announced it was phasing out the sale of all products that contain neonicotinoid pesticides within 48 months. Ace is not following suit, although an absence of details regarding its  plan leaves the door open for scrutiny and raises questions as to whether chain officials  are genuinely trying to provide consumers with viable alternatives, or just reap the benefits of public praise for their surface level commitment to addressing the issue. Some action is better than no action, however, and compared to Home Depot, which has failed to even feign commitment to eliminating neonicotinoid products, the actions of Lowe's and Ace are at least a step in the right direction.  Home Depot has not announced any intentions to phase out the use of neonicotinoids on their plants, although they have started requiring suppliers to label plants treated with neonicotinoids so that customers that are concerned about the effects of their use can make informed decisions.
In contrast to the slow movement to eliminate neonicotinoids in the market place, individual municipalities, encouraged by local interests, have seen success in taking meaningful action against the use of neonicotinoids. The City of Portland, Oregon recently voted unanimously to ban the use of neonicotinoid insecticides on city-owned property because these pesticides are persistent in the environment, harmful to pollinators, and have been involved in acute bee kills  in other areas of the state. Similar actions have been seen in Eugene, Oregon, Skagway (Alaska),  Shorewood, Minnesota, Boulder, Colorado  and, in Washington State,  Thurston County,  Seattle, and  Spokane.
These local actions show the power of communities to protect and conserve their natural resources from the dangers of products containing neonicotinoids. Efforts by local businesses, like Elderdge Lumber and Hardware, to stock alternatives and educate consumers on their use is a wonderful example of creating change through grassroots efforts and a bottom-up approach, and offers an alternative to waiting for big box hardware stores to carry neonicotinoid-free products. If you are a consumer looking for more information on how to manage pests without using harmful neonicotinoids, check out these Beyond Pesticides resources.
Source: Businesswire and Portland Press Herald
Photo: (left to right) Landscape Department Manager John Bochert and Scott Eldredge of Eldredge Lumber and Hardware, York, Maine.
All unattributed positions and opinions in this piece are those of Beyond Pesticides