24
Dec
(Beyond Pesticides, December 24, 2015) Beyond Pesticides would like to thank our members and supporters for making 2015 a year of historic victories in advancing sustainable and organic land and building management. As our Daily News takes a holiday break, returning Monday, January 4, 2016, we hope you will join us in reflecting on the progress made this year, and the challenges that still lie ahead.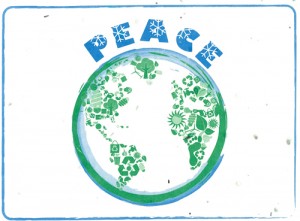 As members and supporters of Beyond Pesticides, we know you share the same sense of momentum and accomplishment that the staff and board feel at the close of 2015. We would like to deeply thank you for aligning with Beyond Pesticides' mission, whether through talking to friends and coworkers about pesticide concerns, work in your local community, defending organic through public comments, joining us at our 33rd National Pesticide Conference, signing important petitions, or supporting our numerous other program areas. We look forward to working with you to grow our voice in 2016, and reach more individuals, local and state governments, and businesses with the knowledge and technical expertise that will support a transition in pest management practices that no longer utilize toxic products and adopt a sustainable and organic approach. Your tax-deductible year-end donation will continue to fuel this positive change into 2016.
Local Policy Victories
In a watershed moment for the movement against toxic pesticide use, Montgomery County, Maryland successfully passed the strongest restrictions on public and private cosmetic pesticide use in the United States, expanding upon the trail blazed by Takoma Park, MD in 2013, and Ogunquit, ME in 2014. The absence of regressive state-level preemption laws enabled these communities to extend their policies to restrict toxic pesticide use on private property.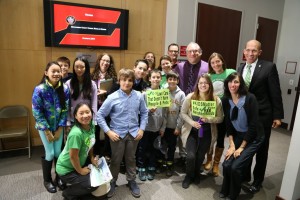 However, even in communities subject to state-level preemption, local governments made tremendous strides towards protecting the health of their residents, pollinators, water quality, and the wider environment. A long list of new pollinator protective policies were passed throughout the country, from Boulder, Boulder County and Layfayette, CO, to Thurston County, WA, to Plattsburg, NY, to Portland, OR and Minneapolis, MN. Minneapolis' resolution stands out as it aimed to encompass the holistic changes in pest management practices necessary to truly protect pollinators and public health by moving the city not only towards becoming neonicotinoid-free (the insecticides linked to pollinator decline), but also organic on its public spaces. Reno, Nevada is also working in this direction, officially approving a pesticide-free parks program aimed at improving the health of its residents and local environment.
And at the state level, Connecticut's move to expand its forward-thinking restrictions on pesticide use on school playing fields to all playgrounds in the state highlights the imminent threat unnecessary pesticide use poses to children, who are uniquely susceptible to their impacts.
>>Help us continue to build momentum towards comprehensive pesticide restrictions in your community by Signing Your Support for a Pesticide-Free Community.
Changing the Marketplace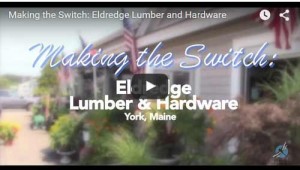 As more and more communities transition to pollinator-friendly and organic pest management practices, it is critical that home and garden retailers support and facilitate these changes by phasing out and eventually eliminating their stock of toxic products. Beyond Pesticides' Making the Switch video highlights Eldredge Lumber and Hardware in York, Maine, which is supporting Ogunquit's organic pesticide policy by enabling its customers to reorient their approach to pest control. To help other hardware stores replicate this forward-thinking and financially sound approach, we also crafted a resource for new products and practices through The Well-Stocked Hardware Store.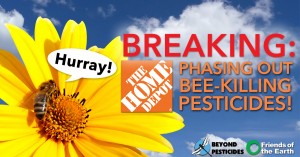 And slowly but surely, big-box retailers are beginning to take this line of responsible action. In April, Lowe's announced it would phase-out the sale of neonicotinoids and neonic-coated plants by 2018, and move towards stocking more organic alternatives in its stores. In December, after making a commitment to labeling plants pre-treated with neonics, Home Depot announced it was following Lowe's in phasing out these bee-toxic products. True Value and ACE's corporate headquarters still need to feel the heat; help us urge them to Act Now!

Rejecting Chemical-Dependent Agriculture by Promoting and Defending Organic
Beyond Pesticides continues to celebrate the growth of organic agriculture as the only viable, economical alternative, which is verifiable, to chemically dependent cropping systems. Our strategic victories in moving organic agriculture forward are part of a twofold strategy. First, we work to highlight and reject the deficiencies in conventional and genetically engineered (GE) agriculture, which relies on the ever increasing use of new and more toxic pesticides which is advanced by Monsanto and Dow AgroSciences. In a lawsuit filed with health and environmental allies we successfully challenged the U.S. Environmental Protection Agency's approval of Enlist Duo, a toxic cocktail of carcinogenic glyphosate and 2,4-D on the basis of untested synergistic impacts. Second, we fight to defend the integrity built into the organic label by decades of dedicated advocates and policymakers. In September, we successfully fended off a motion to dismiss a legal challenge against a USDA rule allowing the contamination of organic compost with toxic synthetic pesticides.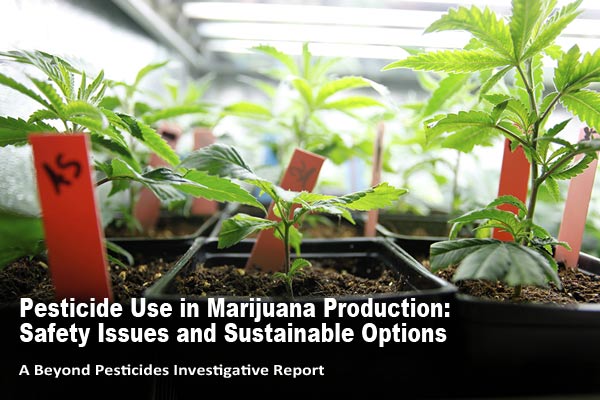 Our efforts to defend organic aren't limited to traditional crops. As more and more states allow medical and legal cannabis, Beyond Pesticides is working to orient the budding industry on a sustainable, organic trajectory. After public testimony and letters to the Governor of Colorado on the dangers of pesticides use on marijuana, an executive order declared pesticide-tainted cannabis "a threat to public safety," and subject to quarantine.
>>Please continue to support our efforts to defend the organic label by going to Save Our Organic, and providing a public comments when it comes time for the spring National Organic Standards Board meeting.
Promoting Sound Science on Pesticide Hazards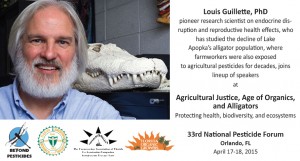 Underlining all of our victories is the work performed by the dedicated independent scientists whose studies point to hazards not analyzed or simply not considered under the EPA's current pesticide regulatory framework. At the 33rd National Pesticide Forum this year, keynote speakers Tyrone Hayes, PhD, and Lou Guillette, PhD (skip to time stamp: 20:31) presented their latest research on endocrine disrupting chemicals and their impact to wildlife. The environmental community continues to mourn the loss of Dr. Guillette. There is no denying the incredible importance his magisterial studies on Lake Apopka alligators contributed to our understanding of pesticide hazards.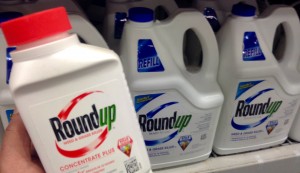 Sound, independent science is continuously under attack from the pesticide industry. Soon after an international panel of researchers under the World Health Organization's International Agency for Research on Cancer determined that glyphosate was carcinogenic based on studies in laboratory animals, Monsanto and other chemical companies launched attacks against the agency, eventually going as far as convening its own panel of "experts," in a failed attempt to show the safety of its flagship product. Aaron Blair, PhD, a National Cancer Institute researcher (retired), chair of the International Agency for Research on Cancer's (IARC) evaluation panel that found  glyphosate (Roundup) to be a carcinogen will be speaking at Beyond Pesticides' 34th National Pesticide Forum in Portland, Maine in April 2016.
Bayer and Syngenta, the major manufactures of neonicotinoid insecticides continue to dismiss independent science linking their products to pollinator declines. Despite a large and continuously growing body of research, and an acknowledgement from the White House that these long-lived systemic chemicals cause harm to bees, these companies continue reap enormous profits while beekeepers and our food supply suffers. And they use their influence in the government to attack scientists that threaten these profits. Jonathan Lundgren, PhD, filed a whistleblower complaint against the USDA for unprofessional retaliation following the publication of a study linking neonicotinoid insecticides to the decline of monarch butterflies. Yet in the face of such persecution, the Beyond Pesticides and the environmental community will continue to rise of in defense of independent scientists. In late 2015, Dr. Lundgren was awarded the Joe A. Callaway Award for Civic Courage, intended to honor those who "at some personal risk, take a public stance to advance truth and justice, and who challenge prevailing conditions in pursuit of the common good." We look forward to hearing Dr. Lundgren speak at our 34th National Pesticide Forum.
>>Help us help independent scientists by signing this petition against USDA's industry-influenced retaliatory tactics.
Happy Holidays and New Year
Our victories must be continuously defended from the chemical and pesticide industry. As we celebrate state and local victories, we must continue to push for more while making ourselves aware of intentions to roll them back through undemocratic preemption language in these states. As we cheer marketplace changes, we must understand that faster progress and broader changes are necessary from stores both large and small. And as we work against chemical dependent agriculture and promote organic, we must also be ready to defend the certification system from an industry that wishes to weaken its meaning while maintaining the premium prices organic food demands.
Thank you again for joining with us together this year to make these victories happen. We hope you'll take some time this holiday season to celebrate these accomplishments, and come together with us next year, refreshed, and ready for the new challenges, and new victories that lie ahead.
Best wishes for the New Year!