05
May
(Beyond Pesticides, May 5, 2016) Yesterday, a large coalition of national organizations delivered over 500,000 petitions to EPA that demands an end to glyphosate use in the U.S. The groups held a rally outside the White House before marching over to EPA headquarters. The event, organized by Moms Across America and Care2, was also joined by Beyond Pesticides, Organic Consumers Association, Friends of the Earth, SumOfUs, and CREDO Action. Glyphosate  is a pervasive and toxic chemical found in Monsanto's popular Roundup weedkiller and was classified by the  International Agency for Research on Cancer (IARC)  as a probable human carcinogen in 2015.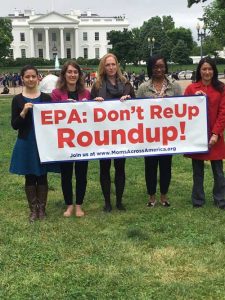 This comes the week after news reports of the European Union indicating it  will re-approve glyphosate's registration in the EU,  despite fierce public outcry, for another 10 years. Because EPA has not changed its classification of glyphosate as "not likely to be a carcinogen," it is expected that  EPA will renew the registration  of glyphosate. (The report concluding that glyphosate is not likely  to be carcinogenic to humans was posted online  by EPA on Friday,  but taken down  the following Monday, pending the agency's completion of its reevaluation.)
"The current science confirms that glyphosate and Roundup are anything but safe. This probable carcinogen has no place on our lawns or foods. We have safer, alternative methods of managing our lawns and growing food that do not rely on glyphosate or other toxic inputs. It is time that EPA recognizes its responsibility to move away from hazardous and unnecessary pesticides," says Nichelle Harriott, science and regulatory director of Beyond Pesticides.
Glyphosate residues have been detected in foods and products that are not typically associated with heavy glyphosate use, or even in organic foods and products, in which the use of glyphosate is prohibited. In March 2016,  Moms Across America released a report  on glyphosate residues in California wines. The  report  finds  that all of the ten wines test positive for glyphosate. Other recent reports of the widespread presence of glyphosate residues find the chemical in  breast milk,  in German beers,  feminine hygiene products, and  bread, as well as  in nearly 100% of Germans  tested.
A  scientific review  was released in February 2016 by a group of 14  scientists, who expressed concern about the widespread use of glyphosate-based herbicides (GBHs), the lack of understanding regarding human exposure, and the potential health impacts. According to the report, U.S. agencies, such as the National Toxicology Program, the Centers for Disease Control and Prevention, and EPA, have not adequately kept up with cutting-edge research. The researchers call for the global science and regulatory community to step back and take a fresh look at glyphosate due to widespread exposure patterns.
Beyond Pesticides advocates for a regulatory approach  that prohibits high hazard chemical use and calls for alternative assessments. The organization  suggests an approach that focuses on  safer alternatives that are proven effective, such as  organic agriculture. Thus, the best way to avoid glyphosate residues in a wide range of food and drinks is to buy and support organic agriculture and the USDA organic label over conventional agriculture. Beyond Pesticides'  database,  Eating With a Conscience  (EWAC),  provides information on the pesticides that could be present in the food we eat, and why food labeled organic is the right choice. EWAC also includes information on the impacts chemical-intensive agriculture has on farm workers, water, and our threatened pollinators.
Source: Press Release
All unattributed positions and opinions in this piece are those of Beyond Pesticides.