16
Nov
(Beyond Pesticides, November 16, 2016) The U.S. Environmental Protection Agency (EPA) recently began an investigation of the agrochemical company Monsanto and home pest control giant Terminix for pesticide law violations in Hawaii. Scott Enright, director of the Hawaii State Department of Agriculture (HDOA), said that cases are often referred to EPA when they involve federal jurisdiction, repeat violations, or serious allegations. According to him, the Terminix case was referred to EPA because the complaint included multiple allegations, but he refused to share information about the details of the Monsanto case, citing policies against commenting on ongoing investigations. A third case against Wonder Farm has also been referred to EPA, making for a total of five pesticide-related cases in Hawaii the federal agency has worked on this year.
The number of cases referred to EPA is not surprising, as Hawaii has long struggled to keep up with the demands of enforcing pesticide laws within the state. In the wake of these shortcomings, this past summer, Earthjustice sent a letter to EPA requesting that the agency notify the Hawaii State Department of Agriculture of its chronic failure to meet statutory duties for pesticides regulation and enforcement under the Federal Insecticide, Fungicide, and Rodenticide Act (FIFRA), and, if timely corrections are not made, to rescind HDOA's primary enforcement authority completely.  The letter cited failures to enforce pesticide use violations and a large backlog of pesticide complaints and investigations dating back to 2008 as evidence that enforcement authority should be taken over by EPA, who would assume responsibility for pesticide use violations occurring within the state. EPA repeatedly warne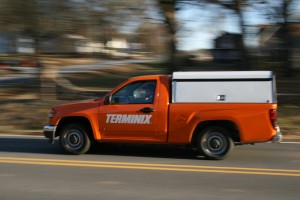 d HDOA since at least 2012 that HDOA has failed to adequately enforce pesticide laws and has allowed an unacceptable backlog of inspection files to grow. Instead of increasing its staff, HDOA's enforcement staff has been steadily shrinking, and not surprisingly, the number of inspections and enforcement actions has been decreasing every year. The intervention by EPA in these three cases, five total for the year, may indicate an agency effort to actually address pesticide violations taking place within the state.
The Termainix investigation stems from an April 2016 employee complaint claiming that workers lacked the proper equipment for fumigations and that their self-contained breathing apparatuses were not filled with air. Employees also allegedly do not use scales to weigh fumigants and are not equipped with clearing devices, which determine whether buildings are safe to enter. A quarterly report from the Hawaii Department of Agriculture to EPA also outlines pesticide regulation violations by Terminix throughout its Kauai operations. According to the report, workers were told to "remove placards and secondary locks without using a clearing device before structures were reoccupied."
This is not the first lawsuit Terminix has faced recently. This past summer they reached a tentative settlement agreement of $87 million with  the  Esmond family for the severe poisoning of the mother, father and two teenage children with the highly neurotoxic pesticide fumigant  methyl bromide.   The family fell ill when the company treated  a neighboring unit  to  their vacation residence  at a  condo resort complex in St. John, U.S. Virgin Islands, and the two sons remained in critical condition for several months before they began to recover. In addition to the settlement to the family, Terminix agreed to pay a  $10 million criminal fine  under a plea agreement  after being charged  by the U.S. Department of Justice (DOJ) and EPA in March 2016. "The facts in this case show the Terminix companies knowingly failed to properly manage their pest control operations in the U.S. Virgin Islands, allowing pesticides containing methyl bromide to be applied illegally and exposing a family of four to profoundly debilitating injuries," said Assistant Attorney General John C. Cruden for the Justice Department's Environment and Natural Resources Division in a March 29  statement  on the criminal plea agreement.
The company is also currently involved in another lawsuit, filed September 2015, pertaining to the poisoning of  ten-year-old Peyton McCaughey of Palm City, Florida,  who was hospitalized after his home was treated for termites with another toxic fumigant sulfuryl fluoride. Upon returning to their home hours after the Terminix subcontractor told them it was safe to enter, the whole family became very ill. While the parents and the 7-year-old daughter recovered, the young boy's condition continued to worsen. According to news reports, the  fumigation was performed by Sunland Pest Control, a subcontractor of Terminix.
Less is known about the Monsanto case referred by Hawaii to EPA, although Enright did mention that it was referred because it fell under federal jurisdiction. However, the use of agricultural pesticides, particularly by large seed companies, has been a contentious issue in Hawaii for many years. For example, Kauai, along with  Maui and the Big Island, have clashed with  agrichemical corporations  after successfully passing modest reforms aimed at limiting their residents exposure to the pesticides sprayed on genetically engineered (GE) crops grown in the state. Though the reforms were eventually struck down in federal court when claims by the chemical companies that local governments are  preempted  from enacting pesticide legislation more restrictive than Hawaii state law were upheld, the lawsuits laid the groundwork for strong grassroots opposition to companies like Monsanto. In fact, local support for opposition was so strong that in 2015 Kauai County Councilmember Gary Hooser traveled all the way to agrichemical giant Syngenta's shareholder meeting in Basel, Switzerland, where he addressed the company and its stakeholders on  the corporation's  lawsuit  against Kauai.
For more information about the fight to protect Hawaiian communities from an onslaught of pesticide spraying, see Beyond Pesticides previous Daily News coverage, or the  Hawaii Alliance for Progressive Action  webpage. Additional information about the hazards associated with pesticide use on GE crops is available on  Beyond Pesticides' program page. Beyond Pesticides continues to be an ardent supporter of common sense protections from pesticides and their associated use on GE crops. If you too support these issues, please visit our  website  to learn more about the issues and find ways to get involved in your local community.
All unattributed positions and opinions in this piece are those of Beyond Pesticides.
Source: Honolulu Civil Beat