17
Nov
(Beyond Pesticides, November 17, 2016) This week, the National Organic Standards Board (NOSB) is meeting in St. Louis to hear public comments on organic agricultural issues that will ultimately influence standards and processes. One major issue before the board is a motion on whether hydroponic and aquaponics operations can be certified organic. Farmers that practice hydroponic growing techniques are hoping to get the attention of the NOSB as they make an argument for their place in the certified organic industry, while others will be there to reject these arguments and uphold organic as soil-based agriculture. Despite a 2010 recommendation from the NOSB to prohibit allowing hydroponic production to quality as organic, USDA's National Organic Program allowed organic labeling of the sector, which has experienced rapid growth in recent years. Typically, consumers have no way of knowing that the organic labeled prodeucts they are buying were grown organically.
The NOSB is an advisory group, made up of 15 public experts, that makes direct recommendations to the U.S. Secretary of A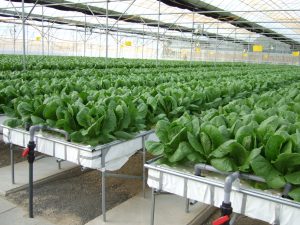 griculture on organic production, handling, and processing. In 2010, the NOSB recommended that farmers using hydroponic systems be ineligible for the organic certification. However, the National Organic Program (NOP) decided to ignore the board's recommendations and allow hydroponic growers to achieve organic status, a move that neglects the spirit and intent of the Organic Foods Production Act.   Currently, there are 30 hydroponic, 22 aquaponic, and 69 container operations with organic seals issued by the U.S. Department of Agriculture.
Hydroponic farming is a method of growing plants without soil, typically in plastic containers or long PVC pipes. Nutrient-enriched water is then pumped through the containers in direct contact with the plants' root systems. This process has long been embraced by conventional greenhouse producers for its simplicity, high yields, and lower costs.
Farmers that use hydroponic systems argue that their production methods are no different from their conventional counterparts who use soil as the growing medium. They also point out that they make organic farming more sustainable by reducing water and land use.
In an interview with the New York Times, Marianne Cufone, an aquaponics farmer and executive director of the Recirculating Farms Coalition, an aquaculture lobbying group, stated that "Soil to me as a farmer means a nutrient-rich medium that contains biological processes, and that doesn't have to be dirt."
San Diego farmer Colin Archipley of Archi's Acres, grows kale, herbs and a variety of produce hydroponically in greenhouses. He is frustrated over this debate, whether or not his produce is organic or not. "The reason this has become such a big deal is that systems like ours are becoming more popular because they're more efficient, which means farmers are more sustainable and profitable," he said. "That's put competition on farmers, specifically in Vermont, and so what this really is about is market protection."
Soil-based organic farmers beg to differ. Â  These producers believe using soil as a growing medium is the basis of organic agriculture. Â  They believe organic farmers manage and improve the physical, chemical, and biological health of the soil, which can create environmental benefits that go beyond growing plants.
Steve Sprinkel, an organic farmer in Ojai, California points out that, "Soil has always been the basis of organic production.   The soil is alive and releasing micronutrients to plants that use their roots to scavenge and forage those things, and so taking care of the soil is the bedrock of organic farming."
Beyond Pesticides supports the view that organic agriculture should be produced with soil-based farming techniques. Hydroponic growing systems use synthesized chemicals that are added to the irrigation water the plants are suspended in. Â  We believe in the natural process plants root systems undergo to extract nutrients from the soil.
The Organic Foods Protection Act states that: "An organic plan shall contain provisions designed to foster soil fertility, primarily through the management of the organic content of the soil through proper tillage, crop rotation and manuring." Based on this language, it would be assumed that hydroponics would not have a place at the organic table. The chief executive of OneCert, an organic certification business in Nebraska, feels that it's a no brainer. He says that, "There are things the law and regulations require you to do to the soil that you cannot do in a hydroponic system."
The United States lags behind with agricultural policy and environmental protection. The European Union, England, Mexico, Canada and Japan all exclude hydroponically grown produce from their organic standards. Experts predict that the explosive growth in hydroponic imports may force some organic farmers out of business in as little as five years.
Beyond Pesticides takes the position that organic does not allow an agricultural system that feeds nutrients to plants without upholding principles that protect and advance biodiversity, as well as sequesters carbon. Beyond Pesticides concurs with a central principle adopted by the NOSB in 2001 and published in the board Policy and Procedures Manual under the section entitled National Organic Standards Board, Organic Production and Handling: "Organic agriculture is an ecological production management system that promotes and enhances biodiversity, biological cycles, and soil biological activity. . ." For further information, see our article in the most recent edition of Pesticides and You, Farmers Rally to Stop USDA from Certifying Organic Hydroponics, which you can view here. To learn more about our efforts to protect organic integrity, visit our website here.
Source: NY Times