15
Feb
(Beyond Pesticides, February 15, 2017) Plaintiffs in a lawsuit against Monsanto, charging that its product Roundup caused their non-Hodgkins lymphoma (NHL), have cited the Environmental Protection Agency's (EPA) collusion with the company to block the agency from concluding that the manufacturer's product Roundup causes cancer, according to investigative reporter Carey Gilliam, writing in the Huffington Post. The filing states that EPA made an effort "to protect Monsanto's interests and unfairly aid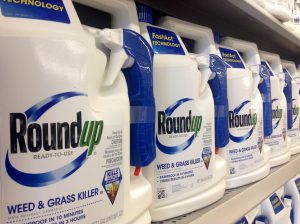 the agrichemical industry."Glyphosate has been linked to cancer  in the independent scientific literature and is listed as a probable human carcinogen by the World Health Organization's International Agency for Research on Cancer (IARC). Issues of suppression have also been uncovered, as Monsanto's lawyers have filed claims to prevent information  turned over to plaintiffs' lawyers during discovery from inclusion on the public record.
This is just the latest development in a variety of lawsuits aimed at Monsanto, including a challenge by a peach farmer over the illegal spraying of the herbicide Dicamba and the recent victory by the state of California to list glyphosate products as cancer causing. In the current case, a multitude of personal injury claims made by those suffering from, or that have lost loved ones to, NHL have been condensed into a class action suit that will be tried in the U.S. District Court for the Northern District of California. This allows discovery to move forward as one large class.
The filing, made last week by plaintiffs' attorneys, asks the court to compel the deposition of Jess Rowland, who served as deputy division director in EPA's Office of Pesticide Programs (OPP) and directly managed the work of scientists charged with assessing the human health effects of exposure to pesticides, including glyphosate. The motion accuses Mr. Rowland of playing "political conniving games with science" in favor of Monsanto's interests, and argues the agency's willingness to promote industry interests over protecting public health. According to the motion, "The Plaintiffs have a pressing need for Mr. Rowland's testimony to confirm his relationship with Monsanto and EPA's substantial role in protecting the Defendant's business." It goes on to claim that, "Mr. Rowland operated under Monsanto's influence to cause EPA's position and publications to support Monsanto's business…" During Mr. Rowland's tenure at EPA, the agency issued its finding that glyphosate meets its acceptable risk standards, despite IARC's position to the contrary based on the scientific literature. Up until last year, Mr. Rowland  also chaired the EPA's Cancer Assessment Review Committee (CARC), which determined glyphosate was "not likely to be carcinogenic to humans."
Based on Monsanto's previous efforts to keep documents in this case from being released publicly, it is likely that the agrichemical company will file a motion in opposition to Mr. Rowland's deposition. Monsanto has already sought to keep documents associated with this case secret, having asked the federal judge presiding over the case to block plaintiffs' attorneys from including documents they receive during the discovery process from being used as exhibits in court filings, so as to keep them out of the hands of the public and the media. Monsanto claims that releasing these documents may be an effort to "try this case in the court of public opinion," an act the company claims "is not in the public interest." This, despite the fact that millions of people around the world are exposed to glyphosate on a daily basis, and advocates maintain that they have a right to know what kind of relationship the company has with the government agency that is supposed to look out for its health and safety.
The chemical at issue in this case, glyphosate, has historically been touted as a "low toxicity" chemical and "safer" than other chemicals by EPA and industry and is widely used in food production and on lawns, gardens, parks, and children's playing fields. IARC's classification of glyphosate as a Group 2A "probable" carcinogen indicates that glyphosate is anything but safe, as the ranking represents the highest order carcinogen when no human data is available —and since chemicals are not tested on humans, a higher ranking  is rare. According to IARC, Group 2A means that the chemical is probably carcinogenic to humans based on sufficient evidence of carcinogenicity in experimental animals. In its report, the agency did note that glyphosate has been linked DNA and chromosomal damage in human cells. Further, epidemiologic studies have found that exposure to glyphosate is significantly associated with an increased risk of non-Hodgkin's lymphoma, which is the same type of cancer that plaintiffs in the current lawsuit are suffering, or have lost someone who suffered, from.
Since the release of the IARC determination, Monsanto has made several efforts to discredit the scientific findings of this well respected, international body, as detailed in the documents associated with this case. In a February 8 filing, Monsanto submitted a court brief arguing that, "The IARC classification of glyphosate as a probable human carcinogen is not relevant to the question of whether or not Roundup caused the plaintiffs' cancers." It goes on to claim that "IARC's approach is "less rigorous" than EPA's in evaluating scientific evidence, and IARC's conclusions are "scientifically unreliable,"" a conclusion that is unfounded, to say the least.
In a separate document filed on February 10, Monsanto went a step further, claiming that there is no evidence that the products at issue are "defective or unreasonably dangerous," and "no evidence of carcinogenicity in glyphosate or Roundup."
Ms. Gillam, Research Director for U.S. Right to Know, uncovers more to the story, pointing out that, as the evidence against Monsanto continues to mount, Congress may be stepping in to curtail class action lawsuits. Just last week, legislation was introduced by House Judiciary Chairman Bob Goodlatte (R-VA) to limit the ability of individuals to challenge powerful corporations in court with the stated goal of "diminish[ing] abuses in class action and mass tort litigation." Entitled the "Fairness in Class Action Litigation Act of 2017," the bill will apply to pending as well as future class action lawsuits. Joanne Doroshow, executive director of the Center for Justice and Democracy, believes that the bill will have terrible ramifications when it comes to protecting individual interests, as it "is designed to ensure that no class action could ever be brought or litigated for anyone." She continues, claiming that the legislation "would obliterate civil rights, antitrust, consumer, essentially every class action in America."
The mounting evidence of glyphosate's hazards is piling up and environmental groups, like Beyond Pesticides, are urging localities to restrict or ban the use of the chemical. Beyond Pesticides promotes these actions and many more through the Tools for Change webpage. This page is designed to help activists and other concerned citizens organize around a variety of pesticide issues on the local, state, and national level. Learn how to organize a campaign and talk to your neighbors about pesticides with our factsheets.
Another way to avoid glyphosate and other harmful pesticides is to support organic agriculture and  eat organic food. Beyond Pesticides has long advocated for organic management practices as a means to foster biodiversity, and research shows  that organic farmers do a better job of protecting biodiversity than their chemically-intensive counterparts. Instead of prophylactic use of pesticides and biotechnology, responsible organic farms focus on fostering habitat for pest predators and other beneficial insects, and only resort to judicious use of least-toxic pesticides when other cultural, structural, mechanical, and biological controls have been attempted and proven ineffective. For more information on why organic is the right choice, visit Beyond Pesticides' Organic Agriculture webpage.
Source: Huffington Post
All unattributed positions and opinions in this piece are those of Beyond Pesticides.