16
Feb
(Beyond Pesticides, February 16, 2017) On Tuesday, the Natural Resources Defense Council (NRDC) sued the Trump administration for reversing a February 10 rule, published in the Federal Register, that designated the Rusty Patched Bumblebee an endangered species under the Endangered Species Act (ESA). The reversal  of the endangered species listing establishes a new review period until March 21. As to their reasoning for such a sudden change, the U.S. Fish and Wildlife Service (FWS) cited the White House memo instructing federal agencies to postpone the effective date of any regulations that had been published in the Federal Register, but not yet in effect. As discussed several days ago, the order by the Trump administration means that despite FWS' determination that without federal action the species will likely become endangered, the Trump administration has 60 days to evaluate the decision for the purpose of "reviewing questions of fact, law, and policy."
The lawsuit, filed in the U.S. District Court for the Southern District of New York, argues that FWS violated the notice and comment requirements of public rulemaking for the delay on the bumblebee listing. In the lawsuit, NRDC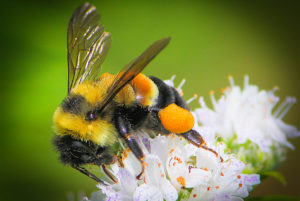 states that, "Without valid explanation, opportunity for public input, or other legally required process, FWS delayed the effective date of the listing, denying the bee the essential protections of the law." And, according to Rebecca Riley, a senior attorney for NRDC, in an interview with Mother Jones, "We don't think this is just a freeze – it's an opportunity for the administration to reconsider and perhaps revoke the rule entirely."
The Rusty Patched Bumblebee became the first bumblebee federally designated as endangered under ESA, when the final rule was published in the Federal Register on January 11 and had been scheduled to take effect this past Friday. Although the Rusty Patched Bumblebee was once widespread throughout the United States and parts of Canada, it declined dramatically in the 1990's, and now their populations are estimated to be less than 10% of what they once were. Threats to the rusty patched bumble bee include diseases introduced by commercial bumble bees that are not free of pathogens and are released near wild populations. Climate change plays a part, along with habitat loss, from industrial agriculture and development that decreases wild lands. There is also an overwhelming amount of research demonstrating that neonicotinoid insecticides, working either individually or synergistically, play a critical role in the ongoing decline of bees and other pollinators.
According to FWS's website on the Rusty Patched Bumblebee, "Neonicotinoids have been strongly implicated as the cause of the decline of bees, in general, and for rusty patched bumble bees, specifically. The introduction of neonicotinoid use and the precipitous decline of this bumble bee occurred during the same time." Neonicotinoids are a class of insecticides that share a common mode of action that affect the central nervous system of insects, resulting in paralysis and death. These chemicals are used extensively in chemical-intensive agriculture, especially as seed treatments for corn and soybeans. The case of the neonicotinoid use exemplifies two critical problems with current registration procedures and risk assessment methods for pesticides: the reliance on industry-funded science that contradicts peer-reviewed studies and the insufficiency of current risk assessment procedures to account for sublethal effects of pesticides.
While the endangered species listing by FWS was an important environmental action, other agencies continue to lag behind in addressing the threat of pesticides to pollinators. In March 2016, a U.S. Government Accountability Office (GAO) report concluded that U.S. regulatory agencies are falling short in addressing the multiple threats contributing to declining pollinators. The GAO report recommends that the U.S. Department of Agriculture (USDA) increase the monitoring of wild, native bees, while U.S. Environmental Protection Agency (EPA) efforts thus far on pesticide restrictions (label amendments and restrictions) have been limited and accomplished little to change pesticide exposure patterns to pollinators. GAO identified the need for EPA to develop a plan to assess pesticide risks to a range of bee species beyond honey bees, as current EPA evaluations only use honey bees as a surrogate for wild bee species. Further, the report finds that the impact from exposure to chemical mixtures also needs to be investigated.
For these reasons and many others, Beyond Pesticides works to promote the widespread transition of conventional farmland to organic production. Organic law requires farmers to foster soil health, effecting a strategy that enhances ecological balance and prevents pest problems. Because of these factors, organic systems plan practices increase plant health, diversity of pest predators, and resiliency to withstand pests and diseases.
Without federal protection, the Rusty Patched Bumblebee needs concerned communities throughout the country to step in and pass policies that will protect these imperiled pollinators. With one in three bites of food reliant on bees, other insects, and birds for pollination, the decline in pollinators due to pesticides, and other human-made causes, demands immediate action. For more on this and what you can do to protect pollinators, visit Beyond Pesticides' BEE Protective webpage.
Sources: Reuters, Christian Science Monitor
All unattributed positions and opinions in this piece are those of Beyond Pesticides.