28
Feb
(Beyond Pesticides, February 27, 2017) Myclobutanil, a systemic fungicide commonly used in agriculture and home gardens, can cause significant damage to the muscles that honey bees use to fly and keep warm during the winter. The results of a study, published this month in the journal Proceedings of the National Academy of Sciences (PNAS) by a group of researchers from the University of Illinois at Urbana-Champaign, underscore the importance of wide-scale education and movement away from the regular use of toxic pesticides. After nearly a decade of unsustainable losses, honey bees and other pollinators continue to suffer declines resulting from the use of toxic pesticides, particularly systemic insecticides called neonicotinoids.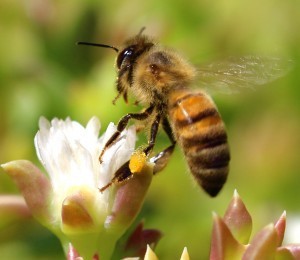 Although a substantial body of science implicates neonicotinoids as the most serious chemical threat to pollinators currently, the effects of fungicides and other pesticides on these important animals should not be dismissed as inconsequential. In fact, a 2016 study published by researchers at the University of Maryland found that bee colonies may die off as the number of different pesticide exposures increase.
In this recent study, researchers discovered complex interactions between myclobutanil, natural compounds found in flowers, and honey bees' detoxification system, known as cytochrome 450 enzymes. When foraging on flowers sprayed with myclobutanil, honey bees also consume small amounts of a flavonol called quercetin. In order to metabolize quercetin, bees use their cytochrome 450 enzymes. However, researchers find that myclobutanil inhibits the cytochrome 450 system, which in turn inhibits the ability to metabolize quercetin. Exposure to unmetabolized quercetin leads to a decrease in production of adenosine triphosphate (ATP) in bees' thorax, meaning that bees produced less energy for the muscles they use to fly.
Needless to say, it is precisely this type of complex interaction that environmental groups harshly criticize government regulators for not considering in risk assessments used to register toxic pesticides. These type of interrelated processes in turn effect the complex behavior of honey bees. Weaker flight muscles can interfere with pollinators' ability to make it to or from sources of food and forage. It may even be a clue to colony collapse disorder, a phenomenon that has occurred with a subset of honey bee declines that is characterized by a dead hive absent of large numbers of dead bees.
In addition to flying, honey bees cluster in a ball over winter and use their wings to generate heat within the hive. It is not difficult to see how weaker wing muscles could affect the ability of honey bee colonies to maintain a warm enough internal hive temperature.
Although the effects of fungicides on pollinators have not been studied extensively, the research raises serious concerns for another chemical tool integral to conventional chemical-intensive agricultural and garden practices. A series of studies published in 2015 discovered what lead researcher Mia Park, PhD characterized as "deleterious properties of a class of pesticides that was, until recently, considered benign to bees."
Myclobutanil is mainly used to control diseases like powdery mildew, which can affect a plant's ability to flower and fruit. However, there are a wide variety of non and least-toxic alternative means to control the disease. Essential oils, particularly rosemary and thyme, are effective, as is neem oil. Potassium-based soaps like MPEDE are registered to control powdery mildew and permitted for use in certified organic production. And for home gardeners, spraying baking soda and water on plants in the early morning has been successfully used to prevent mildew. Fungus thrives in wet, high humidity environments with low air circulation, and in the majority of cases eliminating those conditions will alleviate the effects of the disease.
By thinking holistically, and considering and respecting the complex interactions between humans and our environment, we can transition to a point where a toxic pesticide like myclobutanil is not necessary. Organic gardening and agriculture, which nurtures soil health and biodiversity, and a systems plan to prevent potential pest problems, provides a path forward. By acknowledging the complexity of ecological interactions, and limiting pesticide use to only situations when all other options have been exhausted, we can stop disrupting biological systems and the dramatic declines in pollinator populations and other wildlife that continue to define food production in the modern industrial age.
All unattributed positions and opinions in this piece are those of Beyond Pesticides.
Source: PNAS, Daily Mail