22
Mar
(Beyond Pesticides, March 22, 2017) Today, a coalition of farmers and environmental and public health organizations filed a lawsuit against the Environmental Protection Agency (EPA) for approving agrochemical giant Dow Chemical's toxic pesticide combo, Enlist Duo, among the newer more highly toxic pesticide mixtures used in genetically engineered (GE) herbicide-tolerant crops. Comprised of glyphosate and 2,4-D (50% of the mixture in the warfare defoliant Agent Orange), Enlist Duo is typically marketed alongside commercial crops like corn, cotton and soybeans that are engineered to withstand pesticide exposure, leading to problems of resistance and driving the evolution of super weeds. This is the third lawsuit challenging EPA approval of Enlist Duo by petitioners, which include Beyond Pesticides, National Family Farm Coalition, Family Farm Defenders, Pesticide Action Network North America, Center for Food Safety, and Center for Biological Diversity, represented jointly by legal counsel from Earthjustice and Center for Food Safety.
The lawsuit charges that approval of Enlist Duo "will lead to sharply increased spraying o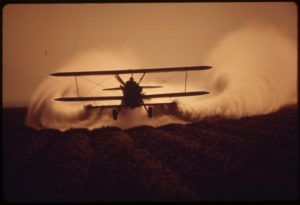 f toxic pesticides, harming farmers, neighboring crops, and wildlife." Specifically farmers' health and financial positions stand to be heavily impacted by the approval of Enlist Duo, as increased use will result in increased pesticide drift, an alarming concern especially for organic farmers. The U.S. Department of Agriculture (USDA) projects that the approval of Enlist Duo will lead to as much as a seven-fold increase in its use in agriculture, significantly increasing exposure to farmers.
Developed by Dow AgroSciences (Dow), Enlist Duo is an herbicide that incorporates a mix of glyphosate and a new formulation of 2,4-D, intended for use on GE Enlist-Duo-tolerant corn and soybean crops. The product formulation also contains unlisted inert ingredients, which are any ingredients that are not specifically included to target a pest, but can be biologically and chemically active and hazardous.
Enlist Duo has been marketed as a "solution" for the control of glyphosate-resistant weeds brought on by the widespread use of the chemical on Roundup Ready crops over the last decade that has led to super weeds. These super weeds now infest tens of millions of acres of U.S. farmland. Dow Chemical originally presented 2,4-D-tolerant crops as a quick fix to the problem, but independent scientists, as well as USDA analysis, predict that the Enlist crop system will only foster more weed resistance. In addition to environmental damage, the chemicals that comprise Enlist Duo have been linked to a myriad of human health problems. 2,4-D has been linked to soft tissue sarcoma, non-Hodgkin's lymphoma (NHL), neurotoxicity, kidney/liver damage, and harm to the reproductive system. Additionally, glyphosate has been classified as a human carcinogen based on laboratory studies by the World Health Organization (WHO) in March 2015.
The undisclosed inert ingredients are minimally tested despite state, federal and international agencies' knowledge that they may be hazardous to human health. Pesticide labels only identify the weight percentage of inert ingredients, which often comprise 50 to 99 percent of a formulation, and mislead the public into thinking that these other "inert" ingredients are safe. In 2014, Beyond Pesticides, represented by Earthjustice and in coalition with other environmental organizations, sued EPA for not disclosing inert ingredients on pesticide product labels.
According to the filing, petitioners challenge that the conditional registration of Enlist Duo, announced by EPA on January 12, 2017, not only replaces the previously registered use of Enlist Duo in 15 states where the was registered unconditionally, but also approves new uses of Enlist Duo on GE corn and soybeans in 19 states as well as approves a new use on GE cotton in all thirty-four states. As a result, petitioners are asking the court to find, under the Federal Insecticide, Fungicide and Rodenticide Act (FIFRA), that EPA violated its duties in issuing the conditional registration. They also ask the court to find that EPA violated its agency duty under the Endangered Species Act (ESA) by failing to consult with the U.S. Fish and Wildlife Service (FWS) or the National Marine Fisheries as to whether the conditional registration of Enlist Duo would jeopardize any listed species or negatively impact their habitat.
"Scott Pruitt and the Trump administration are endangering farmers and the environment by caving to Big Ag and approving this highly toxic pesticide combo," said Sylvia Wu, staff attorney for Center for Food Safety and legal counsel in the case. "Fortunately we have laws written to protect farmers and the environment, and we intend to have the Court enforce them."
"EPA's registration of Enlist Duo, which causes unreasonable adverse effects to health and the environment, is responsible for increased 2,4-D use –as much as a seven-fold increase to 176 million per year by 2020, without the economic return achieved by those who practice sustainable organic production," said Jay Feldman, executive director of Beyond Pesticides.
Jim Goodman, Family Farm Defenders board member and organic farmer from Wonewoc, Wisconsin, commented: "Roundup was initially touted as a replacement for older, more dangerous chemicals like 2,4-D. Now that Roundup, the widely used carcinogenic pesticide is failing to kill weeds, Dow is bringing back 2,4-D and teaming them up to create a more toxic mix than ever. Will the buffer strips on my organic farm be adequate protection from the more volatile drift-prone nature of 2,4-D? I should not be put in the position to find out."
This case represents the third action in a string of lawsuits on Enlist Duo filed by petitioners. The first lawsuit was filed against EPA shortly after Enlist Duo was approved on October 15, 2014 for use on GE crops. In that case, a similar coalition of farmers and environmental groups sued EPA on behalf of six Midwest states, claiming that, under the requirements of FIFRA, EPA did not adequately analyze the impacts of 2,4-D on human health.
Shortly thereafter, a second lawsuit was filed, building on the original claim by arguing that in its approval of Enlist Duo, EPA also violated the ESA. Petitioners demonstrated that EPA disregarded negative impacts on sensitive species, including nearly two hundred species protected under ESA, from the increased use of Enlist Duo that would result from its registration. These predictions are in line with findings from a 2009 report that showed herbicide use increased by 383 million pounds in the first 13 years GE crops were used commercially. The case looked specifically at EPA's failure to consult with FWS regarding the impact of the herbicide on two endangered species —the whooping crane and the Indiana bat.
In November 2015, EPA revoked the registration of Dow's Enlist Duo based on new information on the toxic effects associated with the synergistic interactions of the chemical cocktail, including  2,4-D, glyphosate, and other undisclosed ingredients, to plants outside the treated area. However, in January 2016, the 9th U.S. Circuit Court of Appeals rejected the revocation in a three-sentence order that gave no reasoning. EPA reported that it had revoked the registration due to claims of product ingredient synergy by the herbicide's registrant, Dow. EPA then requested and received additional synergy data from Dow, and stated that after review of the additional data, it found a lack of synergistic effects, despite Dow's claims.
In November, 2016, despite opposition from environmentalists and Dow's own legal team, EPA  announced  that it was not only reapproving  the chemical combination, but proposed  to expand the number of crops and states in which it can be used. In support of its decision, EPA stated: "These data demonstrate that the combination of 2,4-D choline and glyphosate in Enlist Duo does not show any increased toxicity to plants and is therefore not of concern." While EPA has stated that there is no reason to be concerned, research points to the fact that synergy between chemicals can be a real and serious problem. Currently, mixtures of multiple pesticide ingredients in products are not evaluated by EPA for elevated toxicity.
In January, 2017, EPA officially expanded the use of Enlist Duo despite science affirming its hazards, the action to which petitioners are currently responding. The action approved the use of Enlist Duo for GE crops, and expanded its allowed use from 15-34 states. In response to the decision over 600 public comments were submitted to EPA, many vehemently opposing the current uses and proposed expansion of Enlist Duo. Beyond Pesticides was one of many groups to submit comments that pointed out EPA's failure to consider all the environmental costs associated with Enlist Duo, including the cost of tackling increased 2,4-D resistant weeds, crop and non-target damages from uncontrolled drift, as well as unanswered questions regarding synergistic chemical effects in non-plant species.
A large shift in agricultural practices is necessary to ensure protection of human health and the environment over the long-term. Beyond Pesticides has long supported organic land management as a systems approach that values healthy, biologically active soils to support plant life and provide critical environmental benefits. It is through this soil based systems approach that we will eliminate toxic chemicals in land management, which have been identified as a driver in soil contamination and loss of microbial and faunal diversity.
Ecological pest management strategies, organic practices, and solutions that are not chemical-intensive are the most appropriate and long-term solution to managing unwanted plants and insects. Beyond Pesticides is working to strengthen organic farming  systems by encouraging biodiversity and holistic management practices, and upholding the spirit and values on which the organic law was founded. Underpinning the success of organic in the U.S. are small-scale producers who focus on fostering biodiversity, limiting external inputs, improving soil health, sequestering carbon, and using integrated holistic approaches to managing pests, weeds, and disease.
Source: Center for Food Safety
All unattributed positions and opinions in this piece of those of Beyond Pesticides.