13
Jul
(Beyond Pesticides, July 13, 2017) Over the past week, both Arkansas and Missouri issued bans on the sale and use of the weedkiller dicamba by farmers because of crop damage associated with the pesticide's drift off treated fields. On Friday, July 7, the Arkansas Agriculture Department announced this emergency 120-day ban, which raised civil penalties for misuse of the toxic herbicide from $1,000 to a maximum of $25,000. The same day, the Missouri Department of Agriculture announced a temporary "Stop Sale, Use or Removal Order" on all dicamba products in the state labeled for agricultural use. Dicamba has been linked to damage of the kidney and liver, neurotoxicity, and developmental impacts. The chemical has a strong propensity to volatilize small particles of the herbicide into the air and drift far off-site. Sensitive crop species can be damaged by dicamba at levels in the parts per million.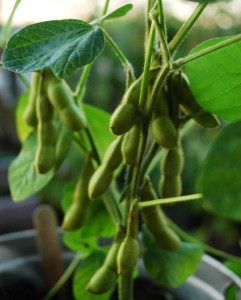 As of July 7, nearly 600 complaints of dicamba danage have been filed by Arkansas farmers in 23 different counties. In Missouri, as of July 3, there are 123 cases of dicamba injury complaints under investigation and according to the Missouri Soybean Association, "more than 200,000 Missouri soybean acres currently show signs of suspected dicamba damage."
According to Missouri Agriculture Director, Chris Chinn, the ban means that "distributors cannot sell dicamba products and, more importantly, it means that farmers should not apply dicamba products until we lift this order."
The move is the latest in a series of crises that began when multinational chemical company Monsanto began selling soybeans genetically engineered (GE) to tolerate a new formulation of dicamba not currently available, leading to off-label uses of older dicamba products.
This ongoing dicamba crisis is a direct result of a chemical-intensive food production system. The U.S. Department of Agriculture (USDA) deregulated Monsanto's dicamba-tolerant Roundup Ready 2 Xtend soybeans and Bollgard II XtendFlexa® cotton in January 2015, but it was not until November 2016 that EPA registered the use of some dicamba formulations, Xtendimax  and VaporGrip  for use on these crops. Monsanto describes the dicamba-tolerant GE crops as "designed to provide farmers with more consistent, flexible control of weeds, especially tough-to-manage and glyphosate-resistant weeds to maximize crop yield potential." What was viewed by industry and EPA several years ago as a unique occurrence, weed resistance is now acknowledged to be a serious economic problem for farmers. While the agrichemical industry and its researchers can no longer ignore weed resistance to pesticides, it continues to promote more chemical applications in GE crops as the solution, despite the success of organic systems.
Critics have challenged policy makers to rethink the wisdom of an agricultural system reliant on outside chemical inputs, and destined to result in weed resistance, as the chemical industry decided to add older, more toxic chemicals to the mix. The latest GE soybean varieties are now tolerant of either herbicides dicamba (Monsanto and BASF's products) or 2,4-D (Dow AgroScience's product). While Monsanto received allowances from federal regulators to sell its dicamba-tolerant soy and cotton seeds, it had not yet received EPA approval for a dicamba formulation that claimed to be lower volatility. And although the company asked farmers not to use older dicamba herbicides with the new seeds, ASPB's move appears directly related to rampant herbicide misuse throughout the state and the region.
Dicamba use has stirred up fights between neighbors in a number of agricultural communities. Bader Farms, which grows over 110,00 peach trees on over 1,000 acres in Missouri, is suing Monsanto after its insurance company issued a refusal to pay for damages caused by off-label dicamba drift from surrounding farms. In June of this year, University of Arkansas' agricultural research station had over 100 acres of soybeans ruined from nearby dicamba use. Shockingly, NPR reports that last October a dispute over dicamba drift led to the murder of one Arkansas farmer.
The rampant use of this highly volatile chemical has been a factor in regional pollinator losses. A 2015 study published by researchers at Pennsylvania State University found that nontarget damage from dicamba drift resulted in adverse effects on pollinator populations. The impacts were directly related to the effect dicamba has on pollinator-friendly plants, with dicamba-exposed plants negatively influencing flowering and pollen quality.
While pesticide drift is a harmful consequence of chemical-intensive food production, there are alternatives that safeguard the environment and human health, while allowing for the sustainable production of food. Beyond Pesticides has long promoted the importance of organic in a sustainable food system, and works to promote the widespread transition of conventional farmland to organic production. By utilizing ecological pest management strategies, organic practices, and solutions that are not chemical-intensive are the most appropriate and long-term solution to managing unwanted plants. To find out more about the work Beyond Pesticides is doing on organic integrity, check out Keeping Organic Strong, or to see all the reasons to go organic, visit Eating with a Conscience.
Sources: AgWeb
All unattributed positions and opinions in this piece are those of Beyond Pesticides.