14
Jul
(Beyond Pesticides, July 14, 2017) The U.S. Department of Agriculture (USDA) is seeking input into draft regulations that will determine whether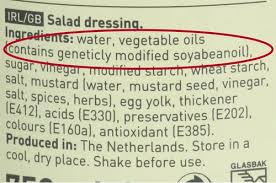 genetically engineered (GE) ingredients [or genetically modified organisms (GMO)] are identified on products labels, or hidden behind high tech codes. Let USDA know by Monday, July 17 what you think and how important clear and meaningful labeling is.
A "compromise" bill on labeling genetically engineered food was passed last year by the U.S. Congress, leaving it to USDA to decide which foods would be labeled, and how they would be labeled. In preparation for drafting regulations, USDA's Agricultural Marketing Service (AMS) has posed 30 questions regarding the implementation of the law. AMS is accepting input until Monday, July 17. Commenting provides a chance to help shape USDA's proposal.
The law includes labeling options other than on-package labeling, such as QR codes and websites, which would only serve to hide the information this law was passed to provide. It also allows USDA to decide which GE ingredients must be disclosed. Beyond Pesticides is telling USDA the following:
The definition of "bioengineering" must include all forms of genetic engineering including newer forms like CRISPR and RNA interference (RNAi). Definitions should be compatible with those recommended by the National Organic Standards Board.
Each GE ingredient must be identified, including highly refined GE sugars and oils and processed corn and soy ingredients. Even if they are so highly processed that the GE ingredients are present only at undetectable levels in the final product, they are still GE foods.
GE ingredients must be identified on product labels, or product shelves in the case of raw foods. All products required to have labels should included identification of GE ingredients on the label.
There must be no delays in making regulations effective. Manufacturers have already had years' worth of notice and preparation to provide this information, at the state and federal level. Indeed, many major food companies have been labeling for some time.
Genetically engineered foods pose risks that are not considered by regulators. The most dependable way to avoid GE ingredients is to buy organic, but all consumers have a right to know what is in their food.
See Action of the Week  —Urgent: Comment on GE Labeling by Monday!