18
Oct
(Beyond Pesticides, October 18, 2017) Effective immediately, the European Parliament has banned Monsanto lobbyists, excluding the chemical company from access to committee
meetings and digital resources, as well as no longer permitting Monsanto lobbyists to meet with any Member of the European Parliament (MEP). This limit to its influence is a serious blow to Monsanto's advocacy campaign to promote the safety of its weedkiller glyphosate, (Roundup). The decision to ban came amid mounting public pressure to deny European Union re-licensing of glyphosate, one of the world's most widely used herbicides. (See glyphosate listing in Beyond Pesticides' Pesticides Gateway, the active ingredient in Monsanto's Roundup herbicide.) Glyphosate is classified as "probably carcinogenic to humans" by the World Health Organization's International Agency for Research on Cancer (IARC). Monsanto, the world's largest GE-seed and seventh-largest pesticide company, is eager to suppress IARC's ranking.
In fact, before being banned, the European Parliament had questioned Monsanto's funding of counter-studies in order to discredit independent scientists working to limit the public's exposure to toxic chemicals. In a related development, independent scientists sent a letter to the scientific journal Critical Reviews in Toxicology, calling for the retraction of a 2016 paper that refuted glyphosate's cancer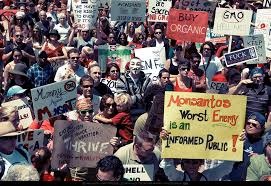 risks after it was learned that the paper was secretly edited and funded by Monsanto.
As part of its deliberations on the reauthorization of glyphosate before the end of 2017, the European Parliament had scheduled hearings for October 11 in Brussels. Though being invited to address the Parliament, Monsanto Chairman, Hugh Grant, declined to appear and or send another Monsanto official to address questions about the chemical's safety and the underlying science.
With authorization given to the Secretary-General, the Parliamentary decision was made using new Rules of Procedure regarding the transparency of business "governing the withdrawal or temporary de-activation of long-term access badges." As outlined in the parliament's rules, Monsanto has been "disbarred from the transparency register" for having been found "guilty of a serious breach" of parliamentary rules and expectations. Furthermore, Monsanto "without offering a sufficient justification . . .refused to comply with a formal summons," and refused to "cooperate with a committee of inquiry."
The decision was backed by the leaders of all major parliamentary blocks, voting unanimously in favor of the ban. Therefore, according to the rules, having heard no "significant arguments to the contrary," Monsanto's sphere of influence in the European Parliament has been dealt a serious blow.
In response to the lobby ban, Monsanto's vice president Philip Miller wrote: "We have observed with increasing alarm the politicization of the. . .renewal of glyphosate. A procedure which should be scientific but which in many respects has been hijacked by populism."
Uncovered in a series of emails Monsanto was forced to release as part of a number of pending lawsuits, the chemical company had vowed the herbicide's safety was repeatedly and rigorously examined by its own researchers, who reported no risk of cancer from the use of or exposure to glyphosate. The company had done only "cosmetic editing" that "didn't change the science," with nothing "substantive" done to censor the panelists' conclusions, said Monsanto's vice president for global strategy, Scott Partridge.
The type of collusion, recognized by the European Parliament, is part of ongoing pattern. Monsanto has been accused of deceiving federal, state and local governments as well as the general public in the U.S. in other cases. According to its self-declaration form in the EU transparency register, Monsanto routinely spends between €300,000-€400,000 on lobbying in Brussels each year.
Describing the struggles she faced in pursuit of her own master's degree, Beyond Pesticides' Board Member, Lani Malmberg, told the 32nd National Pesticide Forum how "all the chemical-funded students got everything paid for and $30,000 a year." Having "first noticed" how corporate-funding corrupts science in academic institutions, Ms. Malmberg, owner of Goats Green, told her audience: "What do you research? You research the question that the industry gives you." The questions being: "How much [of a pesticide] should we use? Pint to the acre? Quart to the acre? Should we spray it in the spring, or fall, or both?"
Monsanto is fighting the cancer classification of Roundup as it is  attempting a merger worth $66 billion with German chemical-colossus Bayer. Amid consolidation in the chemical industry, advocates maintain that a combined Monsanto and Bayer would mean higher seed costs, higher food prices and a loss of biodiversity.
Its name already synonymous with genetic engineering and pesticide resistance, Monsanto has good reason to wish to demonize independent research and, more pointedly, the public eye unveiled. The chemical company profits from general societal ignorance of real costs of chemical-intensive practices and the cost-effectiveness of organic land management alternatives.
Meanwhile, more than 250 lawsuits are pending against Monsanto in U.S. District Court in San Francisco, in which people claim exposure to Roundup caused them or a family member to contract non-Hodgkins lymphoma  a cancer affecting white blood cells which can develop in the lymph nodes, bone marrow, spleen, thymus and digestive tract.
The plaintiffs claim that Monsanto covered up the health risks associated with glyphosate. The first trial in the Roundup litigation is set for June 18, 2018 in the Superior Court for the County of San Francisco.
To avoid glyphosate, purchase organic food which is not permitted to be treated with glyphosate compounds. Know who grows your food and how your food is grown. Adopt, or personally support organic agriculture and organic lawn care in your community. There are countless experts and instructional videos available to assist in your adoption of organic land management. Continue to raise your voice! Start your own local movement to stop toxic pesticide use around your local school, or sports field. Talk to your neighbors, farmers, and legislators. Contact the elected representatives making decisions that affect your family's health. And, contact Beyond Pesticides at [email protected] or 202-543-5450 for assistance, or go to the Beyond Pesticides website.
All unattributed positions and opinions in this piece are those of Beyond Pesticides.
Source: The Guardian