31
Oct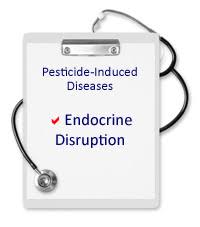 (Beyond Pesticides, October 31, 2017) Scientists warn that inadequate federal testing, disproportionate industry influence, and subverted regulatory oversight threaten decades of progress on protecting people from hormone disrupting chemicals. This from a new paper with findings that regulators face a critical need to fully understand and address the hazards from these dangerous substances.
Hormone disrupting chemicals, also known as endocrine disruptors, are substances that have been shown to interfere with the hormone system, leading to long-term health impacts ranging from cancer to neurological developmental impairments. Even small alterations in hormone concentrations, particularly during "critical windows" of embryonic development and developmental phases of life, can have lasting and significant effects. Mounting science is showing that disruptions to the hormone system can occur at very low doses that are lower than those used in traditional toxicity testing. Now, commentary from scientists at Rutgers University and North Carolina State University, "Endocrine disrupting chemicals and behavior: Re-evaluating the science at a critical turning point," states that inefficient federal testing and outsized industry influence in Washington threaten decades of progress.
"The significant progress made over the past couple of decades to understand endocrine disrupting chemical-related effects and mitigate exposures is now at serious risk," write the authors in the upcoming Hormones and Behavior journal.
The scientists write that there remains a significant need to understand how exposures to endocrine disruptors may be contributing to neurodevelopmental disorders, especially behavioral disorders. They warn that deregulation and chemical proliferation could halt years of progress on understanding the insidious ways some everyday products alter human hormones and hurt our health.
According to the paper, "Under the Trump administration the Environmental Protection Agency (EPA)'s Endocrine Disruptor Screening Program is facing elimination. Of additional concern, [Toxic Substances Control Act] TSCA policy is being orchestrated and implemented by individuals with close ties to the chemical industry including the former Senior Director of Regulatory Science Policy in the Division of Regulatory & Technical Affairs at the American Chemistry Council, the main trade association for the chemical industry. With efforts to develop systematic  EDC [endocrine disrupting chemical] screening now under serious threat, it is imperative that a diverse body of researchers continue to advance the science, but also amplify outreach and engagement efforts to educate the public about this significant health issue."
While estimates vary, there are about 800 chemicals currently produced that are known or suspected endocrine disruptors. EPA has found that of 10,000 chemicals, including pesticides and those found in drinking water, only 174 have been screened and tested for endocrine disruption so far. Some of the more notorious endocrine disruptors, including Bisphenol A (BPA), Di(2-ethylhexyl)phthalate (DEHP), and Polybrominated diphenyl ethers (PBDEs), have been phased out, but are being replaced by substitutes, some of which appear to have very similar endocrine disrupting properties and thus pose similar health risks.
Now the Trump Administration is seeking to reduce EPA's budget by about 31 percent next year. This year, the EPA budget was cut by $81 million, with many staff leaving the agency, reducing oversight and research on these chemicals. With industry representatives being appointed to top posts in the agency, like former senior policy director with the American Chemistry Council, Nancy Beck, Ph.D., as deputy assistant administrator in EPA's Office of Chemical Safety and Pollution Prevention, and Michael Dourson, Ph.D, an industry consultant, as head of the Office, progress is certain to stall and the science undermined.
Earlier this year, the National Academies of Sciences, Engineering, and Medicine (NAS) recommended to EPA a strategy to evaluate the evidence of adverse human health effects from low doses of exposure to endocrine disruptors. NAS believes that EPA's current process, which utilizes traditional toxicity testing, misses some effects that occur at doses lower then those evaluated by EPA. EPA's Endocrine Disruption Screening Program (EDSP) is currently screening chemicals for their potential to interact with the endocrine system, but the program is years behind schedule and has been criticized for using outdated methods. In fact, EPA's methodologies have been criticized over the years for failing to adequately capture impacts at low doses. NAS proposed a strategy that involves systematic reviews, which can be an important component in investigating evidence on low-dose adverse effects, and NAS notes EPA can build on existing systematic reviews that are published in peer reviewed literature, and recommends performing meta-analyses of the animal and human evidence when appropriate. This allows data from several studies to be combined and used to evaluate confidence in the body of evidence, and to characterize the relationship between exposure and effect.
Endocrine disruptors can be found in common household products such as detergents, disinfectants, furniture, plastics, and pesticides, and interfere with the body's hormone system either by mimicking naturally produced hormones, blocking hormone receptors in cells, or effecting the transport, synthesis, metabolism or excretion of hormones. These impacts can result in devastating effects on one's health, including behavioral and learning disorders, such as Attention Deficit Hyperactivity Disorder (ADHD), birth defects, obesity, early puberty, infertility, cardiovascular disease, and childhood and adult cancers. In 2013, the United Nations Environment Programme (UNEP) and the World Health Organization (WHO) declared Endocrine Disrupting Chemicals a global health threat. A 2016 report concluded that exposures to endocrine disrupting chemicals costs the U.S. more than $340 billion annually in  health care costs and lost wages.
For more information on the effects of pesticides on human health, including endocrine disruption, see Beyond Pesticides' Pesticide Induced Diseases Database.
All unattributed positions and opinions in this piece are those of Beyond Pesticides.
Source: Environmental Health News