06
Dec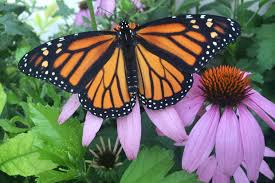 (Beyond Pesticides, December 6, 2017) Last week over 100 conservation and environmental groups urged the federal government to increase funding to protect and conserve monarch butterflies. These iconic butterflies, native to North America, have seen drastic declines in their populations. Surveys report over 80 percent reductions in populations over the last 20 years. Pesticide use, habitat loss, and climate change have all been identified as stressors to these butterflies.
The groups, led by the Center for Biological Diversity, Defenders of Wildlife, and the Humane Society, sent a letter to the U.S. Department of Agriculture (USDA) to do more to help the imperiled butterfly. The letter requests the agency increase the allotment of conservation funds from $4 million- spent last year- to $100 million. The increase in funds is needed for efforts to increase milkweed habitat. In contrast, the government spent over $500 million on sage grouse initiatives to prevent that animal's listing under the Endangered Species Act (ESA), even though the Trump Administration is seeking to overturn these initiatives.
Currently, the agency has taken some steps to protect monarchs. These include the implementation of the Monarch Butterfly Habitat Development Project and support of the Monarch Butterfly Conservation Fund. But, according to the letter, "Restoring the monarch butterfly and its habitat will require a substantial contribution from the agricultural sector and strong leadership…" Monarch populations have fallen more than 80 percent over the last 20 years, and it is estimated that there is a 60 percent chance the multigenerational migration of these butterflies would completely collapse in the next 20 years. Milkweed, the only forage for monarchs has decreased by 21 percent, especially in the midwest, where agricultural fields and pesticide use have expanded. Monarch butterflies are hatched on milkweed plants and spend much of their juvenile periods foraging there. The letter notes that to restore millions of acres of milkweed, it would cost at least $100 million per year, according to government assessments.
The U.S. Fish and Wildlife Service (FWS) is set to determine whether to protect monarch butterflies under the Endangered Species Act. An agreement was made with Center for Food Safety and the Center for Biological Diversity in July 2016 that requires the agency to decide by June 2019 whether the butterflies will receive federal protection. This agreement came in response to a lawsuit earlier that year to force the agency to set a legally binding deadline for a decision on a 2014 petition calling for protection of the species. Many see FWS' consideration of federal protection for monarchs as a positive step toward improving habitat and raising awareness about the decline of the butterfly, as well as the plight of other pollinator populations.
The monarch butterfly is one of many important pollinator species that have experienced drastic declines in recent years. Along with threats from glyphosate use and habitat loss, the use of pesticides, like neonicotinoids, has also been linked to monarch declines. The use of genetically engineered (GE) crops (Roundup-ready crops) allows the use of Monsanto's glyphosate in cropland, an important factor in the decline of the monarch. Glyphosate eradicates milkweed and the dramatic surge in Roundup use and "Roundup Ready" crops has virtually wiped out milkweed plants in midwestern corn and soybean fields. It is estimated that these butterflies have lost more than 165 million acres of habitat.  A 2016 study found that the increasing use of neonicotinoid insecticides is correlated with a steep decline in butterfly health and reproductive success. This study looked at 67 species of butterfly in Northern California and found a correlation between butterfly population decline and increasing neonicotinoid applications, which also appeats to be more severe for smaller-bodied species. According to the researchers, the results suggest that neonicotinoids could influence non-target insect populations when applied nearby. Pesticides like neonicotinoids also harm other non-target pollinators like honey bees and other bee species. Studies show an association with decreased learning, foraging and navigational ability, as well as increased vulnerability to pathogens and parasites, in bees.
Critical to the survival of monarchs, other pollinators, and organisms essential to ecological balance is the large-scale adoption of organic farming practices. Beyond Pesticides supports organic agriculture  as effecting good land stewardship and a reduction in hazardous chemical exposures for workers on the farm. The pesticide reform movement, citing pesticide problems associated with chemical agriculture, from groundwater contamination and runoff to drift, views organic as the solution to a serious public health and environmental threat.
All unattributed positions and opinions in this piece are those of Beyond Pesticides.
Source: Center for Biological Diversity