01
Feb
(Beyond Pesticides, February 1, 2018) Scientists at the European Institute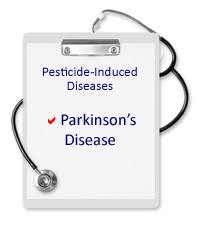 for the Biology of Aging are finding new information about how Parkinson's disease manifests itself after exposure to the herbicide paraquat, in hopes of finding ways to prevent the progression of the disease. Despite a well-established body of scientific literature linking the paraquat to Parkinson's, and a ban on the use of the chemical in the European Union that dates back to 2007, its use is still permitted in the U.S. Many health groups, including Beyond Pesticides and organizations like the Michael J Fox Foundation are calling on the U.S. Environmental Protection Agency stop the use of paraquat by denying its upcoming reregistration.
Published in the journal Cell Reports, this new research on Parkinson's investigates the impact of "senescent" cells in the body. Senescent cells are those which, despite being able to divide, stop doing so in response to stress. This is an anti-cancer mechanism, as stress would otherwise cause the cells to multiply unchecked and create malignancies. Researchers suspected that despite the benefit of stopping cancer, senescent cells may be causing other problems in the body. Rather than dying, these cells can cause inflammation in the area around where the cell became senescent.  Scientists focused in on one particular type of senescent cell, the astrocyte, which are essentially cells that send and receive neurons in the brain. It was hypothesized that senescent astrocytes could be causing localized inflammation that harms the neurons associated Parkinson's disease. Parkinson's is characterized by the death of neurons associated with dopamine production. While paraquat has long been associated with the direct death of these neurons, this new research shows that additional neurological impacts may be at play.
Scientists carried out different investigations to test the impact of senescent astrocytes on the development of Parkinson's. First, they compared human brain tissue between Parkinson's patients and those without the disease. Compared to those that never contracted Parkinson's, individuals with the disease showed biomarkers associated with higher levels of senesced astrocytes. Researchers then looked at whether paraquat could cause senescence in a lab-cultured human astrocyte. Not only did paraquat stop astrocyte cell proliferation, it did better at inducing senescence than hydrogen peroxide and other traditional medical methods of inducing astrocyte senescence. Scientists found that, in line with epidemiological data that shows greater risk for Parkinson's from chronic, low dose exposure than acute, one-time exposure, exposing the cultured astrocytes to paraquat for a longer time at a lower dose resulted in a greater number of senesced cells.
A final test was conducted on laboratory mice. After exposing mice to levels of paraquat indicated in the literature to result in Parkinson's disease symptoms, results traced a very similar response to the human astrocyte cell culture. Senescent astrocytes increased after paraquat exposure, and mice displayed increased difficulties in movement and motor function. However, when researchers used a drug to flush senescent cells from the substantia nigra, the area of the brain where domapine-producing cells are located, the Parkinson's-like symptoms of paraquat exposure subsided. "They are almost indistinguishable from the healthy mice," said Marco Demaria, PhD, to The Guardian.
"As far as we know, this is the first time it's been demonstrated in any neurodegeneration model that ablating [removing] senescent cells actually has an effect on disease progression," said study co-author Julie Anderson, PhD to The Scientist. However, Dr. Anderson also noted to TheScientist that, "right now, we don't know specifically what it is about paraquat that is inducing the senescence within the astrocytes."
This complex study provides a route to potentially treat not only Parkinson's but other diseases where senescent cells may play a role, such as ALS and Alzheimer's. Future research will need to uncover how to flush out specific senescent cells while leaving others, which may be valuable in other areas, such as healing wounds, alone. "We know the cells we want to target, but at the moment we don't have the therapeutics to do that," said Dr. Demaria to The Guardian. "We cannot yet only target the bad cells."
While the treatment developed by researchers in this study is promising, a better approach to reducing and eliminating the spread of pesticide-related diseases is to simply take the chemical off the market. Any products linked to devastating diseases such as ALS, Alzheimer's, and Parkinson's have no place in our environment. While paraquat's use is restricted to certified applicators in the U.S., it can still be applied to agricultural land. Despite a ban on the chemical in Europe and a planned phase-out of use in China, over seven million lbs of paraquat were applied to 15 million acres of American farmland in 2015.
Support efforts to ban the continued use of paraquat. The U.S. Environmental Protection Agency is currently reviewing safety concerns about the chemical, but without public involvement, the agency's decision could be similar to its continued allowance of another neurotoxic pesticide – chlorpyrifos. Keep up to date with Beyond Pesticides' action alerts for updates, and for more information on the link between pesticides and Parkinson's, see the Pesticide-Induced Diseases Database section on Parkinson's disease.
All unattributed positions and opinions in this piece are those of Beyond Pesticides.
Source: The Guardian, The Scientist, Cell Reports