31
Jan
(Beyond Pesticides, January 31, 2018) Woolworths, one of Australia's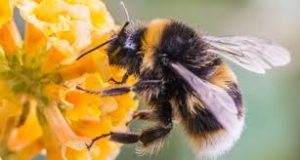 largest retailers, has decided to stop selling neonicotinoid products (neonics) linked to global declines in bee populations. This is the latest retailer in Australia to announce commitments to stop supplying the bee-toxic products.
After thousands of Australians signed a petition calling on retailers to stop selling insecticides containing neonicotinoids, Woolworth announced it has, in fact, succumbed to public pressure and would join Bunnings Warehouse, Mitre 10 and Coles stores in pulling neonic products from their shelves. The week prior, retail chain Bunnings announced it would pull all items containing neonicotinoids from their shelves. Woolworth said it would stop selling the products by June 2018. The retail commitments come as a result of efforts launched by global consumer group SumOfUs that called on Australian retailers to stop selling insecticide products containing neonicotinoids, including the popular home and garden product, Confidor, which has been stocked by Woolworths and contains imidacloprid as the active ingredient.
According to Australia's The New Daily, about one-third of Australian fruit and vegetable crops are reliant on pollination. Speaking on the ban of neonic products, Katja Hogendoorn, PhD, of University of Adelaide, who researches the behavioral ecology and evolution of native bees, is quoted as saying there was "no doubt pesticides often kill bees. Having a beautiful garden is a luxury. Bees are not, they are essential," Dr. Hogendoorn said. "The banning of neonicotinoids for home gardeners by Bunnings and Mitre 10 is a great development. I hope the other companies follow suit."
The Australian government undertook a review of neonicotinoids and the health of honey bees in 2013, which found that "the introduction of the neonicotinoids has led to an overall reduction in the risks to the agricultural environment from the application of insecticides," according to the Guardian
In the U.S., Walmart and True Value announced last year that they will be phasing out neonic pesticides from all retail supply chains. This follows 2015 commitments by Home Depot, the world's largest home-improvement chain, that it will no longer use neonic pesticides in 80 percent of its flowering plants, and that it will complete its phase-out in plants by 2018. This was preceded by Lowe's commitment to phase out the sale of neonic products within 48 months. Several regional garden stores are also working with suppliers to discontinue the use of neonicotinoids: Behnke Nurseries Co. in Maryland, Bachmans, MN, Cavano's Perennials, MD, Blooming Nursery, OR.
Research on neonics has been consistent in linking their use to reduced learning in bees, as well as other impacts, such as those on colony size, and reproductive success. Studies looking at effects on birds reports that songbirds exposed to widely used insecticides, like neonicotinoids, fail to properly orient themselves for migration, the first such study that adds weight to arguments that pesticides are a likely cause in the decline of migratory bird populations.  U.S. beekeepers lost an unsustainable 33% of their hives between 2016 and 2017. Neonics are also detected regularly in the nation's waterways at concentrations that exceed acute and chronic toxicity values for sensitive organisms. A new report from the U.S. Geologic Survey (USGS) finds neonic contamination of the Great Lakes that threatens aquatic life.
EPA has already released the preliminary pollinator assessment for the neonicotinoids that identified risks to pollinators from a variety of uses on agricultural crops. The aquatic assessment for imidacloprid, also released last year, finds that imidacloprid threatens the health of U.S. waterways with significant risks to aquatic insects and cascading effects on aquatic food webs. As a result of risks to aquatic organisms, the Canadian pesticide regulatory agency has recommended banning imidacloprid, a decision on which has been delayed. In Europe, a recent survey finds that streams across the United Kingdom (UK) are contaminated with neonics. The European Commission met on December 12 and 13, 2017 to decide on a proposal to extend the 2013 neonicotinoid ban to all outdoor crops, but this decision was delayed. The issue is expected to be on the agenda again in early 2018. The UK government has reversed its previous stance on neonicotinoids, now saying that it should be banned due to their harm to pollinators.
Beyond Pesticides released Poisoned Waterways, a report which documents the persistence of neonicotinoids in U.S. waterbodies and the danger they cause to aquatic organisms, resulting in complex cascading impacts on the aquatic food web. The report also highlights current regulatory failures of EPA aquatic standards, which continue to underestimate risks to sensitive species due to a reliance on test protocols that do not reflect real-world exposures or susceptibilities. Aquatic standards, which have been underestimating risks to sensitive species due to a reliance on test protocols, do not reflect real-world exposures or susceptibilities.
Eliminating the sale of harmful pesticides does not mean that retailers will have nothing left to sell their customers. Beyond Pesticides released The Well-Stocked Hardware Store, an online toolkit that identifies organic compatible products for hardware stores seeking to find replacement products that can be used with an organic system approach to land management. Beyond Pesticides highlights the actions of Eldredge Lumber, a hardware store in Maine, through the video Making the Switch. "You're protecting the environment, your family, your children and grandchildren, and your neighbors. Nobody wants to have pesticides drifting into their front or rear yard, and people are just loving it, they're feeding into it. I couldn't be happier," says owner Scott Eldredge in the video.
All unattributed positions and opinions in this piece are those of Beyond Pesticides.
Source: The Guardian; The New Daily