28
Mar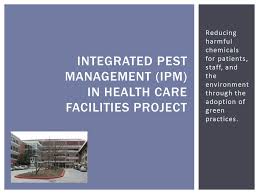 (Beyond Pesticides, March 28, 2018)Â The Integrated Pest Management (IPM) in Healthcare Facilities Project, spearheaded by the Maryland Pesticide Education Network (MPEN) and Beyond Pesticides, are marking the Project's 10th anniversary to reduce healthcare facilities' pesticide use and impact, while maintaining a high level of pest management. Funded by Maryland-based foundations, the IPM in Healthcare Facilities Project services are pro bono.
Maryland healthcare facilities strive to provide a high level of pest management to protect the compromised health of the at-risk people they serve, however often and unknowingly, many healthcare facilities respond to pest problems by having their contracted pest management vendors apply toxic pesticides as a first line of defense.
These chemicals are often linked to the very issues for which patients are being treated. Pesticides can cause acute life-threatening reactions and linked to long-term impacts including cancer, asthma, Parkinson's' disease, developmental, reproductive and neurological impacts and immune dysfunction issues.
The IPM staff, in collaboration with fourteen Maryland facilities, have worked diligently to reduce facilities' pesticide use and impact, while maintaining a high level of pest management. Project staff educate facilities' management and technicians about the dangers of patient pesticide exposure and the benefits of implementing an IPM program.
An IPM program focuses on non-chemical strategies to address conditions that contribute to attracting and harboring pests, including:
exclusion techniques
identifying sanitation controls
eliminating attractants
changing staff practices.
Least-toxic pesticides are only used as a last resort.
One exemplary Maryland facility is Springfield Hospital Center, Sykesville, Maryland. The staff has modeled a sustained and pesticide-free facility and campus for 10 years embracing defined IPM based on non-chemical pest prevention.
Gina Navarro, Project Director said, "Given the serious consequences related to toxic pesticide exposures, healthcare industry leaders must take necessary precautions to protect patients and workers from pests and pesticides. When a facility adopts a defined IPM policy that serves to guide a facility over time, despite changes in management and vendors, they can ensure a sustainable program. Without an official policy, changes in management and contracted pest management vendors can lead to backtracking to a 'see 'em, spray 'em' approach that puts patients at risk."
Noted by the US EPA's Pesticide Stewardship Program (PESP), "The [Maryland] IPM in Healthcare Facilities Project has paved the way for reducing risks from pests and pesticides throughout sensitive environments and continues to spread a new culture of sustainable pest management… Springfield Hospital Center has an exceptional IPM policy that clearly outlines a commitment to IPM." (fall 2013 PESP newsletter)
"IPM is achievable," said Jeffery Belt, Environmental Services Director at Springfield. "Get everyone you need on your team early and involved. Springfield knows that spending thousands of dollars on pest control programs does not work and is not cost-effective. We work with our staff to understand the importance of sanitation and building maintenance in preventing pest problems."
While the project's participating facilities agree that prioritized IPM is critical for managing pests and protecting patients, and while most have achieved high standards of IPM implementation, some facility changes in staff or vendors has led to periodic reversion to reliance on pesticides. The IPM Project wants to assist these facilities to get on track to protect against unnecessary exposure to harmful pesticides.
"Our Project is about preventative health," says Co-Founder, Jay Feldman, executive director, Beyond Pesticides. "For an industry whose foundation is built on 'First, Do No Harm,' more healthcare facilities should practice defined/prioritized IPM."
Learn about the IPM in Healthcare Facilities Project.
Gina Navarro,
Maryland Pesticide Education Network
443-465-4845,
[email protected].
Ruth Berlin, Executive Director
Maryland Pesticide Education Network
410-849-3909, ex. 1 (office)
410-693-7319 (mobile)
[email protected]
Jay Feldman, Executive Director
Beyond Pesticides
202-543-5450 (office)
[email protected]