08
Mar
(Beyond Pesticides, March 8, 2018) Simple approaches that increase populations of vertebrate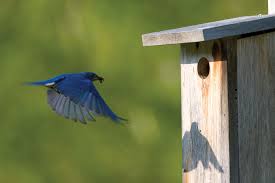 predators, like bats and falcons on farms, can reduce pesticide use, increase on-farm productivity, and conserve wildlife, according to a literature review published by researchers at Michigan State University in the journal Agriculture, Ecosystems and Environment. Â The review encompasses 48 studies published over the last 150 years on the effect of human interventions to enhance natural ecosystem services. Results point not only to new methods to improve on-farm pest management, but also potential ways to engage farmers and citizen scientists in implementing these win-win strategies.
Researchers looked at a number of methods tested in the scientific literature that would increase on-farm populations of vertebrate pest predators. Broadly, discrete approaches such as installing structures like nest boxes, perches, and artificial roosts were investigated alongside more wide-ranging systems aimed at altering habitat and increasing landscape complexity. The latter includes methods such as installing field borders, increasing tree cover, reintroducing native species, and eliminating invasives.
The more discrete approaches provided a simpler, more accessible, and less expensive method of pest management when compared to approaches that require more wide-ranging landscape changes, though the benefits of those activities were not negligible. Nest boxes were found to successfully increase the abundance of predator species. Populations of western bluebirds increased by a factor of 10 when nest boxes were installed as part of a study on California vineyards, and vineyards without the nest boxes saw significantly higher pest levels when compared to those with bluebird boxes. In Europe, apple orchards that installed nest boxes for the native great tit bird saw 50% less pest damage than orchards that did not install the structures. Likewise, the installation of artificial bat roosts around Spanish rice fields led to significant declines in major moth pests over a 10 year period. When perches were installed around Australian soybean fields, raptors and other predatory birds caused a statistically significant decline in mouse populations.
The creation of field borders – strips of non-crop flowers and plants – did represent a successful method of improving populations of vertebrate pest predators. Studies reviewed found that bird abundance around these strips grew as the distance between cropland and forested areas increased, indicating potentially significant benefits of this practice for otherwise monotypic row crop farms.
In considering research on the addition of tree cover, studies have found mixed results. While some work indicates higher populations of various birds on farms of shade-grown coffee, other show species richness to be greater in sun-grown fields. That being said, studies generally indicate that increasing tree cover is likely to improve vertebrate pest control services.
Reintroducing native species can be a multifaceted, costly undertaking, and as a result of misperceptions about large carnivores, is more successful when the species is smaller, well-known, and non-threatening for people and farmers. A case study following the introduction of the New Zealand falcon into region known for its grape production found that the predators reduced fruit loss from pest bird species.
Both structural and landscape-level strategies can interact with one another. In one example, nest boxes installed to promote kestrel populations in Michigan were displaced by the widespread and invasive European starling. Although the solution to this problem is as simple as removing the nests, it indicates broader efforts may be necessary to maintain discrete approaches.
In sum, these methods provide a myriad of benefits. The economic value of vertebrate predators in reducing pests is significant. Bats alone contribute millions of dollars in pest-controlling ecosystem services – one study reviewed found that the loss of bats in Indonesian cacao fields would decrease yields by over 700 lb per hectare, a loss of $730 per year per hectare. The falcons reintroduced to New Zealand grape fields saved farmers there between $234 and $326 as a result of decreased pest bird consumption of fruit. In addition to monetary benefits, structures like nest boxes help conserve species by enhancing local populations, as occurred with the reintroduction of kestrels in Michigan.
Critically, these strategies help replace the over $15.2 billion American farmers spent purchasing pesticides in 2016. However, as researchers indicate, the true cost of pesticide use, through the poisoning of humans and animals, the displacement of pest predators, and contamination of our environment may increase that number by over $10 billion.
This review provides sound evidence in favor of farmers implementing simple, environmentally sustainable pest management methods. Researchers note the need to further investigate ways to engage farmers and citizens to participate in these activities, potentially through social networks, games such as the Ebird mobile app, and other tools. "Now that we've bundled these studies, we really need to set a research agenda to quantify best practices and make the results accessible to key stakeholders, such as farmers and environmentalists," said lead author of the study Catherine Lindell, PhD to the National Science Foundation.
For more information on the benefits of not only vertebrate predators, but a wide range of wildlife species in reducing pesticide use, see Beyond Pesticides' Wildlife Program page.
All unattributed positions and opinions in this piece are those of Beyond Pesticides.
Source: National Science Foundation, Agriculture, Ecosystems and Environment