13
Apr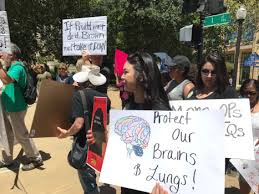 (Beyond Pesticides, April 13, 2018) Hawaii is poised to become the first state in the nation to prohibit the use of pesticides containing the developmental neurotoxicant, chlorpyrifos. SB3095, passed unanimously by the State House of Representatives this week, prohibits the application of restricted use pesticides (RUPs) within 100 feet of schools when they are in session, and it requires commercial agricultural entities to regularly report their RUP use to the Department of Agriculture (DOA). In the absence of adequate federal procedures to protect communities from hazardous pesticide drift, this bill represents the culmination of efforts by the people of Hawaii to ban and restrict the most egregious pesticides and to increase the transparency regarding their use. As bill supporters rallied in the Capitol's Rotunda this week, SB3095 was sent to the Senate. No date has yet been set for its consideration, but Senators who support the bill hope to secure the 13 votes needed to pass it and avoid further weakening of its provisions.
Beyond Pesticides has actively supported this and previous iterations of SB3095, arguing for the establishment of a much more protective one mile buffer zone between schools and RUP applications to safeguard school children where they learn. But, the final bill passed by the House, with its scant 100 foot buffer zone, represents a hard-fought compromise between community, environmental, and worker health advocates on one side, and chemical-intensive agriculture and chemical companies on the other. Additional key provisions in SB3095 include an increase in DOA funding for pesticide education and investigations, the deposition of money into a revolving fund from penalties and fines collected under the Hawaii Pesticide Law, and the creation of two new positions to aid in the law's implementation. One undesirable provision remains in the bill, however – "DOA shall grant any person, upon request, a temporary permit allowing the use of pesticides containing chlorpyrifos through 12/31/2021." This no-questions-asked, three-year, free-pass for chlorpyrifos users represents a bitter compromise that bill advocates had to swallow to ensure its passage. The provision does require public disclosure of the recipient of the permit allowing chlorpyrifos use.
As State House Representative Nadine Nakamura observed after the vote, "This bill attempts to find a middle ground to move forward." Kaua'i community activist and environmental scientist, Fern Holland, views it as "making a step in the right direction toward providing tangible protections for public health and our precious environment." She said that she would "like to see Hawaii be the first state in the nation to step forward and ban this chemical and make a real step forward in protecting our children."
The ban on chlorpyrifos is a long time coming. Formulated by Dow Chemical Company and registered with the U.S. Environmental Protection Agency (EPA) in 1965, the chlorinated organophosphate insecticide was first developed as human nerve gas during World War II. Like so many other peacetime uses of war time chemicals chlorpyrifos was subsequently adapted as a broad-spectrum insecticide because of its effectiveness in killing insects on contact. The accelerated population growth and urbanization that characterized the US in the1950s and 60s facilitated the rapid expansion of chlorpyrifos, making it one of the most widely applied organophosphate insecticides for US agricultural, residential, and commercial use.
According to data compiled by EPA, corn is the single largest agricultural market for chlorpyrifos in terms of total pounds applied of the active ingredient. Farmers also apply it on feed crops, fruit and nut trees, and on brussel sprouts, cranberries, broccoli, cauliflower, and other row crops. Non-agricultural applications include golf courses, green houses, utility poles, fence posts, in roach and ant bait stations, and as a mosquito adulticide.
Research leading up to Hawaii's pesticide bill has shown that the use of chlorpyrifos is accompanied by tremendous human health costs. Children are uniquely susceptible to the adverse effects of chemical exposures because they drink more liquids, breathe more air, and consume more food per pound of body weight than adults. Studies have shown that children's developing organs create early windows of significant vulnerability during which exposure to pesticides can cause great damage. In recognition of the hazards posed to children in particular from chlorpyrifos exposure, in 2000 EPA removed all residential uses from the market. But, the agency's actions fell short of issuing an outright ban, despite strong, scientific evidence of harm and ongoing public outcry. Under the direction of EPA's current Administrator, Scott Pruitt, the agency has delayed further action until 2022, calling for more study instead. Pruitt made this decision against the advice of his agency's own scientists who argued that there is no safe method of chlorpyrifos use.
According to professor emeritus of pediatrics at the Medical University of South Carolina, Pediatrician, and Beyond Pesticides Board President, J. Routt Reigart, MD, "There is absolutely no reason to delay action for at least four years, other than providing Dow Chemical with permission to grow its market." Chlorpyrifos is a known cholinesterase inhibitor which binds irreversibly to the active site of an enzyme essential for normal nerve impulse transmission- acetylcholine esterase (AchE), inactivating the enzyme. "Studies document that exposure to low levels of chlorpyrifos during pregnancy can impair learning, change brain function, and alter thyroid levels of offspring into adulthood." Columbia University researchers have found that chlorpyrifos in umbilical cord blood correlated to a decrease in psychomotor and mental development in three year old children. EPA scientists concur with this finding.  Virginia Rauh, Professor of Population and Family Health at the Columbia University Medical Center, has found that children exposed to high levels of chlorpyrifos experience mental development delays and attention deficit/hyperactivity problems at three years of age. Studies of children exposed to chlorpyrifos have consistently demonstrated reduced birth weights, slowed cognitive development, and other neurodevelopmental problems.
In EPA's revised risk assessment released in November of 2016, the agency confirmed that there is no safe use of chlorpyrifos. It also found that ubiquitous exposures to the insecticide exceeded safe levels in drinking water, food, air, homes, schools, and in agricultural communities. The assessment stated that pesticide drift, even at three hundred feet from the field's edge, remains unsafe.  Workers who mix and apply chlorpyrifos are exposed to unsafe levels even when wearing maximum protective gear and with emission controls in place.
Yet, even in the face of overwhelming scientific evidence, such as the research examined in EPA's risk assessment, federal policy makers have failed the public by not swiftly banning chlorpyrifos, nationally, according to Leonardo Trasande, MD, physician and associate professor at New York University School of Medicine.  In his article, "When enough data are not enough to enact policy: the failure to ban chlorpyrifos," Dr. Trasande reviews the available, scientific evidence on the public health threats posed by chlorpyrifos and the federal government's slow response to take action. He concludes by stating the obvious – that the benefits of banning chlorpyrifos far outweigh the costs. Dr. Trasande calls upon the scientific community to speak up about the implications of their research and the imperative for government regulatory action to be taken to protect public health. While Dr. Trasande concedes that there will always be debate about the exact course of action and speed by which it should occur, he is emphatic that "Taking chlorpyrifos off the market will preserve our children's intellectual potential. The chemical and agricultural industries will survive as they have survived the loss of many chemicals."
Banning chlorpyrifos and passing SB3095 will put Hawaii at the forefront of statewide efforts to curb the adverse effects of noxious pesticide use. Other states, including New Jersey and Maryland, failed to pass bills proposed in their state legislatures. U.S. Senators from seven states have also introduced the Protect Children, Farmers and Farmworkers from Nerve Agent Pesticides Act of 2017, which would outlaw chlorpyrifos and force EPA to review and consider banning other similar, highly toxic pesticides.
To express you concerns about the continued allowance of chlorpyrifos and other noxious pesticides, write or call your US Congressional Representative. Urge them to support the Protect Children, Farmers and Farmworkers from Nerve Agent Pesticides Act of 2017 to safeguard children and communities from the unnecessary exposure to this neurotoxin. You can learn more about the fate, effects, and impacts of pesticides by visiting Beyond Pesticides' Pesticide-Induced Diseases Database. It catalogs over 400 references in the epidemiologic peer-reviewed literature that link pesticide exposure, including chlorpyrifos, to a range of public health diseases. Also, consult Beyond Pesticides' factsheet Children and Pesticides Don't Mix, which cites peer-reviewed scientific literature on the health effects of pesticides.
All unattributed positions and opinions in this piece are those of Beyond Pesticides.
Sources:Â  Hawaii News Now