06
Jun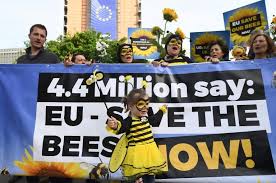 (Beyond Pesticides, June 6, 2018) By the close of 2018, three top neonicotinoid (neonic) pesticides, linked to the worldwide decline in bee populations, will be banned for outdoor use in the European Union (EU), based on the General Court of the European Union's (GCEU) ruling last month. The GCEU, the equivalent of the U.S. Supreme Court, ruled in favor of taking precautionary action to protect pollinators from clothianidin, imidacloprid, and thiamethoxam. This ruling allows for the limited use of neonic-treated seeds grown in permanent greenhouses where contact with bees is not expected.
In its lawsuit, multinational seed and chemical companies, Syngenta and Bayer –manufacturers of the neonics in question– argued unsuccessfully that the pesticides do not necessarily harm bees if farmers use them according to label instructions. Syngenta also sought compensation of approximately $435 million to offset market losses resulting from the ban, but that, too, was denied. In rejecting the arguments of Syngenta and Bayer, the high court aligned itself with the European Food Safety Authority (EFSA) and its assessment of the harm caused by the widely used pesticides. EFSA's updated assessment, released in February of this year, provided convincing evidence that neonics represent a risk to wild bees and honey bees. They disorient the bees by disrupting their navigation skills and ability to pollinate, collect nectar, and return to their hives to process the nectar into honey. The GCEU verdict comes just weeks after the EU voted to extend the ban on the use of clothianidin, imidacloprid, and thiamethoxam in flowering crops that it already had in place on the three neonicotinoids since 2013.
In the U.S., the Environmental Protection Agency (EPA) has been reluctant to take action on neonics, despite the existence of multiple, independent scientific, peer-reviewed papers demonstrating their hazards to pollinators and non-target organisms. In fact, the agency's own scientists have concluded that neonics pose far-reaching risks to birds and aquatic invertebrates. They also found that neonics poison insect prey and contaminate grasses as well as bee pollinators. Yet, a hesitancy to take preemptive action on particularly damaging pesticides has pervaded the agency for years under the Federal Insecticide, Fungicide, and Rodenticide Act (FIFRA). When setting allowable uses of the pesticides in agriculture, EPA utilizes risk assessment reviews with extreme limitations when evaluating the registration or registration review of a food use pesticide in combination with its non-food uses. The agency has been criticized by Beyond Pesticides for not fully accounting for the uncertainties associated with safety data gaps, preexisting conditions, label compliance/accidents, mixtures and synergism, ecological and biological complexities (from soil microbiota to gut microbiome), while ignoring the question of need or essentiality. When evaluating ecological effects, EPA weighs the "economic, social, and environmental costs and benefits" associated with a given pesticide to determine whether an "unreasonable risk to human health and the environment" will occur. The problem with this approach is that it fails to allow for the prioritization of ecological protection. (See Beyond Pesticides, Pesticides and You, Thinking Holistically When Making Land Use Decisions.) Therefore, even in the face of compelling scientific evidence of harm, such as is the case with the three neonics, the revocation of pesticide registrations has proven difficult.
FIFRA markedly contrasts with the registration, evaluation, authorization and restriction of chemical (REACH) standard in the EU, which explicitly "aims to improve the protection of human health and the environment through the better and earlier identification of the intrinsic properties of chemical substances" under the law's precautionary principle. In striking contrast, FIFRA aims to manage and weigh acceptable risks instead of privileging human and environmental health protection. Moreover, it is well-known that EPA interprets FIFRA to exclude precautionary action, which is a core principle embedded in the EU's environmental law, and the standard used by GCEU to support its decision to uphold the EU ban the neonics. Beyond Pesticides has argued, however, that under the FIFRA "no unreasonable adverse effects" standard, it is not reasonable to expose the public and environment to a toxic pesticide when there is a less or non-toxic method or substance to achieve that target pest management objective.
In the lawsuit, the GCEU relied heavily on arguments documenting the need for the precautionary principle to be applied when considering the ban on the three neonics. Implementation of the precautionary principle allows restrictions to be placed on a chemical when a suspicion of harm exists, even in the absence of conclusive evidence. According to Eur-Lex, the official website of EU law, it "enables a rapid response to be given in the face of a possible danger to human, animal or plant health, or to protect the environment. In particular, where scientific data do not permit a complete evaluation of the risk, recourse to this principle may, for example, be used to stop distribution or order withdrawal from the market of products likely to be hazardous."
This guiding principle of taking precautionary action before extreme environmental impacts are demonstrated from exposure to a given toxic chemical is lacking in U.S. policy making processes. One notable exception is the National Organic Program's legally-mandated review of synthetic chemicals petitioned for inclusion on the National List of Allowed and Prohibited Substances. The Organic Foods Production Act (OFPA) regulations, which govern how organic food is grown, handled, and processed, prohibit the use of synthetic substances except under certain limited circumstances. To determine whether a normally prohibited substance will be allowed in organic, an assessment is made about its human health and environmental impacts, its essentiality in the agricultural system, the availability of alternatives, and its compatibility and consistency with organic systems of food production. This review process ensures that precautionary action is taken to prevent organic production systems, farmers, and farmworkers from being subjected to the harm associated with the most toxic chemicals used in agriculture.
In the face of this historic court decision in Europe to uphold a ban on three of the most egregious neonics, it is incumbent upon U.S. regulators to follow suit and take action to protect pollinators from these hazardous pesticides. Help persuade EPA to take substantive action on neonics by urging your Congressional Representative to support Saving America's Pollinators Act of 2017. Visit Beyond Pesticides' website for a sample letter.
All unattributed positions and opinions in this piece are those of Beyond Pesticides.
Source:  Politico; General Court of the European Union; European Food Safety Authority