12
Jul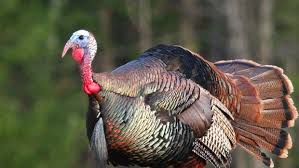 (Beyond Pesticides, July 12, 2018) Neonicotinoid insecticides have become notorious for their impacts to insect pollinators like bees and butterflies, but research finding the presence of these chemicals in wild turkeys is raising new concerns about the ubiquitous nature of these chemicals once released into the environment. Published in Environmental Science and Pollution Research by a team from the University of Guelph (UG), this new study highlights the broader effects of neonicotinoids on wildlife, and underlines calls to restrict the use of these products in favor of a more sustainable pest management approach.
Looking at roughly 40 wild turkeys in southern Ontario, researchers found 10 that contained pesticide residue in their livers. Claire Jardine, PhD, pathobiology professor and study co-author notes that wild turkeys in agricultural regions are more likely to be contaminated. "Wild turkeys supplement their diet with seeds from farm fields," she indicated in a press release.
The agrichemical industry coats a majority of corn and soybean seeds with neonicotinoids prior to planting. Because of their systemic nature, neonicotinoids are incorporated the seedlings as they grow, with the promise by the industry that this will alleviate pest pressure. However, a significant body of research, including EPA studies, have found that neonicotinoid seed treatments provide little to no benefit to farmers. An assessment published earlier this year by an international team of scientists found that an alternative insurance model could easily replace the need for farmers to purchase expensive neonicotinoid-coated seeds.
"A number of member hunters throughout southern Ontario had seen wild turkeys in the fields eating these seeds," said another study co-author Amanda MacDonald, PhD. "In certain areas, they noticed a lack of young birds and wanted to know if neonicotinoids had anything to do with it." As she noted, "There has been growing concern among natural resource managers, conservationists and hunters about whether the use of neonics may be linked to poor reproductive output of wild turkeys."
Earlier research investigating how neonicotinoids affect birds had found that a single kernel of neonicotinoid-coated corn was enough to kill a songbird. Insecticides like neonicotinoids also been found to interfere with migration patterns, building evidence that the decline of many grassland birds is linked to the widespread use of pesticides on farmland. Although researchers have only tested for the presense of neonicotinoid contamination, the number of detections and reports from those on the ground paint a concerning picture. "We need to continue to assess levels of neonics in a variety of wildlife, especially those that may feed off the ground or consume plants and insects and therefore might be more likely to come into contact with them," said another study coauthor, Nicole Nemeth, PhD.
Beyond Pesticides continues to work to raise awareness about the dangers and hazards these chemicals pose to wildlife and the wider environment. For more information about neonicotinoid coated seeds and what you can do in your community to protect pollinators and other species impacted by neonicotinoids, see the short video, "Seeds that Poison." We can manage land to produce food and encourage wild game without the use of toxic pesticides by moving to organic land management practices. These methods forgo pesticide use in favor of cultural practices that improve soil health and enhance natural ecosystem processes. For more information on organic land management see the recent article in Pesticides and You titled "Thinking Holistically When Making Land Management Decisions."
All unattributed positions and opinions in this piece are those of Beyond Pesticides.
Source: Environmental Science and Pollution Research, EurekAlert