05
Jul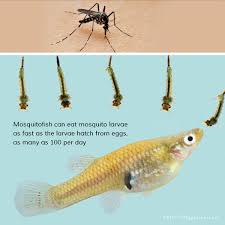 (Beyond Pesticides, July 5, 2018) With mosquito season in full swing throughout the U.S., land managers and abatement districts can be well served by employing biological controls in the form of fathead minnows (Pimephales promelas), according to research published earlier this year by scientists at the University of Waterloo in Ontario, Canada. In all but the most extreme conditions, these small fish, native throughout most of the continental United States, can provide effective control of mosquito larvae breeding in standing water. Beyond Pesticides encourages states and localities to focus primarily on larval control and public education as the best means to manage nuisance and disease-carrying mosquitoes, in contrast to adulticiding, the least effective means which allows 99.9% of a pesticide applied to contaminate the environment. At the close of Pollinator Week 2018, join us in urging Governors and state legislatures to ban the use of mosquito misters.
To test the efficacy of fathead minnows to control mosquito populations, researchers stocked the fish in 10 water catchment basins in the central U.S. Over the course of three years, larval mosquito populations were monitored in these basins, as well as in six control basins that did not receive an influx of minnows. Comparisons between the treatment and control groups found that ponds stocked with minnows decreased larval mosquito density by 114% compared to untreated ponds. By year three, minnows were able to self-sustain their population, eliminating the need to restock the ponds for continued mosquito management. This trend played out in the majority of catchment ponds, only breaking down in two smaller ponds where the water was too shallow and froze over-winter.
Fathead minnows distinguish their usefulness in mosquito control because of how inexpensive it is to stock them and create a sustaining population. "There are many potential advantages to using indigenous fish species as an alternative for larval control including lowered environmental impact, decreased costs regarding time and financial inputs, and the potential for the establishment of self-sustaining fish populations," said study co-author Brad Fedy, PhD in a press release. "This isn't a complete solution to the dangers of West Nile, but it should be considered as part of any plan to protect the health of vulnerable populations."
Fathead minnows act as an excellent biological control agent because they breed and mature quickly, and are able to withstand a wide range of water qualities, including low oxygen conditions. Communities throughout the US have also experimented with other novel biological controls, such as the use of copepod crustaceans to eat larval mosquito populations.
Although larvaciding represents the best method to manage mosquito populations, as Waterloo researcher Dr. Fedy notes, "… in North America, control efforts are largely limited to larvicides, which require a repeated application and have potentially negative ecological impacts." While larvacides like mosquito dunks usually contain Bacillus thuringensis israelensis, which does pose some limited risks to non-target species, more destructive are chemical-based larvacides like methoprene, which is highly toxic to benthic invertebrates such as lobsters and crabs.  
Unfortunately in many communities, adulticiding, not larvaciding, is the first line of defense for mosquito abatement, which results in widespread contamination with highly toxic pesticides. Communities wishing to effectively control mosquitoes without hazardous pesticides can look to Beyond Pesticides' Public Health Mosquito Management Strategy for guidance. Apart from larvaciding, education is the other key pillar in a successful community mosquito abatement strategy. This includes educating residents about not only how to manage mosquitoes on their property, but also about the dangers of adulticides. These chemicals, such as permethrin, malathion, and naled, have been related to a range of human diseases, including cancer, autism, respiratory diseases, and neurotoxicity, as well as water contamination, and impacts to birds, aquatic organisms, and pollinators.
Without education about mosquito abatement and the risk of mosquito pesticides, many residents will opt to hire companies like Mosquito Squad or Mosquito Joe to spray the same toxic chemicals in their backyard. Or even worse, will install mosquito misting systems that release an aduticide on a timed schedule. For backyard mosquito control, it is critical to regularly dump water sources, trim overgrowth vegetation where mosquitoes hide, and use biological controls like fathead minnows or mosquito dunks where standing water cannot be drained. Use least toxic repellents when outside, sit in a screened in porch or pop-up, and/or use an oscillating fan. It's also important to get neighbors involved in mosquito abatement efforts. For instance, you'll never solve your backyard mosquito problem if a neighbor two houses down has a kiddy pool under their porch collecting stagnant rainwater. Use Beyond Pesticides' mosquito doorknob hangers to spread the word.
On the closing days of Pollinator Week 2018, Beyond Pesticides is asking members and supporters to contact their Governor and state legislature and ask them to follow Connecticut's lead in banning the use of unnecessary and dangerous mosquito misting systems, which harm important flying pollinators.
All unattributed positions and opinions in this piece are those of Beyond Pesticides.
Source: University of Waterloo PR, PLOS One