12
Sep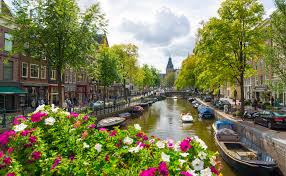 (Beyond Pesticides, September 12, 2018) The city of Amsterdam, Netherlands is leading global bee recovery efforts by increasing its diversity of wild pollinator species, according to reporting and an analysis by NBC News. A new map published by the city identified 21 bee species not found in an earlier 1998 survey recorded by Amsterdam officials. The increase has been attributed to a range of pollinator-protective measures, including a ban on bee-toxic pesticides and the planting of native flowers, prioritized by the city government since the turn of the century. Local communities throughout the world can look to Amsterdam for policies and practices that will safeguard their own unique pollinator populations.
The NBC News report notes several initiatives undertaken by the Amsterdam government. Many of these measures come out of a $38.5 million fund aimed at broadly improving environmental sustainability. "Insects are very important because they're the start of the food chain," said Geert Timmermans, an Amsterdam ecologist to NBC News. "When it goes well with the insects, it also goes well with the birds and mammals."
Insect and bee hotels are often installed in conjunction with the development of green roofs, which are encouraged for all new buildings. And parks and other public areas have undergone conversions that have increased the number of native flowering plants available for pollinators. "Our strategy is to when we design a park, we use native species but also the species that give a lot of flowering and fruit for (bees)," noted  Mr. Timmermans.
Amsterdam residents can also request that the city remove a 16 inch strip of pavement in front of their property in order to plant flowers, vines, or other vegetation. "(Citizens) acknowledge the importance of the natural environment. It's part of the culture," Mr. Timmermans said to NBC News.
While the EU recently made indefinite a ban on bee-toxic neonicotinoid insecticides in agriculture, urban spaces have been singled out for the continued risk to pollinators posed by the lawn and garden use of these chemicals. Â Amsterdam appears to have successfully made up the difference, banning the use of bee-toxic neonicotinoid insecticides on public city property, and encouraging residents and businesses to eliminate their use through brochures and informational pamphlets. Â Neonicotinoids have been implicated in the decline of wild and managed pollinators, leading governments, both large and small, to impose restrictions on their use.
With a 2017 study published in PLOS, showing wild lands in Europe losing 75% of flying insect biomass over the last three decades, Amsterdam represents a bright spot that can be replicated in other cities and towns in order for pollinator populations to remain viable on the whole. Even minor efforts can make a difference. Incorporating clover into a lawn is a great example of a way to add pollinator habitat, as studies find that mixed grass-clover lawns can support diverse pollinator populations.
While the U.S. Environmental Protection Agency (EPA) has not taken significant action to protect pollinators, there is a growing trend within U.S. states and communities to enact measures similar to those in Amsterdam. The states of Maryland and Connecticut have restricted neonicotinoids for consumer uses, and adopted other pollinator friendly habitat policies. The Map of US Pesticide Reform Policies highlights over 40 different local communities that have banned or restricted the use of neonicotinoid pesticides. Many of these policies include a comprehensive approach to improve habitat and plant for native vegetation.
Help defend pollinator protective policies from a federal attempt to block them in the 2018 farm bill. Tell your Senators to stand up for local rights in the farm bill by eliminating the inclusion of a poison pill rider that would preempt local communities in the final farm bill. For more information on the plight of pollinators, see Beyond Pesticides' Bee Protective webpage.
All unattributed positions and opinions in this piece are those of Beyond Pesticides.
Source: NBC News