12
Oct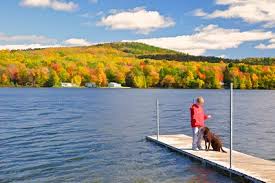 (Beyond Pesticides, October 12, 2018) For the first time in its history, the Vermont Department of Environmental Conservation (DEC) denied a permit to apply toxic pesticides to a local waterbody, according to reports from the regional nonprofit organization Toxics Action Center. The DEC decision responded to an application from the Town of Williston, VT to use the herbicide SePRO Sonar AS® on Lake Iroquois, a 237 acre spring-fed body of water used for public recreation, in order to control Eurasian watermilfoil. DEC ruled that use of the herbicide posed risks to the holistic integrity of the lake waters, the Champlain watershed, and surrounding ecology.
Sonar contains the active ingredient fluridone, which studies have linked to endocrine disruption, kidney/liver damage and toxicity to fish/aquatic organisms. It has also been identified as a potent groundwater contaminant. With this background, fluridone use has been the subject of public opposition.
The permit application submitted by Williston city officials identified $350,000 in costs to apply the pesticide over the next five years, with 3-4 applications scheduled each summer. Milfoil typically takes over shallow coastal waters, out competes native aquatic plants for space and sunlight, reduces oxygen levels and harms fish habitat. Milfoil, like other invasive plants, proliferates so quickly due to a lack of natural competition or a balanced ecosystem.
However, review of the application by advocates uncovered that research into non-toxic methods had received relatively little funding.  Though many safety retirements had not been adequately addressed, in order for the spray permit to pass, DEC required the City of Williston to determine the following:
there is no reasonable nonchemical alternative available;
there is acceptable risk to the nontarget environment;
there is negligible risk to public health;
a long‐range management plan has been developed which incorporates a schedule of pesticide minimization; and
there is a public benefit to be achieved from the application of a pesticide or, in the case of a pond located entirely on a landowner's property, no undue adverse effect upon the public good.
Residents expressed concern that fluridone would pose hazards to water, used for drinking, cooking, cleaning, and irrigation, and an integral part of many popular recreational areas as well.  In addition, as a result of poor enforcement, the effects of Sonar would have been severe. For at least 24 hours after using the pesticide, the minimum safety precautions require that residents avoid drinking water from the wells near the lake, which could contain unsafe levels of the toxic chemical. Residents would not be able to water their gardens with water that draws from the lake for 30 days after the pesticide application—and with 3-4 treatments each summer, lawns and gardens could not be safely watered for the entire season.
"We can solve the invasive species problem without introducing a chemical problem," said Meg Handler of Concerned Citizens of Lake Iroquois. "We need to make choices that are healthy for the whole lake and the whole community. A chemical like Sonar is not a safe choice."
While the invasive species problem may not be fully defined or understood, the short-term pesticide solution too often creates greater ecological imbalances. More often than not, invasive species, after introduction to a land region, become a larger issue where ecosystems are already compromised and lacking biodiversity's checks and balances. Consequently, an "eradication of the invasive" mindset can lead to increased and unregulated pesticide use.
In reality, defining and managing invasives in an ecological context ensures better protection for human health and the environment.
Before the DEC's decision, members of Concerned Citizens of Lake Iroquois, recognizing that protection from pesticides would take collaboration from the citizens of the four neighboring towns around the lake, argued that towns must take every opportunity to discuss and research alternatives before beginning any herbicide application. They contacted their elected officials with concern that safety precautions would lack enforcement, fearing 1) that sprayed pesticides would linger, 2) that drinking water would be tainted, 3) that wells near the lake could contain unsafe levels of chemical toxins, and 4) that swimming and fishing would be prohibited.
In addition to determining that the pesticide application represented an "unacceptable risk," DEC found that "non-chemical alternatives" had not been effectively tested.
The concern about harm extended beyond human health to the range of species that call Lake Iroquois home, including the fish species Bullhead, Bass, and Perch, five species of frogs and other amphibians, as well as larger animals inhabiting neighboring grasslands, such as Beavers, river Otters, Deer, Coyote, and Fox.
"This decision is a groundbreaking, long-term victory for the lake, surrounding towns and a toxic-free future in Vermont," said Shaina Kasper of Toxics Action Center, a public health and environmental nonprofit. "Across Vermont, residents are standing up for safe, pesticide-free ways to take care of our environment. This decision is the first of its kind, but it won't be the last."
In 2012, after discovering pigweed resistance to Roundup in genetically engineered ooton, EPA allowed the unregistered "emergency" use of fluridone in Arkansas, contributing to the pesticide treadmill and increased chemical effects that are not fully evaluated.
Have concerns about waterbodies near you?  Follow the example of Concerned Citizens of Lake Iroquois.  Talk with your neighbors.  Get organized. Create a coalition of likeminded individuals and experts.  Contact city officials and hold them accountable until your voices are heard and pesticide policy changes are made. Stay determined and stay grounded with support. Contact Beyond Pesticides for help and links to resources.
The pesticide-free movement is growing is New England in Maine, New Hampshire, Connecticut, among other states. These successes are the product of grassroots organizing. Check out the many local policies throughout New England and across the country in our U.S. Map of Pesticide Reform Policies. Learn more about how local governments are placed under increasing pressure of Meeting the invasive species challenge.
Source: Shaina Kasper, Toxics Action Center, and Elizabeth Deutsch, Concerned Citizens of Lake Iroquois.