11
Oct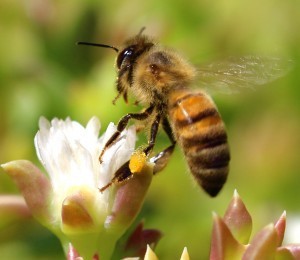 (Beyond Pesticides, October 11, 2018) Healthy, stable populations of bees and butterflies are best preserved in farm fields that are certified organic, according to an extensive, three-year study conducted by Swedish researchers at Lund University. The research, published last month in the journal Biological Conservation, highlights the benefits that organic farms provide pollinators by improving floral resources and forgoing the use of toxic pesticides. The data continues to support the need for a broad-scale conversion to more sustainable organic practices in the U.S. and internationally.
"This is the first large-scale study over the course of several years to show that organic farming has a consistent, stabilizing effect on pollinator diversity," says Romain Carrié, PhD, a postdoctoral researcher at CEC.
Researchers recorded observations of bumblebees, butterflies and flowering plant species at 10 organic and 9 conventional farms throughout Sweden for three years. Farms were compared across type, including cereal fields, temporary grasslands, and semi-natural grasslands. The study aimed to observe the spatio-temporal aspects (continuity of the number of different species in space and time) of pollinators and flowering species in these fields.
Results of the study found that, overall, organic farms had and sustained a higher rate of floral, bee, and butterfly diversity than conventional farms. The continuity of flowering species had the most significant impact on the number of bee and butterfly species observed by researchers. And continuity was generally higher on conventional than organic farms, with late-season flowerings on organic farms critical in ensuring that pollinator species return the next year.  For conventional farms, researchers believe that the fluctuations they observed for pollinating insects were most likely the the result of various insecticides depressing populations.
While this trend held in fields with cereal crops and temporary grasslands, semi-natural grasslands were not impacted by the type of farming that occurred. Scientists indicate that this outcome was likely because on these farms, management practices are similar between the two approaches. Specifically, because these fields are generally only used for grazing, synthetic pesticides and fertilizers are not applied to these conventional plots.
Ultimately, Dr. Carrié is calling for an all of the above approach to protect declining pollinator populations. "This strongly suggests that both flower-enhancing management options and a reduced use of insecticides can help reverse pollinator declines," Dr. Carrié concludes.
Previous studies back up the benefits of organic production to pollinators. A 2011 study found that a transition from conventional to organic farming can rapidly improve the number of plant and butterfly species on a farm. And a study published in 2012 found that organic farming practices improve the pollination success of strawberry farming.
Meanwhile, the U.S. Environmental Protection Agency continues to allow on conventional farms the use of synthetic herbicides that kill off floral diversity and pollinator habitat, and systemic insecticides, which kill bees directly as the plants they're sprayed on take in the insecticide and express it in pollen, nectar, and dew drops the plant produces. In the U.S. only roughly one percent of farmland is certified organic, while the rest subjects pollinators and the plants that depend on them to regular chemical contamination.
But it does not have to be this way. This method of farming can help farms cope with the stressors of a changing climate, sequester carbon, improve human health, boost local economies, and become an essential part of a sustainable agricultural future. While it is true that for certain crops yields may be lower than those in conventional agriculture, the study notes that organic farms can provide an unmatched benefit for crops dependent on pollinator species: predictability and certainty of pollination services.
For more information on why organic is the right choice for your food dollars and our farming future, see Beyond Pesticides' pages on the health and environmental benefits of organic production.
Source: Lund University