29
Sep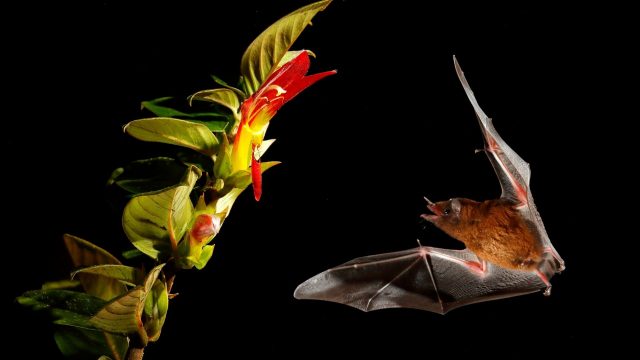 (Beyond Pesticides, September 29, 2021) Bats foraging in chemical-intensive banana plantations have much less gut diversity than bats foraging in organic banana fields and natural forestland, finds research published this month in the journal Frontiers in Ecology and Evolution. Although there is increasing recognition that a diet of conventional, chemically grown food leads to adverse disruptions of the gut microbiome (also known as dysbiosis), little research has been conducted on the effect of production practices on the gut of wild foraging species. According to the present study there are significant differences that regulators must begin to account for in pesticide risk assessments, and consumers should consider when making choices at the supermarket.
Researchers focused their investigation on Pallas's long-tongued bat (Glossophaga soricina), a nectar feeding bat native to Central and South America. The bat is highly adapted to human environments, sustaining populations in both conventional and organic banana plantations, as well as surrounding forest land. For the study, researchers trapped nearly 200 bats across the country of Costa Rica over a 22-month time span. After trapping, physiological characteristics, like size and body weight, were measured, and bat guano was analyzed for its microbial population. All sampled bats were released back into their habitat.
Bats that forage in agricultural land – whether organic or conventional, were found to be overall larger in size and weight than bats that live primarily in the forest. This was likely a result of a diet heavily reliant on the nectar from banana plants. However, bats in organic plantations had significantly higher levels of gut biodiversity than those in conventional plantations (based on a range of analyses, including observed amplicon sequence variants, Shannon diversity index, and Faith's Phylogenetic Diversity index). Gut diversity in organic bats was found to be similar to the diversity analyzed in forest bats. The study indicates that it is likely that organic practices are maintaining a "high diversity of commensal microbiota," while on the other hand, "less diverse gut microbiota in bats foraging in conventional monocultures may suggest that these habitats potentially have negative physiological consequences for the animals (e.g., gut inflammation and metabolic disease), and may act as ecological trap."
The authors conclude that sustainable, organic farming methods are healthier for bat populations. "Our study shows that more sustainable agricultural practices can have less of an impact on wildlife," said Priscilla AlpĂ­zar, a doctoral student at the University of Ulm in Germany. "Hopefully, our findings can lead the efforts to work together with producers and consumers to find more sustainable and bat-friendlier agricultural practices."
Organic practices are also healthier for the human microbiome. A study published in 2019 found that organically grown apples contain a much more diverse bacterial community than their conventional counterparts. Research on the benefits of organic production to human gut bacteria follow other studies on the add-on benefits of organic to our health, for milk, meat, strawberries, tomatoes, and a range of other foods.
On the other hand, gut dysbiosis from diets based on conventional, pesticide-laden, and highly processed foods has been linked to a range of adverse health effects. In a 2020 study, researchers identified developmental defects, diabetes, cardiovascular disease, liver disease, obesity, thyroid disorders, and improper immune operation all to be associated with changes to the gut after exposure to environmental contaminants. Glyphosate herbicides have received particular attention in this arena, with a finding from a study earlier this year showing 54% of species in the human gut sensitive to glyphosate exposure.
Despite the growing body of work linking gut bacteria to overall health, the concept is generally ignored by pesticide regulators around the world. As with other issues, like endocrine disruption and trophic cascades, it is critical that regulators consider the emerging science on the dangers of pesticides and adjust restrictions on their use. In this context, scientists are considering complex issues beyond contributors to the mortality of humans, animals, and plants, and are studying overall health and fitness and the myriad of examples of how pesticides harm fitness in unexpected ways. For that reason, it is critical that consumers join in calling on the U.S. Environmental Protection Agency to consider emerging science in pesticide decision-making.
The way we grow food is directly connected to the nourishment it provides. For more information on the connection between soil ecology, growing practices, and the gut microbiome, read the article Sustaining Life, From Soil Microbiota to Gut Microbiome, published in Pesticides in You, by David Montgomery, who presented this discussion to Beyond Pesticides 35th National Pesticide Forum in Minneapolis, MN. Â And for more information on why buying organic whenever possible is the right choice, see Beyond Pesticides Organic Agriculture program page.
All unattributed positions and opinions in this piece are those of Beyond Pesticides.
 Source: Frontiers in Ecology and Evolution, Phys.Org press release