08
Jun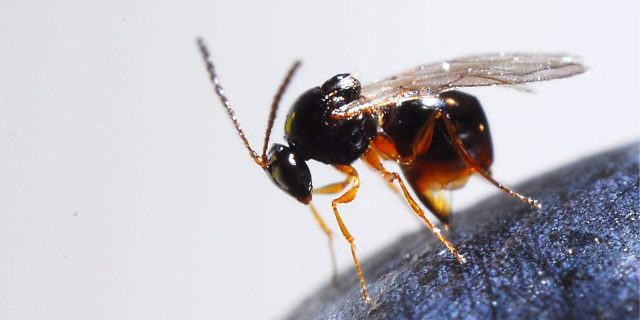 (Beyond Pesticides, June 8, 2022) A new biological agent to manage the destructive pest spotted wing drosophila (SWD) (Drosophila suzukii) is set to be released this month after approval was granted by the U.S. Department of Agriculture (USDA). Ganaspis brasiliensis, a parasitic wasp with a specific affinity for SWD, has the ability to significantly curtail the use of toxic pesticides otherwise employed to manage the pest. The move is an important step forward for biological pest management in the United States, an approach that has already added billions of benefits to agricultural economies, and has the potential to help farmers eliminate the regular use of hazardous pesticides.
SWD is a small fruit fly originally from southeast Asia. In 2009, it was discovered on the U.S. West Coast and rapidly became a major pest, leading to significant crop loss estimated at over $700 million each year. The insect attacks nearly all soft bodied fruits, including blueberries, blackberries, raspberries, cherries, peaches, nectarines, apricots, grapes, and others. It has an apparent preference for blueberries, costing that industry alone $100 million per year. It lays its eggs inside of ripe fruit, which hatch into larvae and ruin the entire fruit as it feeds. Female SWD reproduce rapidly, laying up to 600 eggs per year and producing as many as 13 generations per season.
Current nonpesticidal management approaches to SWD include cultural practices, like good sanitation, pruning, and the use of drip irrigation. Some growers have had success with traps baited with apple cider vinegar and wheat dough. Farmers are encouraged to bag infested fruit, but larger scale operations often have difficulty with this approach, and are likely to attempt to harvest early when pest levels are high.
G. brasiliensis, the parasitic wasp, was recently discovered along the Canadian border in Washington State, having made its way there naturally. But USDA had been carefully studying the parasitoid for over 10 years prior to its impending release in Oregon, undergoing extensive testing on its viability and behavior.
Scientists ultimately concluded that G. brasiliensis would be a viable biological control agent. ā€œItā€™s kind of the best of both worlds,ā€ said Elizabeth Beers, PhD, an entomology professor at Washington State University. ā€œItā€™s great that we have a lot of research showing that Ganaspis is very host-specific and safe to spread around. But there are also benefits to it being found here in nature.ā€
The parasitoid kills SWD by laying eggs in the larvae of SWD. The parasitoids eggs develop and hatch inside of SWD, subsequently consuming the pest. ā€œItā€™s a bit like the movie Alien,ā€ said Dr. Beers. ā€œItā€™s unpleasant to think about in sci-fi movie terms, but really effective for killing spotted-wing drosophila.ā€ Preliminary reports indicate that the parasitoid can reduce SWD populations by up to 65%.
ā€œThis will have a huge impact,ā€ said Vaughn Walton, PhD, entomologist at Oregon State University. ā€œGrowers are really interested and are excited about a biological control that will work along with cultural management tools to decrease SWD and not cost them any money. Itā€™s a natural resource available to them. We think this is going to change things.ā€
Researchers are also studying another parasitic wasp known to attack SWD in its home range, Pachycrepoideus vindemmiae. A study published in 2019 found that it had the potential to readily replace pesticide use for SWD, killing up to 600 SWD during its lifespan. However unlike G. brasiliensis, Ā P. vindemmiae is more of a generalist feeder, and there are some lingering concerns that it may kill other insects in addition to SWD.
While the introduction of a new biological control agent is positive, some advocates say that 10 years is far too long to wait for a permit. As opportunistic pests cross national and state boundaries at increasing speed, more research and funding for biological controls are needed in many areas of pest management. A 2020 study found that biological pest management has added billions of dollars in benefits to agricultural economies over the last 100 years, even more so than the benefits often cited from the ā€˜green revolutionā€™ in agriculture.
In the context of the 10 year delay in introducing the SWD parasitoid, the authors of the 2020 study note that ā€œa small number of ill-advised introductionsā€ from the middle of the 20th century led to ā€œa more risk-adverse attitude,ā€ which ā€œeclipsed its myriad societal benefits.ā€ Referring to introductions like the cane toad, first introduced in Australia to control sugarcane insects, but became a pest in its own right.
Increased funding and use of biological controls is necessary for a sustainable future for agriculture. Fortunately, there is important progress being made for a range of problematic pests. Parasitoid wasps are being released in Southern California to manage the destructive Asian citrus psyllid. In 2020, OSU scientists discovered a nematode that had the ability to ā€œliquifyā€ exposed slugs. A specific nematode was also recently found to be a promising control against non-native fire ants invading the US. And scientists have discovered a small mite that has the potential to knock down tree of heaven populations.
Those wishing to manage pests with biological controls in their own home gardens and landscapes can find resources and purchase biological control agents from online retailers like Arbico-Organics. More information to help eliminate the use of toxic pesticides in oneā€™s home and yard can be found on Beyond Pesticidesā€™ ManageSafe portal.
All unattributed positions and opinions in this piece are those of Beyond Pesticides
Source: Oregon State University press release, Washington State University press release
Photo Credit: Washington State University