07
Sep
(Beyond Pesticides, September 7, 2023) During Organic Month, the importance of organic practices is brought into sharp focus by a study published in July in Environmental Health Perspectives, which emphasizes the importance of an organic diet and location to residues of pesticides in the body. The study finds urinary levels of the weed killer glyphosate significantly decrease through an organic diet for pregnant individuals living further than 0.5km (~1640ft) from an agricultural field. However, the study finds that adopting an organic diet among pregnant individuals living closer than 0.5km to an agricultural area does not significantly decrease glyphosate levels, indicating alternative sources of contamination outside of diet. Although past studies prove time and time again that an organic diet can reduce the levels of pesticides in the body, far too few studies investigate how the intervention of the organic diet can alter glyphosate levels among pregnant individuals living near or far from agricultural fields on which the herbicide is used. Furthermore, pesticides' presence in the body affects human health, especially during vulnerable life stages like childhood, puberty, pregnancy, and old age.
The study raises the complexity of fully tracking multiple exposures to glyphosate and other pesticides and the need for a more holistic or systemic solution, as embraced by those transitioning to organic management practices and/or the need for regulatory decisions that eliminate the use of toxic chemicals based on the availability of nontoxic alternative practices and products.
Pesticide exposure during pregnancy is of specific concern as health effects for all life stages can be long-lasting. This study highlights the importance of where you live and the associated exposure patterns. In the study population, the primary source of chemical exposure appears to differ among vulnerable populations depending on rural-urban location. Suppose rural communities' primary exposure source comes from agricultural uses, while urban communities mainly encounter glyphosate through diet. Or suppose that residential and urban populations get multiple glyphosate exposures from diet, landscaping, park and playing field use, and roadside or rights-of-way management. In these cases, as this study notes, "[I]t is necessary to understand sources of exposure in diverse populations to develop effective exposure-reduction recommendations."
Conducted in Idaho, the researchers evaluated the urinary glyphosate concentrations of 39 pregnant individuals living near (0.5km or less; rural) and from (more than 0.5km; urban) agricultural fields routinely treated with pesticides. Randomly, participants receive a supply of organic or conventional (non-organic) groceries (grown with chemical-intensive practices) over two weeks to determine the glyphosate concentration in urine samples. The study compares the difference in urine sample glyphosate concentration between the organic and conventional grocery weeks, stratifying by proximity to agricultural fields. The results find urinary glyphosate levels among individuals furthest from agricultural fields (urban) are moderately lower than those of individuals living near agricultural fields (rural), with the concentrations decreasing when switching from a conventional to an organic diet. Thus, the study suggests that "diet is an important contributor to glyphosate exposure in people living >0:5 km from agricultural fields; for people living near crops, agriculture may be a dominant exposure source during the pesticide spray season."
Glyphosate is the most commonly used active ingredient in the U.S. and worldwide, appearing in many herbicide formulations and readily contaminating soil, water, food, and other resources. As the active ingredient in the popular weed killer RoundupTM, with use growing especially during the last few decades, extensive glyphosate use has put human, animal, and environmental health at risk. Four out of five U.S. individuals over six years have detectable levels of glyphosate in their bodies. Exposure to glyphosate has implications for the development of various health anomalies, including cancer, Parkinson's disease, developmental and birth disorders, and autism. Although the U.S. Environmental Protection Agency (EPA) classifies glyphosate herbicides as "not likely to be carcinogenic to humans," stark evidence demonstrates links to various cancers, including non-Hodgkin lymphoma. EPA's classification perpetuates adverse impacts, especially among vulnerable individuals, like pregnant women, infants, children, and the elderly. Glyphosate's ubiquity threatens 93 percent of all U.S. endangered species, resulting in biodiversity loss and ecosystem disruption (e.g., soil erosion, loss of services, and trophic cascades). Moreover, chemical use has been increasing since the inception of crops genetically modified to tolerate glyphosate.
Not only do health officials warn that continuous use of glyphosate will perpetuate adverse health and ecological effects, but that use also highlights recent concerns over antibiotic resistance. It is commonly used on crops grown from genetically engineered (GE) companion seeds for various staple crops (e.g., soybeans, cotton, and corn). These GE seeds are glyphosate-tolerant, whose attribute has allowed growers to apply the herbicide and expect that it will kill weeds and not harm the crop. This calculation is changing, however, as weeds develop resistance to glyphosate, causing the industry to double down on its chemical solutions.
This study is one of the first "to examine the effect of an organic diet intervention on glyphosate among people living near and far from agricultural fields." Most notably, this study is the first to investigate the impact of an organic diet mediation on glyphosate exposure during pregnancy. Pregnancy is a critical window of susceptibility for exposure to glyphosate and other environmental chemicals, as prenatal exposure has associations with adverse birth outcomes that can impact subsequent generations.
Previous studies demonstrate a significant reduction (up to 70 percent for glyphosate) in urinary pesticide metabolites (breakdown products from parent compounds) achieved by a dietary shift from consuming conventionally grown food to organically grown foods in as little as a week. This subject research furthers the investigation of the impacts of an organic diet on pesticide exposure. Like this article, the paper, Organic Diet Intervention Significantly Reduces Urinary Glyphosate Levels in U.S. Children and Adults, reports on the second phase of a two-part study evaluating the same set of urine samples. 
Although the results of this study and others suggest an organic diet effectively reduces exposure to pesticides for most of the general population, rural areas have difficulty avoiding glyphosate exposure because of its use on farms. Thus, sources of glyphosate exposure in rural areas are far beyond diet. Organic agriculture is not magically "free" of all chemicals, given the reality of pesticide drift and background levels in the environment. However, the National List of Allowed and Prohibited Substances, overseen by the National Organic Standards Board and subject to public review and comment, establishes the prohibition of toxic pesticides in certified organic production under the USDA organic seal.
This September, celebrate National Organic Month to improve and sustain human, animal, and environmental health. Emissions from fossil-fuel-based synthetic pesticides and nitrogen fertilizers continue to threaten the ecosystem, fueling the climate crisis. A complete switch from chemical-intensive agriculture to regenerative organic agriculture can significantly reduce the threat of the climate crisis by eliminating petrochemical, synthetic fertilizers and toxic pesticide use. Furthermore, supporting the use of alternative practices such as polyculture rather than monoculture, mulching systems instead of herbicides for weed management, animal integration, and other organic practices assist in eliminating the need for pesticides and their movement through air (pesticide drift) and into waterways (runoff). 
As for glyphosate, Beyond Pesticides has challenged the registration of this chemical in court due to its impacts on soil, air, water, and our health. While legal battles press on, the agricultural system should eliminate the use of toxic synthetic herbicides to avoid the myriad of problems they cause. Instead, the main focus should be converting to regenerative-organic systems and using least-toxic pest control to mitigate harmful pesticide exposure, restore soil health, and reduce carbon emissions. Public policy must advance this shift, rather than allow unnecessary reliance on pesticides. Additionally, purchasing organic food whenever possible—which never allows glyphosate use—can help curb exposure and adverse health effects. Moreover, Beyond Pesticides provides tools, information, and support to take local action: check out our factsheet on glyphosate/Roundup and our report, Monsanto's Roundup (Glyphosate) Exposed. Contact us for help with local efforts and stay informed of developments through our Daily News Blog and our journal, Pesticides and You. Additionally, check out Carey Gillam's talk on Monsanto's corruption in glyphosate/Roundup at Beyond Pesticides' 36th National Pesticide Forum. Help to take glyphosate and other toxic pesticides and fertilizers out of your community by collaborating with Beyond Pesticides through our Parks for a Sustainable Future program.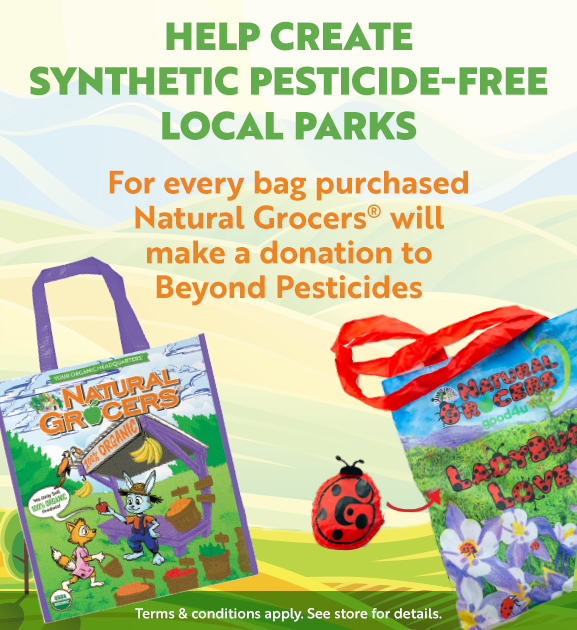 As we forge ahead, converting local parks and playing fields to organic land management practices to make them safer for kids (and pets!) to play in via our Parks for a Sustainable Future program, Beyond Pesticides is also honored to partner with Natural Grocers for Organic Month! As part of their Organic Month Headquarters® campaign, Natural Grocers is donating $2 for every Ladybug Love pouch sold and $1 for every "Organic Month Headquarters" bag sold at all in-store locations to Beyond Pesticides! With your support, we can say YES to the livable future we are working to achieve! 
All unattributed positions and opinions in this piece are those of Beyond Pesticides.