11
Oct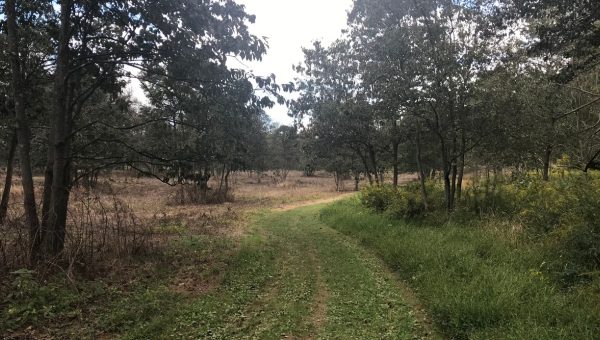 (Beyond Pesticides, October 11, 2023) Rachel Carson Conservation Park, a 650-acre conservation area in Montgomery County, Maryland, named in honor of the renowned scientist and author Rachel Carson, is now at the center of a controversy surrounding the use of toxic herbicides. Ms. Carson played a pivotal role in raising awareness about the harmful ecosystem and human health effects of pesticides that led to the banning of DDT. Environmentalists and concerned citizens have raised alarm over the recent spraying of "invasive weeds" with Garlon 3A, a powerful herbicide, within the park's boundaries.
Concern about pesticide use in Montgomery County is complicated by competing jurisdictions and restrictions within the county, and highlights the stark difference between nontoxic organic practices and pesticide-dependent Integrated Pest Management. (See more below on Montgomery County land management policy for local parks.) According to the Montgomery County website: "Montgomery County Parks [Maryland-National Capital Park and Planning Commission or M-NCPPC] are a State agency. M-NCPPC operates under an integrated pest management plan (IPM). Montgomery Parks manages all playgrounds, community gardens and common lawn areas within local parks without the use of pesticides. In 2016, Montgomery Parks designated ten pesticide-free parks. In September 2019, the program expanded to 45 pesticide-free parks. They post advance notification of pesticide applications on their website." For a full list of pesticide applications in Montgomery County Parks, visit the county website.
Ms. Carson, the author of the groundbreaking book Silent Spring, is celebrated for her tireless efforts in advocating for the protection of the environment and wildlife. Her work empowered an awareness of "complex biological communities against which [pesticides] have been blindly hurled," sparking a global awakening to the dangers of chemical pollutants. Her words are particularly poignant and predictive given the United Nation's (UN) warning of biodiversity collapse and the findings of the UN's Conference of the Parties (December 2022) to the Convention on Biological Diversity: "Despite ongoing efforts, biodiversity is deteriorating worldwide, and this decline is projected to worsen with business-as-usual. The loss of biodiversity comes at a great cost for human well-being and the global economy." In the context of what was known when her book was published in 1962, Ms. Carson stressed the importance of adopting alternatives, noting, "We must make wider use of alternative methods that are now known, and we must devote our ingenuity and resources to developing others."
The controversy surrounding the use of Garlon 3A in Rachel Carson Conservation Park prompts reflection on Rachel Carson's enduring legacy about the adverse consequences of chemical pollutants on the environment and the need for alternatives. Ms. Carson's seminal work cautioned against indiscriminate attempts to manipulate nature, a message that remains as urgent today amid contemporary environmental challenges as it did over half a century ago. Her enduring legacy endorses the melodious chorus of birds in the treetops and the constructive endeavors on the ground below, perpetuated by countless individuals who have drawn inspiration from her words and actions.
Jenny Kay, PhD, a scientist at the Silent Spring Institute who researches carcinogenicity and toxicology, told Beyond Pesticides, "It's unfortunate and ironic that pesticides are being applied to the grounds at the Rachel Carson Conservation Park, named in honor of the pioneer of the environmental movement who first raised the alarm about the indiscriminate spraying of pesticides and their potential effects on human health and wildlife. Even more ironic, they have chosen a pesticide, triclopyr, that causes mammary tumors in animals and could increase the risk of breast cancer, the very disease that ended Carson's life before she could see the revolution she started."
The use of Garlon 3A within the boundaries of Rachel Carson Conservation Park has ignited controversy among environmentalists, park enthusiasts, and local residents. Concerned citizens argue that the application of a toxic herbicide within a park bearing Rachel Carson's name is contradictory to her environmental ideals and legacy. Sarah Campbell, a community member who frequents the park said, "Rachel Carson taught me about the dangers of pesticides to people, plants, and animals. I hike Rachel Carson Conservation Park regularly with my dog and was upset to learn they are not pesticide-free! How can Montgomery County name a park after her and spray it with the pesticide she fought to ban?"
Even though it has independent authority, M-NCPPC's use of pesticides runs contrary to the spirit, intent, and letter of a 2015 county law, passed by the Montgomery Council, to ban toxic pesticides on public and private land and advance organic practices within its jurisdiction, recognizing the hazards pesticides and the efficacy of alternatives. However, the policy and practices of the state agency, with overlapping park authority with the county, are at odds with the efforts of the council to prioritize organic practices. At the time of the council vote, Council President George Leventhal said, "Today's action is another step in the ongoing effort to make Montgomery County the healthiest, safest county in the country," He continued, "Countless studies have linked pesticides to a wide range of health conditions in children and adults and, since the bill was introduced one year ago, I have received hundreds of reports from constituents of children and pets experiencing adverse effects from the application of pesticides." (See Mr. Leventhal's talk to Beyond Pesticides' 2016 National Forum.) 
Akayla Bracey, the science and regulatory manager at Beyond Pesticides said, "Garlon 3A is a potent herbicide used to control and eliminate unwanted vegetation, including invasive plants and weeds. However, its application has raised concerns due to potential risks and dangers associated with its use. Garlon 3A contains triclopyr, a chemical compound known for its several environmental and health risks, including tumors in mammals." Other impacts include:
M-NCPPC's website explains the use of Garlon 3A in response to "invasive species," which are frequently cited as the justification for dispersing toxic pesticides into the environment. This assertion of an environmental benefit, used to justify the use of these chemicals, often carries a sense of urgency and indisputable benefit. However, the use of toxic pesticides in response to the "invasive" species problem can, in reality, exacerbate ecological imbalances and hinder the adoption of more sustainable, long-term solutions that protect human health and the environment.
Advocates for environmental conservation and park-goers are urging M-NCPPC to follow the lead of the Montgomery County Council and add Rachel Carson Conservation Park to the list of over 45 pesticide-free parks in Montgomery County. There is a lot more at Lawns and Landscapes on the Beyond Pesticides' website. For more information about becoming an advocate for organic parks, see Parks for a Sustainable Future and Tools for Change. See Beyond Pesticides model local policy for public and private property.
TAKE ACTION: In addition to priming your own lawns, and landscapes, tell your mayor or county executive to transition your public parks and lands to organic management practices!
All unattributed positions and opinions in this piece are those of Beyond Pesticides.