28
Aug
(Beyond Pesticides, August 28, 2013) Industry giant, Syngenta, has filed a legal challenge to the European Union's suspension of one of its insecticides, thiamethoxam, linked to the decline in bee populations that has been observed in Europe and the rest of the world. Thiamethoxam, a neonicotinoid and active ingredient in Syngenta's Cruiser seed treatments, is widely used to treat seed and degrades into another neonicotinoid, clothianidin, also subject to a moratorium in the  European Union. Both chemicals are cited in a lawsuit seeking their suspension, which was brought by beekeepers and environmental groups in the U.S.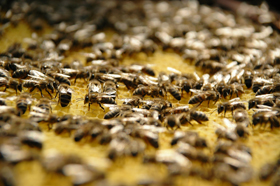 Earlier this year, the European Commission made a landmark decision announcing a two-year continent-wide ban on the neonicotinoid pesticides: clothianidin, imidacloprid and thiamethoxam. The decision came in response to a scientific report by the European Food Safety Authority (EFSA) that identified "high acute risk" to honey bees from uses of the neonicotinoid chemicals. Thiamethoxam, as well as clothianidin, are routinely used to treat seeds, especially for major crops like corn. A  15 member states majority  supported the ban, with eight against, and four abstaining. However, in its press release, Syngenta claims that the European Commission made its  decision on the basis of a flawed process, an inaccurate and incomplete assessment by EFSA, and without the full support of EU member states.
Syngenta's chief operating officer, John Atkin, said the company "would prefer not to take legal action but have no other choice given our firm belief that the Commission wrongly linked thiamethoxam to the decline in bee health. In suspending the product, it breached EU pesticide legislation and incorrectly applied the precautionary principle."
A second major pesticide producer, Bayer Crop Science, filed a similar legal challenge with the Court of Justice of the European Union in mid-August. Bayer claims that its pesticides, imidacloprid and clothianidin, have been on the market for many years and have been extensively tested and approved. According to EU guidelines, approved products can only be banned if there is new evidence of their negative effects, Bayer Crop Science said.
However, these latest industry actions ignore the increasing body of science that documents neonicotinoid toxicity to bees and other pollinators. Neonicotinoids can be broadly applied as a spray, soil drench, or seed treatment, and have the ability to translocate throughout a plant, systemically contaminating the entire plant, including pollen and nectar. Neonicotinoids work by disrupting insects' nervous systems. Honey bees exhibit reduced foraging, learning, and navigational behavior when exposed to even low levels of neonicotinoids. Neonicotinoids have also been observed to suppress their immune systems, making bees more susceptible to pathogens and disease, ultimately reducing the health and long-term viability of the colony. An extensive overview of the major studies showing the effects of neonicotinoids on pollinator health can be found on Beyond Pesticides' What the Science Shows webpage.
Syngenta and Bayer have dismissed the calls from beekeepers worldwide to suspend the use of neonicotinoids because of their connection to bee losses. Beekeepers have protested across Europe and also here in the U.S., calling for a moratorium on bee-killing pesticides. Several beekeepers are co-plaintiffs in a 2013 lawsuit challenging the U.S. Environmental Protection Agency's (EPA) failure to protect pollinators from dangerous pesticides. This lawsuit seeks suspension of the registrations of clothianidin and thiamethoxam, which have repeatedly been identified as highly toxic to honey bees and clear contributors to ongoing mortality of bees.  The suit challenges EPA's oversight of these pesticides, as well as EPA's registration process and labeling deficiencies.   In July, several beekeeping organizations -the National Pollinator Defense Fund, American Honey Producers Association, National Honey Bee Advisory Board, the American Beekeeping Federation- and beekeepers Bret Adee, Jeff Anderson and Thomas R. Smith filed suit against EPA to reverse a decision to register a new  pesticide, sulfoxaflor, which is related to neonicotinoids and also highly toxic to bees.
While legal wrangling over the use of these chemicals continues on both continents, bees and other pollinators continue to suffer alarmingly high mortalities. On average, losses have increased by 40 percent over the last couple years. This past June, an estimated 50,000 bumblebees, likely representing over 300 colonies, were found dead or dying in a shopping mall parking lot in Wilsonville, Oregon. Authorities confirmed that the massive bee die-off was caused by the use of a neonicotinoid pesticide, dinotefuran, on nearby trees. A few days later it was reported that hundreds of bees were found dead after a similar pesticide use in a neighboring town. Several state level incidents of large scale honey bee colony losses have been reported. In Florida, application of imidacloprid to citrus groves resulted in severely damaged colonies: 1000-1500 colonies were killed, while 10,000-13,000 colonies suffered severe damage. In Maryland, close to 60 percent of managed hives died during the 2012/2013 winter, leading one beekeeper to remark that it was were worst losses seen in 35 years. In Canada, millions of bees were killed soon after late spring planting which lead the Ontario Beekeepers Association to launch a petition to get the province to ban neonicotinoid pesticides.
Meanwhile, in the U.S., EPA acknowledged that current pesticide labels do not adequately protect honey bees and announced new label language to prohibit the use of neonicotinoid pesticides when bees are present. The new labels will also include a "bee advisory box" and icon with information on routes of exposure and spray drift precautions. However, beekeepers and environmental groups question the efficacy and enforceability of the new label changes in curtailing systemic pesticides that result in long-term residues in the environment, contaminating nectar and pollen, and poison wild bees that EPA seems to ignore in its decision-making process. To date, EPA has ignored calls for a ban on these chemicals and continues to try to mitigate their impacts on bees and other pollinators.
Given that one in every three bites of food is dependent on pollination, and that commercial beekeeping adds between $20 to $30 billion dollars in economic value to agriculture each year, it is imperative that action is taken to protect bees and other pollinators. Beyond Pesticides'  BEE Protective  supports nationwide local action to protect honey bees and other pollinators from pesticides. Numerous educations materials are available to encourage municipalities, campuses, and homeowners to adopt policies that protect bees and other pollinators from harmful pesticide applications and create pesticide-free refuges for these beneficial organisms. For more visit BEE Protective.
All unattributed positions and opinions in this piece are those of Beyond Pesticides.
Source: Syngenta Press release