22
May
(Beyond Pesticides, May 22, 2014) Beyond Pesticides is pleased to announce that videos from Agricultural Justice, Age of Organics, and Alligators: Protecting Health, biodiversity, and ecosystems, the 33rd National Pesticide Forum are now available! The videos cover the range of topics that were discussed at the Forum and include keynote speeches, panel discussions, and workshops. The themes central to this year's conference were creating a fair and organic food system, and utilizing the science to create sound policy protective of human health and the environment. While there is no substitution for the actual energy that comes from bringing scientists, practitioners and activists together in the same room, we publish these videos with the goal of sharing the incredible knowledge of the experts with the broader public to help inspire and inform community action.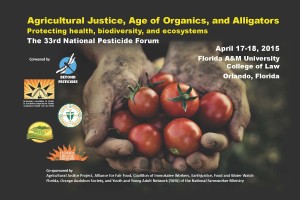 Watch the videos here. You can access the playlist, which includes all of the available videos of the 2015 forum, as well as previous years, on Beyond Pesticides' YouTube page.
Notable presentations include:
Sentinel Wildlife Species: What are they telling us about our health, by Louis Guillette, Ph.D. Dr. Guillette is a pioneer research scientist on endocrine disruption and reproductive health effects, who has studied the decline of Lake Apopka's alligator population, where farmworkers were also exposed to agricultural pesticides. He is currently the Director of the Marine Biomedicine & Environmental Sciences Center and a Professor, Obstetrics & Gynecology at the Medical University of South Carolina (MUSC). He is also Professor at  the Howard Hughes Medical Institute, and the SmartState Endowed Chair in Marine Genomics, at the SC Center of Economic Excellence. His current work examines the effect of environmental pollutants on the genetic-endocrine signaling associated with the development and functioning of the genitalia and gonads of various vertebrate species. His talk specifically describes how his work on endocrine disruption and reproductive health effects on alligators can teach us about health effects in the human population.
Learning from an Environmental Tragedy, by Tyrone Hayes, Ph.D. A trailblazing research biologist whose research finds that the herbicide atrazine feminizes male frogs, Dr. Hayes' work has shown that current regulatory reviews allow widespread use of pesticides that cause serious adverse effects well below legal standards. He is the professor of Integrated Biology at the University of California, Berkeley. Through his research, he states, "I have come to realize that the most important environmental factors affecting amphibian development are synthetic chemicals (such as pesticides) that interact with hormones in a variety of ways to alter developmental responses." One of the driving points of Dr. Hayes' keynote address is the need for independent research, and the importance of combining science with activism.
Organic Citrus Production in Florida, by Benny McLean II, production manager at Uncle Matt's Organic Farm, in Clermont, FL. Mr. McLean has been working in the Florida citrus industry since the 1950's when he was put on his dad's hand crew at the young age of ten, and he is currently responsible for implementing Uncle Matt's organic farm plan which includes all aspects of grove care and growing citrus. With his vast knowledge over his long career in the Florida citrus industry, Benny's talk describes the challenges and benefits of organic farming, particularly in the face of one of the most devastating diseases of our time, citrus greening.
Agricultural Justice Initiatives Panel, featuring three domestic fair food standards organizations that are working to address and challenge the current food system: Agricultural Justice Project, Equitable Food Initiative, and the Fair Food Standards Council. Speakers on the panel include: Tirso Moreno, general coordinator, Farmworker Association of Florida, Apopka, FL; Leah Cohen, program coordinator, Agricultural Justice Project, Gainesville, FL; Sean Sellers, senior investigator/monitor, Fair Food Standards Council, Sarasota, FL; Margaret Reeves, PhD, senior scientist/program coordinator, Pesticide Action Network North America, Oakland, CA; with Nelson Carrasquillo, Beyond Pesticides board member, and executive director of CATA-The Farmworkers' Support Committee as the moderator.
Also included are several other presentations and workshops, including, State of the Science and Law, plus an in-depth discussion on Pesticides and Farmworker Health, Organic Management Approaches and Cutting-Edge Alternatives, Pollinator Protection, and more. Be sure to visit the full playlist to see the rest of the videos.
Beyond Pesticides encourages activists, community leaders, scientists, and policy makers to attend its annual National Pesticide Forum in person to get together, share information, and elevate the pesticide reform movement; however these videos provide valuable information for those unable to attend. Beyond Pesticides believes that sharing this information beyond the Forum as an educational and organizing tool will prove extremely valuable, and encourages folks to share presentations with friends, community organizations, networks, and state and local decision makers.
Beyond Pesticides thanks everyone who helped make the 33rd National Pesticide Forum a success! The Forum, held April 17-18 at the Florida A&M University College of Law, was convened by Beyond Pesticides, the Farmworker Association of Florida, Florida Organic Growers and Consumers, and the Florida A&M University Small Farms Program, and co-sponsored by a diverse range of local groups. For more details about the conference, download the program here, or see www.beyondpesticides.org/forum.
The playlist, which includes all of the available videos of the 2015 Forum, as well as previous conferences are available on Beyond Pesticides' YouTube page.
All unattributed positions and opinions in this piece are those of Beyond Pesticides.