10
Mar
(Beyond Pesticides, March 10, 2017) A French study published last week has found that higher pesticide use does not mean larger profits, demonstrating that farmers can reduce their usage of pesticides without worrying about their profits being affected, in most cases. Similar studies have shown that organic and conventional yields are comparable, supporting the case for farmers to transition from high pesticide use to healthier, safer, and more profitable alternatives.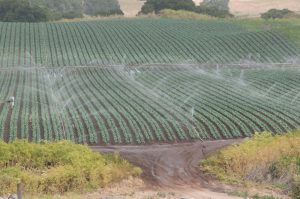 The study, led by Martin Lechenet, a PhD student with the French National Institute for Agricultural Research, looked at data from 946 French farms, including yields, pesticide application rates, soil characteristics, and local climate conditions. The researchers then used a model to focus on the relationship between pesticide application rates and productivity or profitability. They found that, in 77% of the farms, higher pesticide use was not linked to a higher profit. The researchers then estimated that pesticide use could be reduced by 42% without any negative effects on current profit levels in 59% of farms in their national network. According to the researchers, their results demonstrate the ability to reduce pesticide usage for most farmers in current production situations.
In addition, other studies support the finding that farmers do not have to worry about their profits when considering alternatives to highly intensive pesticide regimes. A 2015 study found that organic agriculture produces higher profits for farmers while doing a better job at protecting the environment and biodiversity. When factoring in the price premium organic farmers receive for their products, researchers discovered that organic farming is 22-35% more profitable than conventional growing methods.
Conventional farming, which involves heavy pesticide usage, has important public health and environmental implications. In 2015, the International Agency for Research on Cancer (IARC) determined that the herbicide glyphosate is a human carcinogen based on laboratory animal studies. Other recent research finds glyphosate interferes with proper DNA functioning, correlating with the onset of numerous common diseases. Other pesticides, such as organophosphates, have been linked with lower IQ in children. In addition to impacts on human health, pesticides have been linked to adverse effects in a wide variety of species. Herbicides have been linked to damage in earthworms and other soil biota and can threaten aquatic life. Certain fungicides have been found to damage the muscles that honey bees use to fly, and some insecticides can have sublethal effects on amphibians, such as the wood frog.
A large shift in agricultural practices is necessary to ensure protection of human health and the environment over the long-term, according to a 2016 report authored by the International Panel of Experts on Sustainable Food Systems (IPES). While this report specifically calls for a shift to agroecological farming systems, Beyond Pesticides points out that there is neither a legal nor standardized definition of agroecology or sustainable agriculture. Certified organic systems are accountable to a public rulemaking process and defined by law, the Organic Foods Production Act, which requires an "organic systems plan" that incorporates many of the prongs of agroecology, with efforts underway to add a social justice component.
Ecological pest management strategies, organic practices, and solutions that are not chemical-intensive are the most appropriate and long-term solution to managing unwanted plants and insects. Beyond Pesticides is working to strengthen organic farming  systems by encouraging biodiversity and holistic management practices, and upholding the spirit and values  on which the organic law was founded. Underpinning the success of organic in the U.S. are small-scale producers who focus on fostering biodiversity, limiting external inputs, improving soil health, sequestering carbon, and using integrated holistic approaches to managing pests, weeds, and disease. A 2016 study deemed organic agriculture as a necessary tool for feeding the global population sustainably.
Support for organic agricultural systems is especially timely, following the release of a report by the United Nations that concluded that industrialized agriculture has not succeeded in eliminating world hunger, and has only hurt human health and the environment in its wake. With a growing understanding about the false promises that chemical-intensive, industrial agricultural systems have provided, policy makers and citizens around the world must push for fair food systems that place biologically regenerative, organic agriculture at the center.
Source: Ars Technica
All unattributed positions and opinions in this piece are those of Beyond Pesticides.