06
Oct
(Beyond Pesticides, October 6, 2017) Once people go organic, they are increasingly unlikely to go back to conventional foods, according to a study in the Journal of Consumer Research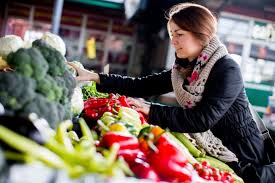 published by Dutch social scientists.  Organic food products are a rapidly growing industry in the U.S., with consumers spending $43 billion in 2016, an increase of $4.2 billion from the previous year. Given its benefits for health, water quality, workers, wildlife, and the wider environment, it is little wonder that more and more people are voting for the future of ecologically and public health-sensitive farming systems with their food dollars and buying organic.
For the study, researchers tracked over 8,700 consumers for 20 months, using the loyalty card for a major Dutch food retailer. They found that most consumers start by consuming organic dairy products first, milk being the primary entry point into organic. Over time people are likely to not only stick with organic certified milk, but expand their purchases into other organic products.
John Thøgersen, PhD, coauthor of the study and professor at the Aarhus University of Business and Social Science in Denmark, explains the process in a press release as follows: "In connection with organic consumption, there has previously been talk of an 'organic staircase' in the sense that consumers are generally buying certain organic products before others. But our research shows that in fact, we're dealing with an escalator where the upward movement is taking place automatically. Once you've purchased your first organic product, you're not likely to stop. You'll continue, and over time, you'll increase your organic shopping list. And you'll even be following a rather predictable consumption pattern."
The consumption pattern generally goes from dairy products to fruit and vegetables, then eggs and baking ingredients, and eventually all products categories, from tea and coffee to rice, pasta, canned food, cereals, and frozen food are purchased organic.
"What's interesting is that something is making the organic consumers stick to their guns. Something is making them stand fast. Our study doesn't tell us anything about why this is the case, but if we include our knowledge from previous research in the area, we're able to make an educated guess," Dr. Thøgersen says. Researchers suspect that the cause is a related to how one perceives themselves morally.  "It becomes a way in which we define ourselves," he continues. "As a result, we build an identity around the notion of buying organic products, and we're highly unlikely to suddenly change our moral values."
In social science, this behavior is characterized as the "spillover" effect. It is the idea that once one moral act is performed, more moral acts are likely to stem from it. Luckily for the organic industry, the spillover effect is more prevalent in organic purchasing choices than the "moral licensing" effect. "Moral licensing" theory states that once one performs a moral act, a person will act less moral because they believe their previous moral actions balance it out.
"We're not questioning that moral licensing exists," Dr. Thøgersen notes. "But our study shows that in practice, it doesn't apply to our ethical or pro-environmental behaviour. Once a person has decided to do good, he or she will actually be even more likely to continue to do good."
Given the rise of organic only natural foods stores and coops, and increasing options within conventional supermarkets, it is easier than ever for consumers to load their grocery cart up on mostly organic products. Beyond Pesticides is interested in knowing your organic shopping strategy. Did your organic "escalator" follow the one the study? What percentage of your purchases are organic? And why is organic important to you? Leave a comment below, or on Facebook or Twitter.
And if you would like to read more about why Beyond Pesticides promotes organic as the best option for the future of agriculture, see our program page on "Why Organic?"
Source: Phys.org