12
Dec
(Beyond Pesticides, December 12, 2017) According to a Reuters story, agrichemical company Monsanto plans to offer farmers a cash incentive to use its highly toxic and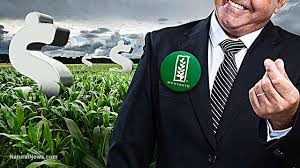 drift-prone dicamba-based herbicide next season, despite links to widespread crop damage that has pitted neighbor against neighbor in agricultural communities throughout the country. The move comes as more and more states enact or consider restrictions on use of the herbicide, which is intended to be paired with genetically engineered (GE) soybean seeds resistant to both dicamba and another controversial herbicide produced by Monsanto, glyphosate.
Monsanto plans to provide farmers more than half of the cost of herbicide per acre as an incentive to plant its GE seeds. However, given the range of new regulations surrounding the products, as well as the social stigma around its use, it remains to be seen whether the offer will sway farmers. Dicamba has stirred up fights between neighbors in a number of agricultural communities. Bader Farms, which grows over 110,00 peach trees on over 1,000 acres in Missouri, is suing Monsanto after its insurance company issued a refusal to pay for damages caused by dicamba drift from surrounding farms. In June of this year, University of Arkansas' agricultural research station had over 100 acres of soybeans ruined from nearby dicamba use. And reports from NPR indicate that a dispute last October between two neighbors over dicamba drift led to the murder of one Arkansas farmer.
Monsanto claimed earlier this year that the problem was that farmers were not following directions on application labels, or using contaminated equipment, or buying older formulations of dicamba that are cheaper but more prone to drift. However, research is showing that the new product Monsanto released, although promoted by the company as being less prone to off-site drift, has inherent problems that will continue to lead to nearby crop damage.
If farmers do decide to use these products, there will be a range of federal and state regulations to follow. Administrator Scott Pruitt's U.S. Environmental Protection Agency offered the most tepid response, reclassifying dicamba products used with GE crops as 'restricted use' and including additional record keeping and label changes. Other states have imposed additional restrictions. North Dakota will not allow any dicamba applications to be made after June 30th, and if the chemical is used, temperatures must be below 85 degrees. Arkansas and Missouri issued temporary bans on dicamba's sale and use earlier this year, and followed up with additional regulations this winter. Missouri is finalizing requirements that mandate prior notification to the state Department of Agriculture before dicamba is applied, as well as restrictions that prohibit its use in certain Missouri counties after June or July 2018. Arkansas is close to enacting the strongest prohibition on GE dicamba formulations, banning its use between April 16 and October 31, 2018. Officials in Minnesota are also considering a cut-off date and temperature restrictions.
Despite the damage seen this year, Monsanto indicated to Reuters that it predicts over 40 million acres will be planted with dicamba-tolerant soy in 2018. This  trajectory is a concern to many who say that it puts the future of agriculture and crop diversity in jeopardy. The ability for Monsanto's dicamba to drift and volatilize means that any nearby farmer not growing dicamba-resistant crops will be penalized and likely incur crop damage as a result of its use. Organic farmers are likely to be the worst hit, as any herbicide contamination could cause them to lose their certification and price premium on their crops.
Beyond Pesticides encourages support for organic agriculture as a viable alternative for the future of farming in the U.S. Certified organic products are never made from GE materials, and never have toxic synthetic herbicides applied to them. For more information about why GE crops should be on their way out, and why a transition to organic farming is needed now, see Beyond Pesticides Genetic Engineering an Organic Agriculture program pages.
All unattributed positions and opinions in this piece are those of Beyond Pesticides.
Source: Reuters