12
Jan
(Beyond Pesticides, January 12, 2018) Honey bees display a concerning attraction to the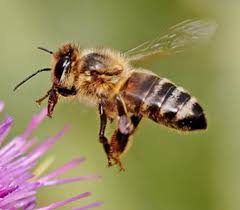 herbicide glyphosate and the fungicide chlorothalonil at certain concentrations, new research from scientists at the University of Illinois (UIL) reveals. Results are reminiscent of a 2015 study published in the journal Nature, which found that honey bees display a preference for foods treated with neonicotinoids, a class of insecticides implicated in global pollinator declines. Since the crisis became public knowledge in 2006, managed honey bees have experienced unsustainable levels of colony loss, and one in four species of native bees in North America and Hawaii are at risk of extinction. This new research adds to growing concerns that, while neonicotinoids continue to play a primary role in the pollinator crisis, their elimination would still leave a myriad of other toxic chemical threats to the recovery of these critical species, upon which so much of our food supply relies.
UIL scientists investigated honey bees' preference for a range of pesticides as well as a number of naturally occurring chemicals that honey bees would likely encounter in the field. In the experiment, pollinators were put in a large enclosure and allowed to fly to different feeders stocked with either sugar syrup and the chemical being tested, or plain sugar syrup, which acted as a control.
Unsurprisingly, the naturally occurring chemical quercetin, indicative of pollen production in flowers, was the most attractive substance to honey bees at all concentrations tested. "That makes sense, because everything the honey bees eat has quercetin in it," May Berenbaum, PhD, said in a UIL press release. "There's quercetin in nectar, there's quercetin in pollen. Quercetin is in honey and beebread, and it's a reliable cue that bees use to recognize food."
However, when allowing pollinators to forage on glyphosate-infused sugar syrup, honey bees prefer the concoction when concentrations were at 10 parts per billion, a dose likely to be encountered in the field, but not at greater amounts.  Likewise, at .5 and 50 parts per billion (ppb), honey bees prefer the chlorothalonil spiked sugar syrup over the control, but not at higher amounts of 500 ppb. "The bees are not only not avoiding this fungicide, they're consuming more of it at certain concentrations," Dr. Berenbaum said.
Glyphosate has been linked to impaired learning in honey bees, with evidence that field realistic doses of the chemical cause delays in the return of foraging honey bees to the hive. In regards to chlorothalonil, as far back as 2013, research identified exposure to the fungicide as a factor increasing the risk of honey bees contracting the deadly gut parasite Nosema ceranae. In 2015,  two studies identified fungicides, such as chlorothalonil, as more significant concerns to pollinator health that previously realized, leading David Goulson, Ph.D., a bee biologist at the University of Sussex, to say that the studies "suggest that the fungicides may be having more profound effects on bees than would have been expected from the standard lab toxicity studies," and that the research "demonstrates very clearly how the cocktail of chemicals used in modern farming makes farmland an inhospitable place for bees."
Subsequent research published in 2016 indicates that chlorothalonil has significant impacts on the gut microbiome of honey bees, reinforcing previous research that the chemical makes honey bees more susceptible to parasites and other diseases.  A late 2017 study by Cornell University researchers found that fungicide use, particularly chlorothalonil, was compounding risk and toxicity for U.S. bumblebee species, with scientists going as far as indicating that fungicides are likely playing a more significant role in declines of these species than previously realized.
Dr. Berenbaum has a reasonable explanation for why pollinators may choose to ingest substances that are hazardous to their health. "Honey bee foragers are gleaners," she said. "They're active from early spring until late fall, and no single floral source exists for them for that whole season. If they don't have a drive to search out something new, that's going to seriously compromise their ability to find the succession of flowers they need. Unnatural chemicals might be a signal for a new food." Thus honey bees, not knowing any better, may be continuously testing the waters with novel chemicals in their environment.
While we can't expect pollinators to know better, regulators in the U.S. and abroad should take heed and act now to protect these critical species from toxic exposure wherever the science identifies it. More information about the plight of pollinators can be found on Beyond Pesticides' Bee Protective webpage, where we track the latest science and policy developments on the pollinator crisis.
All unattributed positions and opinions in this piece are those of Beyond Pesticides.

Source: UIL Press Release