09
Feb
(Beyond Pesticides, February 9, 2018) Attorneys General in eleven states join Monsanto and the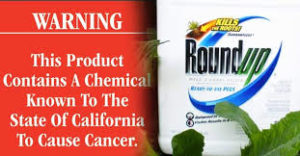 National Wheat Growers Association last month in challenging California's listing of glyphosate as a carcinogen under the state's Proposition 65 law. California added glyphosate to the list of cancer-causing chemicals in July 2017, but has since been attacked by Monsanto and its allies for carrying out state law that requires carcinogens to be labeled and monitored.
The plaintiffs, led by the National Association of Wheat Growers, argue that listing glyphosate as a carcinogen under Prop 65 will irreparably harm the agriculture industry, adversely affecting farmers and consumers throughout the U.S. The case, seeking a stay of the listing, was filed in the in Federal Court in the Eastern District of California in November, 2017. Earlier last year, Monsanto lost its case before a state Superior Court in which it sought to stay the Prop 65 listing.
Idaho, Indiana, Iowa, Kansas, Louisiana, Michigan, Missouri, North Dakota, Oklahoma, South Dakota and Wisconsin have filed an amicus brief in support of the preliminary injunction sought by agriculture groups against California's Prop 65 regulation. The U.S. Chamber of Commerce and the California Chamber of Commerce filed their own amicus brief in support of the preliminary injunction to halt the regulation. (Nat'l Ass'n of Wheat Growers, et al. v. Zeise, et al., No. 2:17-cv-02401WBS). In their amicus brief, states point out that California's Prop 65 mandates impede the duty of states to protect their own citizen-consumers as well as states' economic freedoms to stimulate growth, and "encroaches on the equal sovereignty of other States"
According to Lexology, the plaintiffs are arguing (1) that the First Amendment prohibits the government from compelling individuals or entities to engage in speech; and (2) that the Supremacy Clause requires state laws that conflict with federal laws to be preempted. Labeling for glyphosate is governed by certain federal regulations implemented and enforced by the U.S. Environmental Protection Agency (EPA). They have requested that the federal court declare California's action to be improper and enjoin the state from continuing to list glyphosate as a chemical that requires a Prop 65 warning.
Further, Monsanto and the agricultural interests allege that they are already being adversely affected by the decision, but state officials maintain that there is no need to issue a preliminary injunction on the listing, rejecting the allegation that they are already being adversely impacted by the decision. Monsanto, the chemical giant that makes glyphosate (Roundup), requested the state reconsider its listing but was rejected last summer.
Under the Labor Code listing mechanism of Proposition 65, substances identified by the International Agency for Research on Cancer (IARC) must be listed in the state of California as known to cause cancer. This listing requires warning labels on products and the listed substances are subject to limits on discharges into surface waters. In March 2015, IARC found that there was sufficient evidence of carcinogenicity in experimental organisms to classify glyphosate as "probably carcinogenic to humans" (Group 2A).
Industry has since challenged IARC's finding, arguing that it is an outlier as an "overwhelming majority of government regulators and other experts" have found glyphosate is not carcinogenic and have "flatly rejected" IARC's conclusion. In its request for a preliminary injunction, industry argues that they are facing "imminent harm" from the warning label requirements. The state rejects that claim, noting that the requirements will not enter into effect until July 2018 and that it has yet to determine which products will have to be labeled. The plaintiffs may speculate that a Prop 65 warning requirement will cause "an array of harm, from loss of reputation to disruption of food supply and private enforcement litigation" but their "sky-is-falling speculations" do not justify a preliminary injunction. The state agency adds that Prop 65 does not "dictate the text of the warning," providing companies the right to "tailor to its individual situation" and to "place the cancer risk in context" for the public.
Monsanto has been trying to undermine findings that show its flagship product, glyphosate, is anything other than "safe." However, its attempts to unduly influence and undermine scientific research and government review of its product has been disclosed widely in the press. This has prompted the European Parliament to set up a special committee to look into the European Union's (EU) authorization procedure for pesticides, in light of their recent controversial review of glyphosate. It was reported that the European Food Safety Authority (EFSA) copied dozens of pages from a Monsanto study in reaching its conclusion that glyphosate is "unlikely to pose a carcinogenic hazard to humans." EFSA's recommendation was supposed to provide an independent analysis for EU member states when deciding to renew the chemical. Last year, the European Parliament banned Monsanto lobbyists from committee meetings and digital resources, as well as prohibiting Monsanto lobbyists from meeting with any Member of the European Parliament. This was an attempt to limit Monsanto's influence on the EU review process amid mounting public pressure. Similarly, The New York Times reported on Monsanto's internal emails and email traffic between the company and U.S. federal regulators that suggested that Monsanto had ghostwritten research on glyphosate, which was later attributed to academics. In December 2017, the U.S. Environmental Protection Agency (EPA), declared that glyphosate is likely not carcinogenic, conflicting with IARC's 2015 classification. Some charge that EPA's assessment relied heavily on industry studies to arrive at its conclusion, and ignored its own guidelines for assessing cancer risks.
In California, the Court is set to hear arguments on the motion on February 20th.
Fight back against Monsanto's attempt to undermine the scientific and democratic process by getting involved at the local level. Work to pass policies that restrict not only glyphosate, but the entire range of toxic synthetic pesticides registered by EPA. Beyond Pesticides has resources to help you get started, including an organizing guide, model policy, and list of less toxic, organic compatible products. For more information on IARC's glyphosate cancer classification and the IARC review process, see Beyond Pesticides' article in our journal Pesticides and You.
Source: The Fence Post, Legal Scoops