01
Jun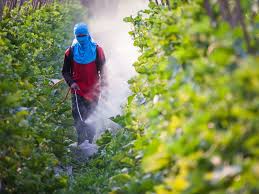 (Beyond Pesticides, June 1, 2018) States and civil society organizations launched new lawsuits in late May against the Pruitt Environmental Protection Agency (EPA) for its continued attack against farmworker health and safety. Two separate lawsuits, one filed by attorneys general in the states of California, Maryland, and New York, and another by health and justice advocates represented by Earthjustice and Farmworker Justice take aim at EPA's decision to delay the implementation of training requirements designed to protect farmworkers and their families. This is the latest in a series of lawsuits which began when EPA announced it would delay the Certification of Pesticide Applicators Rule in May of last year.
Under the Obama administration, EPA released new rules updating farmworker protections after over 20 years of inaction. These rules are important because unlike your average American worker, farmworkers do not have protections under the Occupational Safety and Health Administration (OSHA). At its introduction, the new standards raised the age to apply toxic pesticides to 18, and improved the frequency and quality of training materials farmworkers are provided, among a number of other positive changes.
After EPA announced it would be delaying the implementation of these changes, and reviewing the age requirement, the agency provided stakeholders only four days for public comments. This led to a lawsuit by Earthjustice and other farmworker groups, and a ruling earlier this year by a U.S. District Court judge for the Northern District of California that EPA's delay was a violation of the law.
These new lawsuits focus on EPA's continued delay of the mandatory training requirement for farmworkers, which detail how pesticide safety for workers can be improved, and steps can be taken to reduce exposure to their children and loved ones after working all day in a contaminated field. Despite the fact that EPA has acknowledged that these materials have been ready for more than a year, the agency has refused to issue a Federal Register notice. Once announced, the improved training materials would become mandatory and required to take place within six months.
"EPA is refusing to provide official notice that upgraded materials are available," said Earthjustice attorney Hannah Chang. "This should be a no-brainer. But because of EPA's refusal, thousands of farmworkers will not receive the pesticide training they need to know their rights in the workplace, and to protect themselves and their families from pesticide exposure."
Public health and farmworker groups note that these protections are critical as farmworker life expectancy is 49 years compared to 78 for the general population. This is similar to the life expectancy of individuals living in the 1850s.
"Farmworker women suffer grave reproductive health consequences, along with the other health issues that workers and community members face, because of pesticides exposure. The risk of detrimental health consequences is exacerbated when they are not applied correctly," said Mónica Ramirez, president of Alianza Nacional de Campesinas, a farmworker group represented in the current lawsuit. "Rigorous review by scientists and others has already determined that it was necessary to provide more training and increase regulation of these dangerous chemicals to protect the health of workers and community members. We are calling on the Trump Administration to put people's lives and their health over cutting corners for corporate gain."
Time and time again, the Pruitt EPA and the Trump Administration have taken the actions that benefit agrichemical corporations over the health of people. The administration has slashed EPA staff, kept highly toxic pesticides with known health risks on the market, and downgraded serious pesticide violations against farmworkers from $4.8 million to a $150,000 slap on the wrist.
Like the requirement that only those 18 and above handle highly toxic pesticides, implementation of these training requirements could slightly impact corporate profits. Unfortunately, despite being part of the negotiation process that produced the new farmworker standards under the Obama administration, the agrichemical industry does not appear to support simple protections for the workers they pay to grow their food and come in intimate contact with their hazardous products.
Before we ask you to take action, please listen to farmworkers tell their story in their own voice. At Beyond Pesticides 36th National Pesticide Forum, four brave young agricultural and dairy workers participated in a panel discussion about what their lives were like working in agriculture and living in a farming community. For individuals unsure or unaware of the dangers of working in this industry, the discussion is required viewing and can be watched in full (~45 min) on Beyond Pesticides' youtube page.
After you've taken time to hear their stories, act to protect farmworkers today. Tell your Congressional delegation to not allow EPA to eliminate minimum age requirements around highly toxic pesticides. More on the plight farmworkers face can be found on Beyond Pesticides' Agricultural Justice webpage. Listen to speakers on farmworker health at the 36th National Pesticide Forum, Organic Neighborhoods: For healthy children, families, and ecology: Nayamin Martinez, MPH, executive director of Center California Environmental Justice Network, Fresno, CA; and, farmworker youth – Raul Garcia, Lety Loopez, Lupita Gonzalez, and Trinidad Moreno, introduced by Angel Garcia, founder and community organizer, Tulare County Coalition Advocating for Pesticide Safety, Lindsay, CA.
All unattributed positions and opinions in this piece are those of Beyond Pesticides.
Source: EarthJustice