19
Jan
(Beyond Pesticides, January 19, 2018) Scientists, public health managers, and others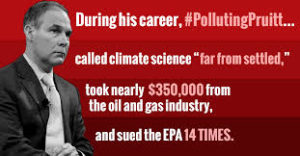 charged with protecting the health of the public and the environment at the U.S. Environmental Protection Agency (EPA) are being encouraged to exit the agency. This, as EPA Administrator Scott Pruitt plans to meet his goal of cutting agency staff and programs by 50 percent.
Aides to Mr. Pruitt confirmed to the Washington Examiner that by the end of President Trump's first term, the agency's staff will be cut by nearly half. Administrator Pruitt told the Washington Examiner he was "proud" of his efforts to dismantle, some say cripple, the very agency he leads, which is responsible for enforcing the Safe Drinking Water Act, the Clean Air Act, the pesticide registration program the Federal Insecticide, Fungicide and Rodenticide Act (FIFRA), and the Superfund toxic waste cleanup program, among others. By early 2021, Mr. Pruitt and his team are aiming to reduce the staff of what was nearly 15,000 to below 8,000. Among the people who are being encouraged to "retire" are more than 200 scientists and nearly 100 environmental protection specialists.
According to the Washington Examiner, as of January 3, 2018, the EPA has 14,162 employees. The last time EPA was at an actual employment level of 14,440 was in the fiscal year 1988 when Ronald Reagan was president. Twenty-three percent of EPA employees can retire with full benefits and another four percent can retire at the end of 2018. Additionally, another 20 percent of EPA employees will be eligible to "retire" in the next five years. Taken together, nearly 50 percent of EPA staff will be encouraged to "retire" in the next 5 years.
One administration official is quoted as saying, "We're happy to be at Reagan-level employment numbers and the future retirements show a preview of how low we could get during this administration. It would be fair to say anywhere from 25 to 47 percent of EPA could retire during this administration."
Late last year, Administrator Pruitt was on Capitol Hill to talk about, "The Mission of the U.S. Environmental Protection Agency," and a "Back to Basics" vision. However, EPA has been plagued with budget constraints for many years, but now with such drastic cuts, programs spearheaded by EPA to protect air, water, people and wildlife from toxic pollution will suffer – a goal made clear by the Administration. Without adequate staff, thorough vetting and oversight of pesticides products and their impacts under FIFRA for their impact on human health and the environment is likely to suffer, while giving a free pass to the industry. As the attorney general of Oklahoma before his appointment by President Trump to the highest EPA post, Mr. Pruitt, according to The New York Times, was a litigant in numerous lawsuits against the agency, challenging rules on air pollution, limits on mercury, efforts to reduce ozone pollution, protection of scenic vistas in certain national parks, a determination that greenhouse gas pollution endangers health and the environment, a  clean power plan intended to curb climate change, and a clean water rule.
Already the Trump Administration has issued an executive order proposing that for every new regulation promulgated, two must be repealed, an initiative that could have a dramatic and devastating effect on environmental protections. While, 
as documented by Beyond Pesticides
, EPA's regulation of pesticides is flawed, EPA plays a critical role in reviewing science and implementing laws protecting human health and the environment. Science itself has been under attack by the Trump Administration, as evidenced by its issuance of scientific grant and hiring freezes at EPA and other agencies nationwide, along with a ban on science communications through social media platforms. Agency scientists now face an unspecified vetting process before sharing their work outside the agency. Administrator Pruitt also 
issued a directive
 banning scientists who receive grant funding from the EPA from serving on its advisory board. This leads an EPA to be more beholden to industry "science" and its priorities of profit and unlimited pollution.
Under a dismantled EPA, experts say that even the limited advances will be undermined. For instance, the neurotoxic pesticide chlorpyrihat efos tndangers children was proposed to be revoked in 2015 due to findings and recommendations of EPA's own scientists and a 2016 Scientific Advisory Panel (SAP). However, one of Administrator Scott Pruitt's first acts in office was to rescind the proposal, claiming more evidence was needed.
While environmentalists and public health experts have criticized EPA for lax or inadequate regulation of pesticides, the clear attacks on public health and the environment through proposed budget cuts by the Trump administration and EPA Mr. Pruitt demands urgent action. Beyond Pesticides is collaborating with other organizations to protect an agency that Congress established to advance clean water, clean air, safe food, farmworker protection, and healthy natural resources.