17
Jul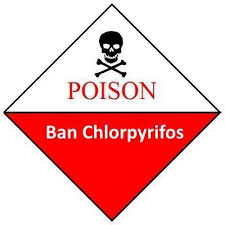 (Beyond Pesticides, July 17, 2018) Last week, closing arguments were made in the 9th Circuit Court of Appeals challenging the U.S. Environmental Protection Agency's (EPA) refusal to ban chlorpyrifos, the pesticide science links to a host of neurological impairments in children. A coalition of labor and health organizations represented by Earthjustice asked a panel of three judges to overturn former EPA Administrator Scott Pruitt's decision not to ban chlorpyrifos.
In June 2017, a dozen health, labor, and civil rights organizations represented by Earthjustice filed an administrative appeal to EPA urging the federal government to ban chlorpyrifos. The attorneys general of New York, California, Washington, Massachusetts, Maine, Maryland and Vermont also filed their own appeal calling for a ban. The groups also filed a court case that asked the 9th Circuit Court in San Francisco to decide the issues presented in the administrative appeal because of the likelihood of a delayed resolution by the EPA. This was the last hearing where the health and labor groups, as well as states, were able to present their arguments to the court of appeals and answer the judges' questions. The New York Attorney General's office also presented arguments on behalf of seven states, which intervened in the case and are also calling for a ban on chlorpyrifos. After the argument, the judges will issue a written ruling, which could be within weeks or months.
In March 2017, then Administrator Pruitt rejected the conclusions of EPA scientists, and independent scientific literature, and reversed a tentative decision from 2015 to revoke food residue tolerances of chlorpyrifos due to the chemical's neurotoxic impacts. This would have effectively banned chlorpyrifos from agriculture. This decision stemmed from a petition and lawsuit filed by the Natural Resources Defense Council (NRDC) and Pesticide Action Network North America (PANNA) ten years ago, calling for EPA to revoke all chlorpyrifos tolerances and cancel all registrations. Pruitt's decision came weeks after he met with the head of Dow Chemical, which sells chlorpyrifos under the name of Lorsban.
Decades of scientific data show that chlorpyrifos damages fetal brains and produces cognitive and behavioral dysfunctions, particularly in utero and in children. Even at low levels of exposure chlorpyrifos can impact the developing fetus in pregnant women resulting in impaired learning, change in brain functions, and alter thyroid levels of children into adulthood.
Epidemiological data also points to subpopulations that are disproportionately affected by chlorpyrifos exposures. Low-income African-American and Latino families, including farmworker families, continue to suffer the most, and this disproportionate impact creates an environmental justice issue that the agency must not continue to ignore. A 2016 study found lower IQ in children born to mothers who, during their pregnancy, were living in close proximity to chemical-intensive agricultural lands where OPs were used. A 2015 study found that a decrease in lung function in children was linked to exposure to organophosphates early in life. Another 2015 study found that prenatal exposure to chlorpyrifos is linked to tremors in children. Although organophosphate use was on the decline in the U.S., EPA has allowed the continued registration of many of these products.
Earthjustice's appeal was filed on behalf of the League of United Latin American Citizens, United Farm Workers, Farmworker Association of Florida, Labor Council for Latin American Advancement, Farmworker Justice, GreenLatinos, National Hispanic Medical Association, Pineros y Campesinos Unidos del Noroeste, Learning Disability Association of America, California Rural Legal Assistance Foundation, Pesticide Action Network North America, and Natural Resources Defense Council.
In light of gross federal inaction on this highly neurotoxic pesticide, the state of Hawaii became the first in the nation to take a stand and ban chlorpyrifos. Governor David Ige signed SB3095 into law, in light of the unanimous support it received from lawmakers on both sides of the aisle. The statewide prohibition of chlorpyrifos will take effect beginning in January 2019. This legislative action marks the first time that any state in the country has passed an outright ban on the highly toxic pesticide. Hawaii's law contains a caveat that allows the state's Department of Agriculture (DOA) to grant special permits for companies that argue that they need more time to phase-out chlorpyrifos, but that exemption will end at the close of 2022. Lawmakers in New Jersey and Maryland have recently tried unsuccessfully to pass similar bans.
U.S. Senators Tom Udall (D-NM) and Richard Blumenthal (D-CT) have introduced a bill that would ban the use of the insecticide, chlorpyrifos. The Protect Children, Farmers and Farmworkers from Nerve Agent Pesticides Act, S. 1624, comes one week after an appeals court refused to require EPA to make a decision over whether to ban the chemical.
Take Action: To oppose the continued allowance of chlorpyrifos and other noxious pesticides in your community, write or call your US Congressional Representative. Urge them to support the Protect Children, Farmers, and Farmworkers from Nerve Agent Pesticides Act of 2017 to safeguard schools, neighborhoods, and workplaces from the unnecessary exposure to this neurotoxin. Learn more about the fate, effects, and impacts of pesticides, including chlorpyrifos, by visiting Beyond Pesticides' Pesticide-Induced Diseases Database. Also, consult Beyond Pesticides' factsheet Children and Pesticides Don't Mix, which cites peer-reviewed scientific literature on the health effects of pesticides.
All unattributed positions and opinions in this piece are those of Beyond Pesticides.
Source: Earthjustice Press Release