03
Jan
(Beyond Pesticides, January 3, 2018) Companies licensed to grow cannabis in Canada will be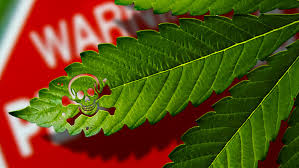 required to submit to mandatory testing and will receive fines of up to $1 million if their product contains banned pesticides. The new measures announced by Health Canada come as the country prepares to launch its recreational market in July 2018, and reports from national news outlets are sounding the alarm over widespread contamination of the ongoing medical cannabis market. Canada's move is being closely watched by growers and regulators in the United States, where 29 states currently allow some form of medical or recreational cannabis to be sold, each with different pesticide rules.
Health Canada, the primary pesticide enforcement agency in the country, had previously indicated that fines were unlikely because, as regulators told The Globe and Mail, companies were aware that banned pesticides were illegal and disallowed. However, after the country began regular testing, and news outlets began reporting on multiple instances of banned and highly toxic pesticides making their way onto the market, the agency decided to change its approach.
Both growers and patients are encouraged by the new rules. Chairman of the Cannabis Canada Association, Neil Closner, told The Globe and Mail, "We believe when fairly applied, [the fines] can be a useful and effective tool for Health Canada to ensure proper adherence to the rules if other mechanisms fail." Mr. Closner indicates that the attention the issue is getting is positive, and "has only strengthened the industry."
Health Canada currently lists 20 pesticide products as legal to use on cannabis grown in the country. Products on the list are primarily biological-based or least-toxic insecticidal soaps. In the United States, because cannabis remains illegal under federal law, no registered pesticides are allowed to be used on the plant, a matter of legal interpretation recently confirmed by U.S. Environmental Protection Agency Administrator Scott Pruitt. Pesticides considered 'minimum risk' by the agency and thus not required to undergo formal registration can however be used by growers. In regards to other pesticide regulatory activities, states have taken a varied approach to testing, fines, labeling, and growing practices. The state of California, for instance, opened its recreational cannabis market on the New Year, but is phasing in lab testing requirements for pesticides over the course of the year.
While pesticide regulations vary between the Canada and the U.S, as well as within states, one chemical, banned for use on cannabis in every state and country, the fungicide myclobutanil, is regularly found on tainted cannabis during the course of testing. The active ingredient in the product Eagle 20, myclobutanil is intended to treat powdery mildew, a plant disease that poses little risk to consumers. The chemical is considered a reproductive toxin under California's Prop 65: Chemicals Known to the State to Cause Cancer or Reproductive Toxicity. A lawsuit against grower LivWell Inc.** in Colorado citing myclobutanil contamination notes that the chemical when heated breaks down into hydrogen cyanide. Given that research has found 69.5% of pesticide residues can remain in smoked marijuana, there is cause for significant concern, particularly for medical patients, when lab tests are so frequently detecting the chemical.
As Canada prepares for its mid-year launch of its recreational market, their testing protocols and enforcement around cannabis will be watched for its effectiveness. With growers beginning to coalesce behind strong controls around pesticides and cannabis, the industry has the potential to create an organic market that may eventually inform the conventional agricultural cropping industry about pesticide-free best practices. For more information on pesticide use in cannabis cultivation, see Beyond Pesticides' Daily News Blog articles under the cannabis category.
**CORRECTION: The case referred to in this DN was dismissed, which should have been reflected in the reference in this story. See the Denver Post for additional information on the now dismissed LivWell Inc. lawsuit.
All unattributed positions and opinions in this piece are those of Beyond Pesticides.
Source: The Globe and Mail